« November 2014 | Main | January 2015 »

December 30, 2014 | New Cobalt Blue JL Smith 5-string
We've sung the praises of the full-bodied quack of Florida builder John Smith's "JL Smith" 4- and 5-string instruments with their classic finishes frequently. These are a workhorse instrument, capable of rich tone and built with impeccable quality control--one of the best kept secrets in today's "Tele-mando" electric mandolin world.
We've had our own JL Smith Sea Foam Green 5-string over five years now. John recently posted aother classic color, Cobalt Blue commissioned by an eager Canadian customer on his Facebook page. His 4-strings start at $799, and you can choose from a number of pickup options. Smith enjoyed a glowing review in Vintage Guitar Magazine in October 2009.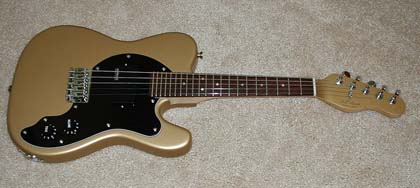 John offers a high quality, hand crafted instrument, and generously priced.
Builder website: JL Smith Mandolins
Read JazzMando Review: JL Smith 5-string Electric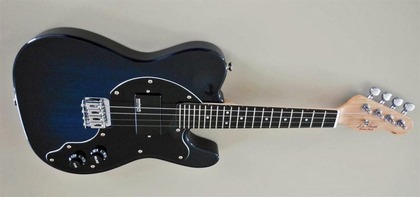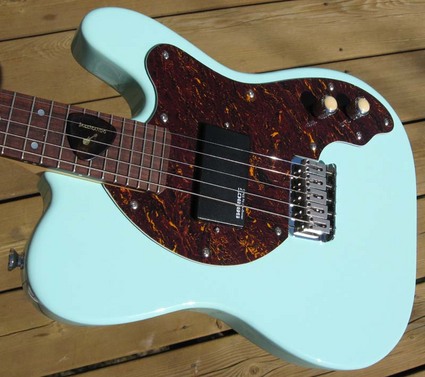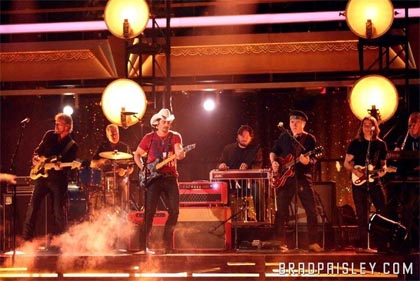 Brad Paisley Band. Far right, JL Smith 5-string electric mandolin
Posted by Ted at 5:44 AM

December 28, 2014 | Hal Leonard to release 'The Real R&B Book'
Jazzers had a "Real Book" for decades, lead line with chords for a quick outline of established "standard" tunes. Unfortunately, sans copyright, these were less than legal until publishing giant Hal Leonard tackled the project and compiled several volumes of legitimately licensed collections in spiral bound books. First release ten years ago, later came Blues, Bluegrass, Christmas, Dixieland, Latin, Rock, TAB and one for Vocal fans. Now Rhythm & Blues musicians will have a Real Book to call their own when the publisher unveils The Real R&B Book at the upcoming winter NAMM.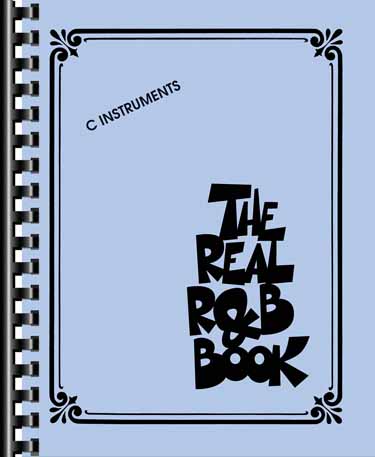 From their public relations release: The Real R&B Book is an excellent collection of 265 classic R&B, soul and modern hits - many of which have never before appeared in print. All Hal Leonard Real Books feature the famous easy-to-read, handwritten notation and plastic comb bindings that have made these fake books musician favorites for decades.
The Real R&B Book includes: ABC - Ain't No Sunshine - Ain't Nothing like the Real Thing - Ain't Too Proud to Beg - Always and Forever - Baby Love - The Boy Is Mine - Brick House - Chain of Fools - Cissy Strut - Doo Wop (That Thing) - Endless Love - Everyday People - Fallin' - Fire - Green Onions - The Harlem Shuffle - Hold On I'm Comin' - Human Nature - I Believe I Can Fly - I Got You (I Feel Good) - I Second That Emotion - I Wish - I'll Make Love to You - In the Midnight Hour - Just One Look - Lady Marmalade - Last Dance - Let the Good Times Roll - Let's Get It On - Love and Happiness - Mr. Big Stuff - My Girl - No Scrubs - Papa Was a Rollin' Stone - Purple Rain - Respect - Say My Name - Sexual Healing - Single Ladies (Put a Ring on It) - Soul Man - Stand by Me - Super Freak - The Tears of a Clown - Three Times a Lady - U Can't Touch This - Vehicle - Vision of Love - What'd I Say - Will It Go Round in Circles - You Can't Hurry Love - You've Really Got a Hold on Me - and hundreds more!
The Real R&B Book (HL00240437) $39.99
We'll keep you posted when the book is available.
See the list of current Real Books.
Posted by Ted at 7:45 PM

December 26, 2014 | Year 2014 Review
We always like to look back and review the year's events and accomplishments every December. Here's a short list of what we considered important.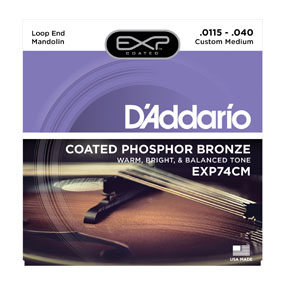 Post Winter NAMM chatter started about new Chris Thile gauged D'Addario EXP74CM, finally out and for sale now. It was a good year for recordings, starting with the January release of fret and fiddle wizard Jason Annick's long anticipated recording, Tipping Point.
Announced at NAMM and released shortly after, one of our favorite mass produced picks from Jim Dunlop, the Primetone series. Our favorite and one added to our personal arsenol, the 515P Semi-Round Sculpted Plectra, especially good for the single course electric mandolins and mandolas.
There weren't a lot of instruments added to our long running Builders Review list, but we did get our hands on a John Kinnard "Finegold" Mandolinetto.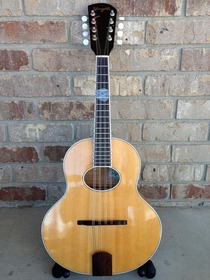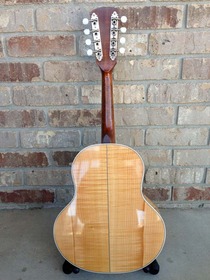 In March we were introduced to the writing and picking talents of Alan O. W. Barnes, in his Christian folk music CD, The Wesley Project. April brought us the welcome news of Nickel Creek reunited for a fabulous tour and recording.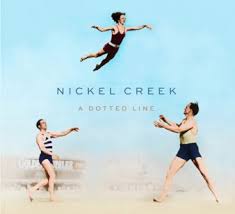 Nickel Creek: Dotted Line

In April, we had the privilege of meeting in person one of our mandolin heroes, Matt Flinner and his trio during a performance of his Music du Jour. We were able to document the Nebraska installment in video. With the release of Don Julin's follow up "Mandolin Exercises For Dummies" we were able to revisit the author in another interview on the Mandolin Cafe
May brought us another great recording, "Lucky Day" from the pick and bow of east coast swing magician, Aaron Weinstein who continues to pepper the internet with amazing feats of chord melody gymnastics.
Video Link: Aaron Weinstein plays Gershwin's "LIZA"

The Summer NAMM show introduced us to TC Electronics Tone Print Technology for a terrific new pedal, the Hall of Fame Reverb Mini.
In August, fired up again after a way too long decade hiatus, we were treated to Mike Marshall's Choro Famoso follow up CD Segunda Vez. Not long after, the world was treated with Rio de Janeiro multi-instrumentalist Marcos Moletta in his recording Multiplo."
We did get one more review in, the Kala KA-GTR Tenor Guitar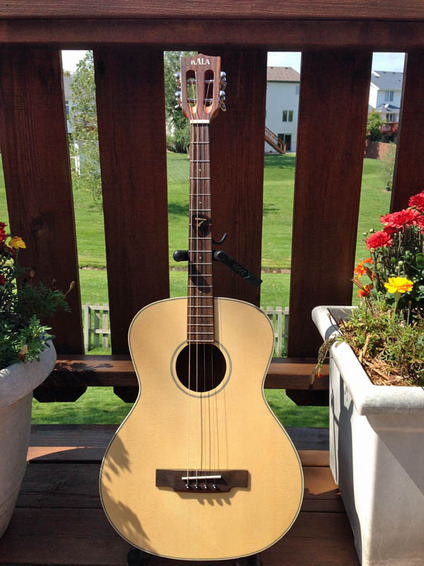 Two installments of lessons from Brazillionares mandolinist Zak Borden graced our Tips and Tricks series, Build Your Own Chords! Part 1 and Circle of 5ths Part 1. We look forward to many more.
One of our most popular entries, widely shared in social media was a video from rock icon and Led Zeppelin bassist John Paul Jones and the mandolin.
December brought us the sad news of the passing of folk instrument pedagogy legend Joe Carr. Joe was our editor for the eight years we wrote for Mel Bay's Mandolin Sessions. We confidently trumpet the musical world is a much better place from having him on this earth.
A great way to cap off the year was the release of the 6th project of jazz mandolin royalty Will Patton and his ensemble in what will no doubt be a perennial JazzMando favorite, Times Arrow.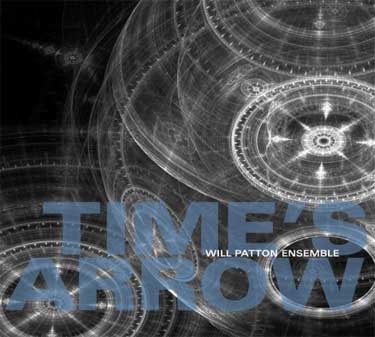 Posted by Ted at 12:46 PM

December 23, 2014 | More 10-string, please.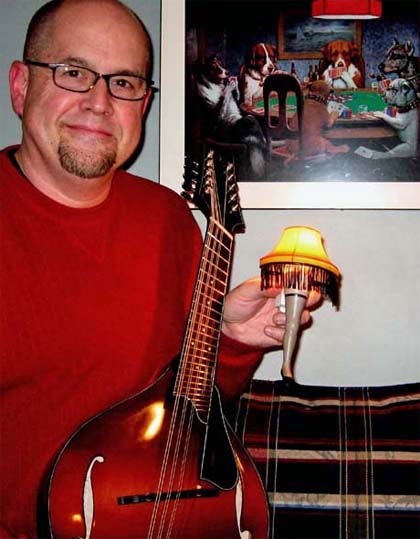 Many things odd about the above picture. We'll leave it to you to count them. In particular though, it was five years ago Christmas we had the privilege of reviewing a prototype Lawrence Smart 10-string mandolin from the internationally renowned Idaho builder. It was such a treat, and we're happy to see several other builders pushing the boundaries themselves with the challenge of fanned frets. In particular, from the other side of our continent, Max & Lauri Girouard have been posting pictures on their Facebook Page of just the cut fingerboard as they brace for the 2015 introduction a 10-string A-body.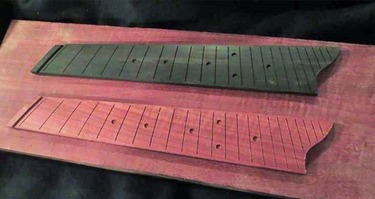 Really looking forward to this!
Meantime, read archive review: Lawrence Smart FF10 mandolin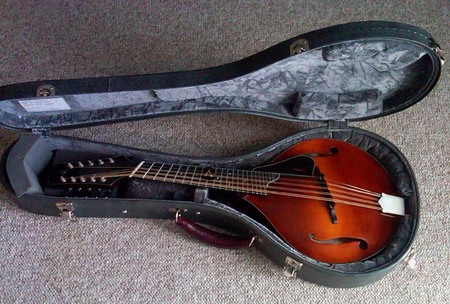 Posted by Ted at 3:27 PM

December 21, 2014 | Will Patton Ensemble; Time's Arrow
When you pack for a long distance trip, there's an art to traveling light but including all the essentials necessary for a range of climates, special events, and simple comfort. You need your basic necessities, underwear, toothbrush, mp3 player, but a smart camper will stuff clothing layers that coordinate in color well, let alone adapt to temperature changes effectively--all this and with the least amount of bulk and weight to carry as possible.
Such is the music of perennial JazzMando fave, Will Patton. His latest project, now his 6th CD, is exactly this. A smart package of acoustic jazz "necessities," complex chord changes that expand the traditional and comfortable folk format, tuneage easily portable, a blend of color and fabric texture that treats rather than clashes. Feels good against the skin, or rather, ear.
We know what we can expect from his previous five endeavors, an assortment of gypsy jazz, French musette, bebop, American Songbook, and South American swing. The magic is how he perpetually freshens and recharges this unique acoustic blend, familiar but novel at the same time. It's distinctly Will. Light, swift and forever leaving us hungry for more.
Ever the Spartan equipment traditionalist, he wields his spectacular Gibson teens A-body mandolin through the majority of the songs, but we get a treat with a sweet Campanella 2-point (Tico), and new to his arsenal, a sporty Jbovier F5 mandolin which he tells us, "plays like butter over Bop changes." He's sonically complemented again this on two songs by daughter Anna Patton (9:20 Special & Pinxinguinha's Tico) who has developed a lovely unique clarinet voice.
Mandolin and clarinet--like chocolate and peanut butter. There's your travel snack.
There are two splendid originals, "Swing for Mondine" and "Chez Tchvalo," consummate examples of Will's crafty tunesmithery. His songs always spin around in the head pleasantly hours after listening. Personal two favorite tracks are the "Sweet and Lovely" (delicious silky swing fiddle of David Gusakov) and the catchy Mandel/Mercer "Emily."
Will introduced the CD to us with an enclosed note, "Here's the latest installment of our search for truth, beauty, and staying in tune."
Done. Done, and done!
Tracks:
9:20 Special
Mysterieuse
BirdDawgin'
Swing for Mondine
Hard Times
Opus de Funk
Tico
Chez Tchavalo
Sweet and Lovely
Limehouse Blues
Emily
Purchase CD: Will Patton Ensemble; Times Arrow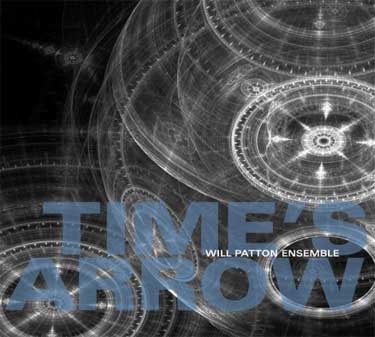 iTunes
More Will on Amazon
Artist Website: Will Patton
Mandolin Cafe Interview
Posted by Ted at 2:55 PM

December 19, 2014 | Mandolin Christmas Music List
What could produce better Yuletide festivity than our little 8-string wonder? Of course, the mandolin is perfect for delivering "that sound," subtle, unintimidating, acoustic purity. Our friends at the Mandolin Cafe have done our community a solid and developed a healthy list of decades of some of the best collections of Christmas music featuring the mandolin.
View & audition List: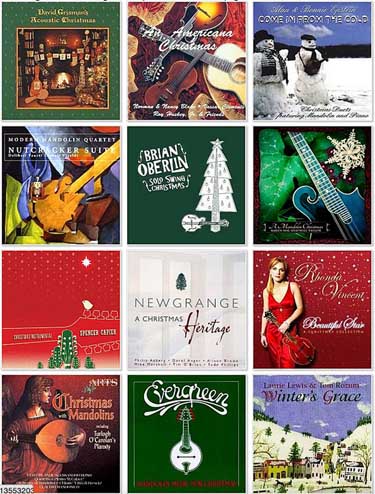 You can also sample full songs in the Cafe MP3 Page by selecting the Christmas tab.
Posted by Ted at 6:04 AM

December 17, 2014 | Burgundy-burst Rigel Q-95 mandolin
Block pearl fret inlays, burgundy-burst, tortoise pickguard, one of the coolest Q-95 mandolins we've seen just popped up in the Mandolin Cafe Classifieds for a reasonable ask of $1725 US. Not many were made in Rigel's sunset days, but we were responsible for the introduction of an A-body instrument with a lap corner, a simple but ergonomic alteration of the company's best-selling A+ Deluxe model.
This would make a lovely "self" gift for anyone in need of an instrument easy to play and enjoy. No financial interest here, but we'll vouch the seller is reputable and reliable.
View ad: Burgundy-burst Rigel Q-95 mandolin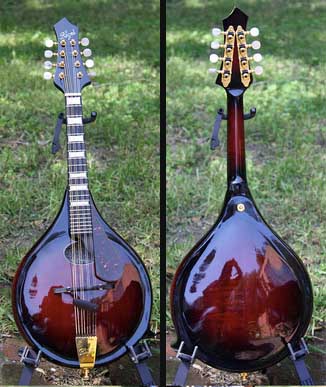 More about the Rigel Q-95
Want...
Posted by Ted at 6:02 AM

December 15, 2014 | Rest in Peace, Joe Carr
Our eight year span of writing articles for Mel Bay's Mandolin Sessions gave us the opportunity to spend time in communication with an industry legend. Editor Joe Carr was who was responsible corralling a rag tag group of contributors, and made the online webzine a golden free resource for readers to get some of the best on the internet. Joe had a passion and a knack for bringing complexity to the simple, for theory to the practical, and brain to pick, bow and fingertips.
We are saddened to year of his passing this last weekend. However, his legacy will live on in the hundreds of thousands of books and audio materials published and sold in his name. Not many have the opportunity to wield so much influence on folk musicians throughout the world.
We had the privilege of writing the preface to an interview published on the Mandolin Cafe recently. We've printed it below, but we encourage you to take the time to read more in the entire article.
Thanks, Joe, for making the world a better place with music.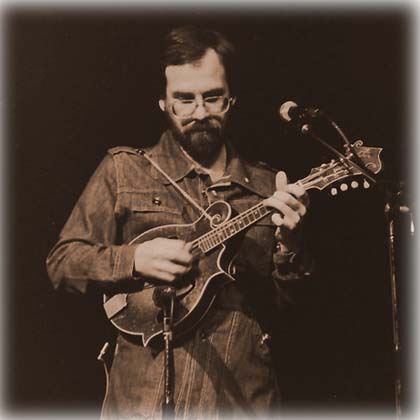 "Some artists influence the world in grand and obvious ways, from the stage with ovations and thunderous accolades and applause. Others do it more quietly, from behind the scenes, changing the musical world with more subtlety, one student with one book at a time, strategically and with a well thought-out sequential set of tips.
Such is the case with author/educator Joe Carr. With nearly one hundred titles to his name from publishing powerhouse Mel Bay, the prolific multi-instrumentalist has penned instructional materials in both print and video that have prodded tens of thousands of beginning and intermediate musicians down the path of aesthetic enjoyment and musical literacy on mandolin, guitar, banjo, and ukulele. He's covered the folk styles of bluegrass, country, swing, and gospel, for young, old, and everybody in between. With his catalog, it's unlikely anyone reading this hasn't worked out of or at least seen one of his books.
A performing career that has spanned nearly five decades, the Texan has taught at South Plains College in Levelland since 1984, and cut his teeth in the geographical hotbed of Texas Swing, touring and playing with Country Gazette and Roanoke in the 70s and 80s. He also edited the now defunct Mandolin Sessions webzine which remains in archive on the Mel Bay Publishing website.
Whether you've seen him on stage or not, the chance is very likely you or someone in your musical circle has been influenced by Joe Carr."
-- Ted Eschliman
Read Dan Miller interview: Joe Carr
Posted by Ted at 10:32 AM

December 13, 2014 | TAB and audio for "Christmas Time is Here," Shelby Eicher
We posted this five years ago, and it bears a timely reprisal. Frequent JazzMando contributor Shelby Eicher, offered us a clever rendition of the Peanuts cartoon classic, "Christmas Time is Here."
Shelby's known more for his Hall of Fame fiddling, but as a rabid Western Swing aficionado, he's taking to the 4-string plectrum, and in this case a jazz Mandola, designed and built in Tulsa around 15 years ago when he was playing with Roy Clark. Shelby reports, "He completed the instrument in 2001. All of the pickups that I tried in it were inferior. I had Seymour Duncan make me custom humbuckers last year and they are great although I only have the neck pickup in at this time. I'm still undecided whether to put the bridge pickup in or not. My scale length is 16 3/4. The woods are spruce and maple and the binding is Tulip wood. The A D G C tuning is awesome for Jazz. The more I play it the more I like the way everything lays on the instrument."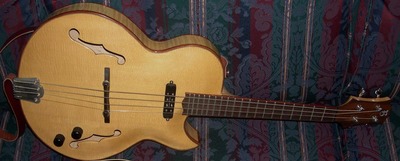 He's been gracious enough to include some TAB outlines for tips if you want to tackle it yourself, but understand it's performed in the CGDA mandola tuning when you listen. (Of course you can still play this on mando, it will just be a 5th higher.)
Enjoy audio:

Shelby Eicher: Christmas Time is Here.
Christmas Time is Here

TAB PDF.
Shelby and sons make up our favorite red dirt gypsy swing band, "Mischievous Swing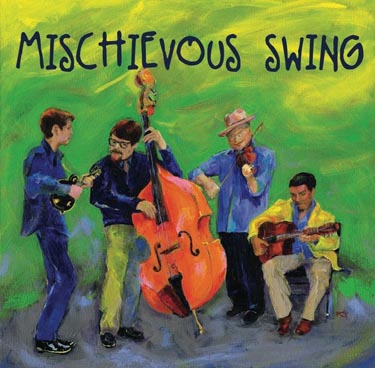 .
Posted by Ted at 9:53 AM

December 11, 2014 | D'Addario introduces new Chris Thile influenced EXP string set.
Though we generally prefer flatwound strings, any time we have an instrument that is already too warm or tubby, an oval hole instrument for example, we suggest the brighter tone and longevity of the phosphor bronze D'Addario coated EXP series for mandolin (and guitar). The global leader in string production has worked with mandolin legend Chris Thile to come up with a sort of hybrid set, gauges 11.5, 16, 26, and 40.
The new EXP74CM features their new environmentally friendly packaging with corrosion resistant packing. The latter is especially important for those who support and purchase strings from their local dealer. Mandolin sets don't sell as fast as guitar, so shelf-life is an important consideration.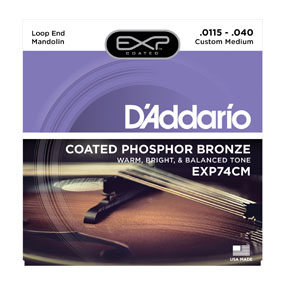 From the website, "D'Addario's new custom medium coated mandolin set, is a custom gauged combination of the EXP74 and EXP75 sets. Warm and bright phosphor bronze tone with the optimal blend of tight playing tension and strong projection." We knew about development of this set a couple years ago and are pleased to see it finally come to market. The strings are not an official signature Chris Thile set, but his feedback was instrumental (pun intended) in determining string size and tension. He has had a long history using their products.
If you've had experience with the Elixir strings, bear in mind the EXP are a different feel. They aren't wrapped around the string where it can flake off over time, rather the string winding itself is microscopically coated before wrapped around the core. It's hard to even notice it's there, and despite the higher selling price, you ultimately save money in fewer string changes.
View product description
Posted by Ted at 7:21 AM

December 9, 2014 | Gently used Weber Gallatin D-Hole Mandola w/pickup
Pardon the shameless plug, but we just posted a personal instrument for your consideration. This beautiful spruce top/maple back D-hole mandola with its understated "Faded Leather" finish has been in our studio for a couple years, light stage use as an occasional recital accompaniment instrument. Priced for a quick sale at $1475 with pickup and case, this should be a great opportunity for any mandolinist who wants to "go deeper."
It was a personal commission and reviewed shortly after its arrival here in our Builder Spotlight.
Read Review: Weber Gallatin D-Hole Mandola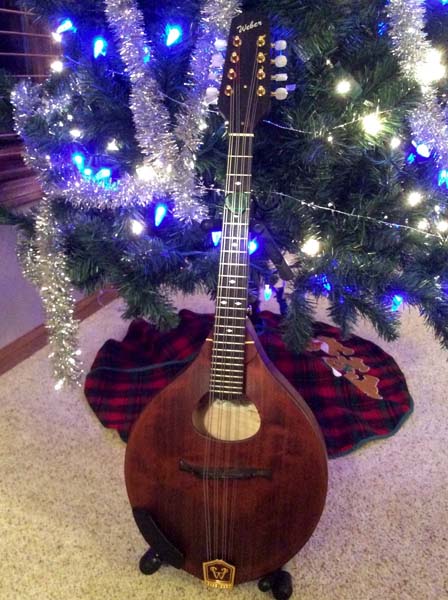 Purchase information:
Mandolin Cafe Classifieds; Gently used Weber Gallatin D-Hole Mandola w/pickup
Video Link: "Madrigale" Simonetti

Posted by Ted at 5:56 AM

December 7, 2014 | 3-note chord grip. Good for holding your coffee, too.
3-note mandolin chords. Better range and timbre, more versatility in transposing up and down the fingerboard, and of course, a more pragmatic base for chord melody playing. Terrific for other 5th tuned instruments including mandola, mandocello, and 5-string mandolins, too.
Not only for great for sipping you coffee in the morning, our best-selling chord mug is a chance to learn our favorite sets of 3-note chord grips. Stick to the lower three strings and build your comping vocabulary of them leaving your E strings for melody and the "color commentary" of chord extensions, #9, b13, #11, etc.
Helping you drink these in, our best-selling 3-note chord mug!
Purchase information: JazzMando 3-note 7th Chord Mug?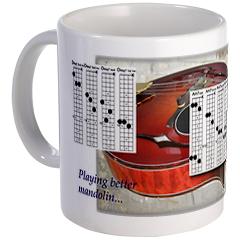 Check out these and some of our new items in the JazzMando Logo Store. Your purchase also helps us keep the lights on here at the website.
Side note: Many have asked about a 2015 mandolin calendar, and we're sorry we won't be producing one this year.
Posted by Ted at 7:22 PM

December 5, 2014 | Coffee with Milk. Old Wave mandolin family finishes.
Southwest US builder Bill Bussmann is at it again with a recently completed trio of delicious instruments, an A5, A4, and a lovely octave mandolin, the latter headed over the pond to our friend Trevor Moyle at TAMCO.
Our vote for 2nd best use of Mandolin Cafe Mug.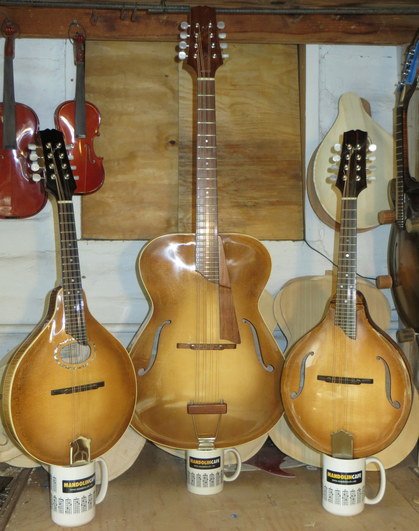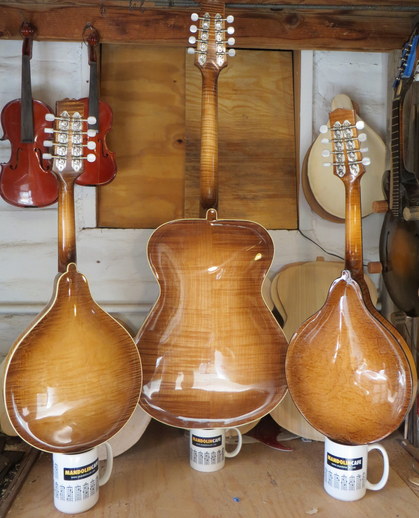 Note, if you act quickly, you can find a used Old Wave Solocomp JM mandola for a ridiculously good price on the Cafe Classifieds. Hurry!
Posted by Ted at 5:55 AM

December 3, 2014 | Eastwood Guitars Crowdfunding
We've been fascinated by the new Eastwood Custom Shop website and its new approach offering innovative guitar designs through crowdfunding. So often, a manufacturer takes a big chance offering expensive runs on new models, only to take a big hit on something that looks great on the drawing board, but lackluster sales make the move a financial disaster.
This new strategy is brilliant, and not something that could have been done a decade ago. Proposed models with specs are posted in a virtual catalog form. Bids are solicited and a small deposit is required, but if enough interest is generated, money put where the mouth is so to speak, the instrument is manufactured. When a company doesn't have to waste valuable resources on unsold merchandise, pre-order pricing is more efficient and the savings is ultimately passed on to the consumer. These instruments are extremely reasonably priced, and often extra freebies are offered as a reward to the pioneer customer.
Eastwood has dabbled in the mandolin family market with a few electric mandola models, and we'd like to see them dive deeper with a wider choice of 4- and 5-string mandolins. Perhaps with feedback from our readership, we can help.
We would like to see a 335 guitar shape body with a single humbucker in a 4-string mandola tuning or a 5-string CGDAE, preferably single course and hope to pursue a private project. Let us know what you think!
Visit: Eastwood Custom Shop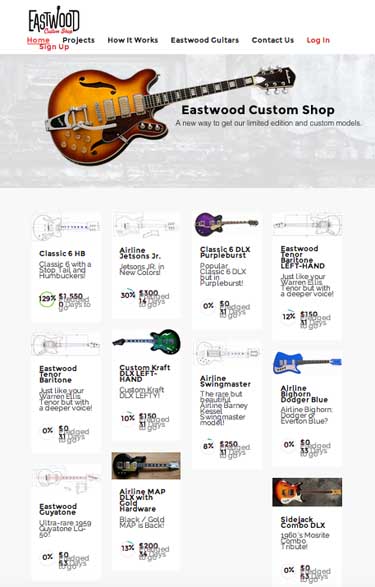 Note, there is currently a long scale tenor on the project page, currently priced at $599 with hardshell case.
Posted by Ted at 2:36 PM

December 1, 2014 | Sorensen Sprite JM mandolin--Blueburst!
Steve Sorensen
Blueburst Sprite JM mandolin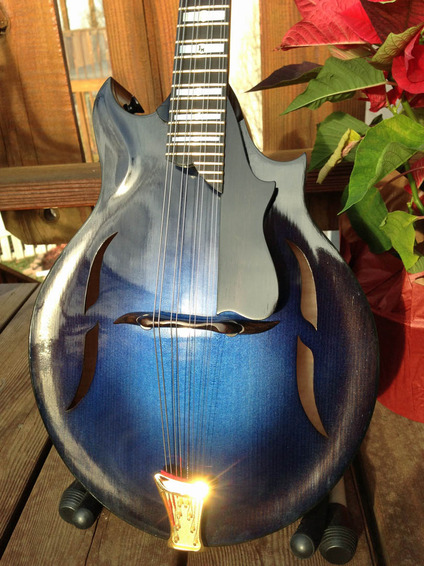 It was a blue, blue Christmas for us in 2012, but only in the most positive sense. After many months of patience and open communication with its crafstman, a unique custom build showed up at our door, an asymmetrical 2-point Sorensen "Sprite JM" mandolin with the same basic dimensions of the instrument of his we reviewed earlier that year and some cosmetic personal touches, including a dynamic Blueburst finish and ornate fretboard inlay. In the initial dialogue on the project, we requested the same basic dimensions, but other than the blue finish, Steve was invited to inject his own additional personal aesthetic on the adornments.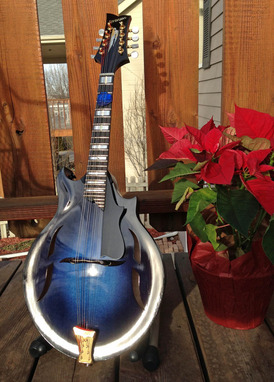 We were not disappointed! Many custom builds have come through this site, and we always anticpate a few weeks of settling with wood and steel. It's a good idea for a customer of a new instrument to allow for these changes, but this one came very much ready to play. Surprisingly, it's already in immediate performance stage rotation.
Read more.
Builder's Website:
Sorensen Strings
Review: Sorensen "Sprite" Asymmetrical 2-point mandolin
Contact: steve@sorensenstrings.com
Phone: 661-345-6684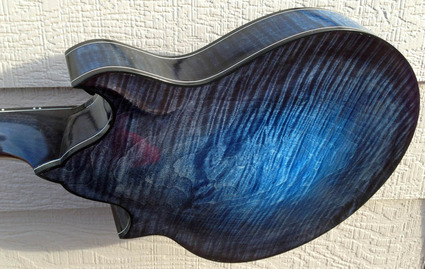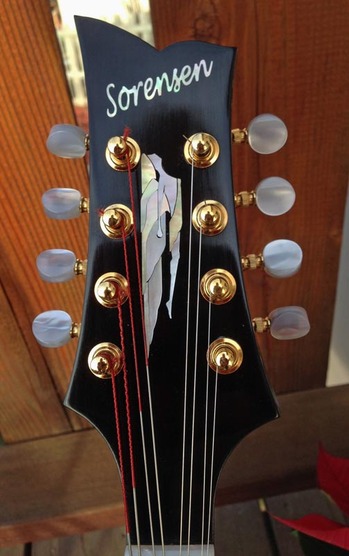 Are you following us on our Facebook Page? "Like" if you haven't already

.
Posted by Ted at 5:32 AM