« Year 2014 Review | Main | New Cobalt Blue JL Smith 5-string »

December 28, 2014 | Hal Leonard to release 'The Real R&B Book'
Jazzers had a "Real Book" for decades, lead line with chords for a quick outline of established "standard" tunes. Unfortunately, sans copyright, these were less than legal until publishing giant Hal Leonard tackled the project and compiled several volumes of legitimately licensed collections in spiral bound books. First release ten years ago, later came Blues, Bluegrass, Christmas, Dixieland, Latin, Rock, TAB and one for Vocal fans. Now Rhythm & Blues musicians will have a Real Book to call their own when the publisher unveils The Real R&B Book at the upcoming winter NAMM.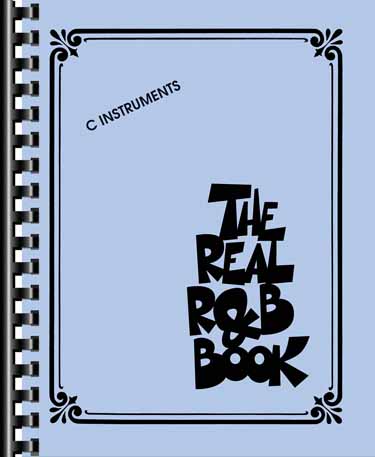 From their public relations release: The Real R&B Book is an excellent collection of 265 classic R&B, soul and modern hits - many of which have never before appeared in print. All Hal Leonard Real Books feature the famous easy-to-read, handwritten notation and plastic comb bindings that have made these fake books musician favorites for decades.
The Real R&B Book includes: ABC - Ain't No Sunshine - Ain't Nothing like the Real Thing - Ain't Too Proud to Beg - Always and Forever - Baby Love - The Boy Is Mine - Brick House - Chain of Fools - Cissy Strut - Doo Wop (That Thing) - Endless Love - Everyday People - Fallin' - Fire - Green Onions - The Harlem Shuffle - Hold On I'm Comin' - Human Nature - I Believe I Can Fly - I Got You (I Feel Good) - I Second That Emotion - I Wish - I'll Make Love to You - In the Midnight Hour - Just One Look - Lady Marmalade - Last Dance - Let the Good Times Roll - Let's Get It On - Love and Happiness - Mr. Big Stuff - My Girl - No Scrubs - Papa Was a Rollin' Stone - Purple Rain - Respect - Say My Name - Sexual Healing - Single Ladies (Put a Ring on It) - Soul Man - Stand by Me - Super Freak - The Tears of a Clown - Three Times a Lady - U Can't Touch This - Vehicle - Vision of Love - What'd I Say - Will It Go Round in Circles - You Can't Hurry Love - You've Really Got a Hold on Me - and hundreds more!
The Real R&B Book (HL00240437) $39.99
We'll keep you posted when the book is available.
See the list of current Real Books.
Posted by Ted at December 28, 2014 7:45 PM