May 16, 2013 | 5-string chord pairs: 'm7b5 V7'
This summer we want to start introducing some 5-string chord combinations. Now wait, before you start saying, "Hey, I don't even own a 5-string," hear us out. We've spent much of the last year looking at 3-note chords and note the transposable nature of this approach, being able to move them up and down the fretboard, so why not move them down a string?
Even if you don't have a 5-string, you might have a mandola, and since we're focusing on the lowest three strings, you'll also be able to apply these concepts to tenor banjo and octave mandolin (tuned CGDA). The strategy will be chord relationships--pairs and trios of tasty chords that can be transported around, so if nothing else, ignore the chord labels and just see how they move from one to the next.
We're also going to do something a bit counter-intuitive and start with the hardest first and work our way back. This week we're going to look at pairs of the 'ii7b5 V7' chords that set up every minor chord. All twelve of them.
We'll give you blocks of 3-note chords based on the lowest three strings of CGDAE tuning. It may start to make more sense with each lesson, but for now, just play the chords as they are written out. There are only three combinations used in the twelve keys.
Just three!
Purchase information: JazzMando 3-note Mandolin "Playing Cards"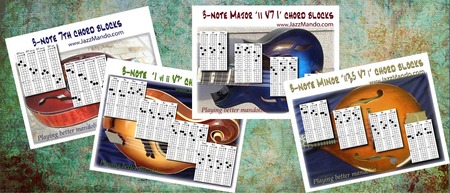 In our 4-string playing cards (see above), we offer a 'ii7b5 V7 I' set that shows four ways to play the progression. It's kind of foreign to the folk ear, not so much the simple tonic minor 'i' chord, but the two that go before it. We'll take on of the grips and place it in the lowest strings of the 5-string starting in the key of B minor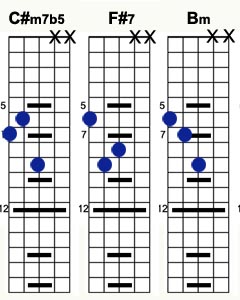 If we just focus on the first two notes of the pattern, we can develop skills that hone both ear and finger.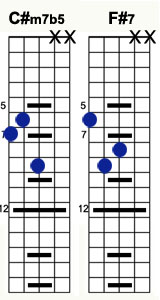 We have a one-page PDF that steers you through all twelve keys of the progression. Your mission is to play through these, but take your time and work them in prayers. Play the first chord four times before the second chord four times. Don't move on until you've done this or they've become comfortable to you. Again, we've only used three variations of these so you'll start seeing the patterns repeat right away.
Download and print PDF: 5-string Mandolin Chord Pairs 'ii7b5 V7'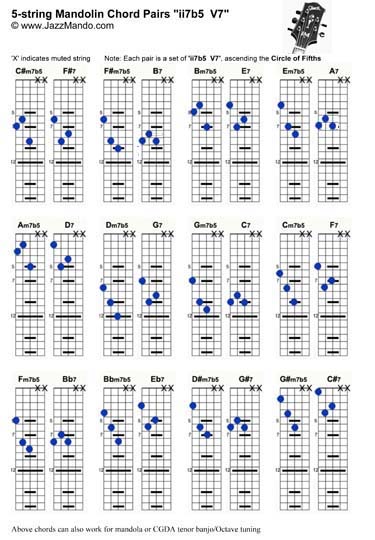 Did you notice once you've finished the last pair, you can start from the beginning and move successively through the Circle of 5ths again?
Take your time with these. Again, if you just have an 8- or 4-string, you can still glean a useful pattern here.
Stay tuned; we'll be covering some more basic chord grips for the 5-string soon.

Free 5-string chord template PDF
http://jazzmando.com/new/archives/001861.shtml
ii7b5 V7 i Minor Patterns
m7b5 Chords
Applying minor chord blocks--Black Orpheus

Posted by Ted at 8:42 PM

May 9, 2013 | Best of JM: Fourthness and Purple
Enjoy the popular archive material below.
From August 2, 2007 | Fourthness and Purple

---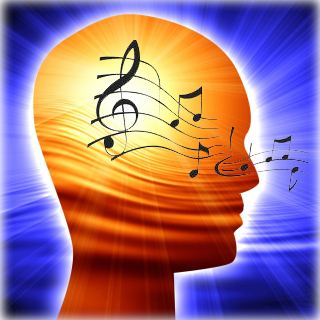 Music is such a subjective thing. The combination of art and science blends worlds of aesthetic intangibles with harsh concrete science, bringing listener and performer together in ways neither can control, predict, or imagine. The way the sense of hearing engages the mind is not unlike the other four senses; based on cumulative personal experience and familiarity, sometimes studied, more often subconscious.
Consider the antiseptic smell of a hospital. Most folks are conditioned to be uncomfortable around this, past unpleasant experiences condition the nose to warn the brain of potential discomfort, yet to a rescued jungle wanderer, this smell of civilization might instill an emotional state of sanctuary. The sound of a thunderstrom can be terrifying to a Sheltie puppy, but to a drought-stricken farmer, it's the voice of angels. Commercial graphic artists tell us a smooth Reflex Blue will induce calm to the reader, Cardinal Red will stimulate both attention and alarm. The senses respond culturally in somewhat predictable ways, but as individuals, often based on past experiences out of extremely personal histories.
Music and sound for the studied musician may mean significantly more than to the novice. Knowledge of theory involves the brick and mortar of harmonic and melodic structure, but this is mere intellect. How the aesthetic, the intuitive responds is every much as significant, and we can't afford to be eggheads about our theory. Ultimately, it's still a tool to not only deeper understanding, but a path to a higher level artistic experience. If done properly, in performances it can bring our audience along with us.
Chicago multi-instrumentalist and jazz mandolin pioneer, Don Stiernberg tells of his emotional response to chords and modes. Each chord extension may have a mood-inducing impact, a happy sound, a sad, an invigorating, and in his own mind, he experiences the music more passionately so. Certainly, he knows the theory, but that doesn't distract him from the aesthetic experience.
Berklee Professor John McGann quips, "Theory only seems like rocket science when you don't know it. Once you understand it, it's more like plumbing!" The truth is, we don't need to know plumbing just to enjoy a cool glass of tap water, but it's sure nice to have some basic knowledge of water pressure when maintaining a lawn or fixing a noisy toilet. His point is well-taken in that rocket science isn't something we all have access to, but plumbing is something we use (and enjoy) everyday; it's this experience that makes it relevant.
Have you ever pondered your own emotions stimulated by certain chords? Certainly, most will hear the stability of an open 5th or an octave. A three note major triad (C E G) is likely a "happier" sound than minor triad (C Eb G). Pondering more complex chords like major 7ths, impressions will be more subjective and individual. Certainly this harmonic vocabulary is more "peaceful" to the 21st century ear than use in past history. The contemprary blues musician will argue there is nothing more exciting than a flatted 5th note; a Medieval Gregorian monk would go out of his way to avoid this interval for fear of spiritual heresy.
It's all about context.
Let's offer some suggestions, but bear in mind, this is YOUR personal journey. We've talked about the "pull" of 4ths and 7ths. In practicing the FFcP scales think not only about which finger plays the 4th note of the scale, but add this interactive dimension of perception as you drill. In 1st FFcP, the 4th note is in the 4th finger, momentarily stopped in time does your ear (and finger) sense the restlessness? Do you experience the "fourthness? As you hit the 3rd note with your 3rd finger, is their a defining sensibility of majorness or minornesss? Do you enjoy a state of "thirdness." Can you duplicate this in 2nd FFcP and the other two fingerings?
In the early days of discovering the mandolin, when your playing was built on open strings as your home base, did these notes imbibe a feeling of stability, physically and aurally? How about emotionally? There's no reason you can' carry this sensation or experience into the other fingers AND expand characters and personalities to the other fingers. You really get beyond the mechanics of playing when you do this and experience true art even just running through scales and exercises.
What does that major 6th interval do for you? Is it happy, precocious, restless? How about the minor 7th? Is it consonant, rebellious... dare we get existential and say "purple?" There is no one single answer, and only YOUR answer as a unique artist and musician.
Experience in your practice routine, the art in the little things like this, and as you grow more deeply, the complex aspects of playing will become an even greater personal aesthetic journey.

Further:
Compose yourself. Story Arcs.
Forsaking the notes for the music.
Ensemble Sensitivity: Corps playing.
Building off silence.
Posted by Ted at 6:34 AM

May 2, 2013 | Best of JM: Building off silence
Enjoy the popular archive material below.
From May 8, 2008 | Building off silence

---

When we think of building phrases and intensity, we usually focus on where we are going. Higher, faster, louder, thicker texture, are all directions we can go, but part of the neglected elements are where we start. Simply, silence...

Think of an ice cream sundae. If you piled 100 cherries on top of the ice cream, butterscotch, chocolate, and couldn't even see the whipped cream top any more, it wouldn't be the same experience as one, two, or three cherries placed strategically on the top. You probably wouldn't enjoy the subtleties of the experience, the crunchy texture of nuts on the teeth, the cool ice cream on the palette of the tongue, the contrasting flavors in the swirl of butterscotch and chocolate at the roof of your mouth. Undoubtedly, you'd get sick of cherries, too.

Extreme soloing can be the same nauseating experience, and as a good ensemble player, you need to be sensitive to this dynamic as well. There's a time to comp intensely, and a time to lay back, and your contributions to the group will by dynamically better (pun intended) and appreciated. Let's ponder the ways to start.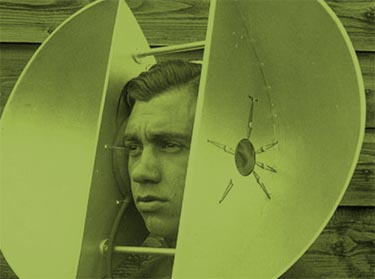 Silence. This is a no-brainer, but many players feel they aren't contributing if they aren't making some kind of noise all the time. This couldn't be farther from the truth. Laying out at the beginning of a song, pulling back on a chorus, letting someone else be featured, offers the listener much more variety of texture. Not every bite of an ice cream sundae has to have nuts in it; after a few spoonfuls without nuts, they taste even better. Electric Mandolin pioneer Michael Lampert rarely if ever, even comps behind a soloist. If you're surrounded by great rhythm players, not only is it unnecessary, you also risk stepping on others' toes with too much rhythmic or textural complexity.
Single notes. Ever just played a consistent rhythmic pattern on a single note as background? If it's the right note (tonic, dominant), it can be quite effective. Kick it up a notch by playing it in octaves. You don't have to be complex to be interesting!
Short melodic phrases. This doesn't even have to be the "call and response" of antecedent/consequent phrases, but you can weave very slow melodies in the background, as long as you yield to the "right of way" of the soloist. Don't showboat, though. Simply play chord-rich elements melodically and slowly.
Parallel Two-note melodies. Playing intervals in 3rds and 6ths on adjacent strings is one of the coolest capabilities of the mandolin. Try this in slow quarter note and half note runs. You can be laying down the harmonic structure without risking "busy-ness."
Don Stiernberg is one of the best players to listen to for how to use silence (and simplicity). He has a gift for reeling you in with digestible bite-size chunks of savory melody, well-baked and spaced, then wham! Out of nowhere comes a blistering pyrotechnical lick that disappears as quickly as it's stated. It's always a treat to listen to what he does with the mandolin. Consider a purchase of all of his CDs an investment in tuition in the College of Tasty Jazz Mandolin.
Further:
Plays Well With Others...
Ensemble Sensitivity: Corps playing
Playing with a drummer
Building off silence

Posted by Ted at 8:00 AM

April 25, 2013 | Easy Transposition
You can stretch the ears (and fingers) of a folk musician when you introduce "new" chords like DMaj7 or Em7. They will be use to D triads and G, A7, too. Of course every time a new chord comes up like this, it takes some research, likely in the form of a chord book or online chord encyclopedia. It's easy for them to be lazy though, since bluegrass tends to stay around the open string chord keys of G, D, and A, maybe a venture into C or B, and rarely do you inject more than a Dominant 7th chord.
Jazz is an exponentially more complex harmonic venture. Throw the concept of a DbMaj7 out there, brain and fingers freeze. Even someone with a moderate amount of music theory is easily intimidated by the notion of a key with 5 flats, but when you're equipped with transposition skills, the world is your oyster. You change from having to look up every single chord in the Great American Songbook and learning them block by block to learning the most common ones, and building a vocabulary based on chord relationships.
In some ways, knowing music theory is cheating.
Take that DbMaj7 chord. You can know it, learn to transpose it 11 more times, and you have 12 different blocks. Still, that seems like a lot, anything times 12. With some easy transposition skills, you can reduce the brain circuitry to much better efficiency.
Let's step back and take a look at one of the chord blocks we've introduced in the first block of our 3-Note Playing Cards, the 'ii V7 I' block: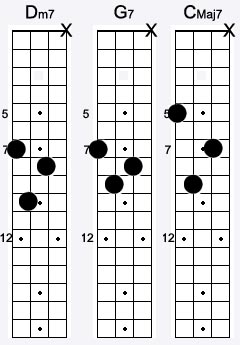 First thing we can do is move it up two frets. Instead of 'Dm7 G7 CMaj7' you have 'Em7 A7 DMaj7'. Note, you didn't learn three new individual chords, you just learned the transposition of three you already knew.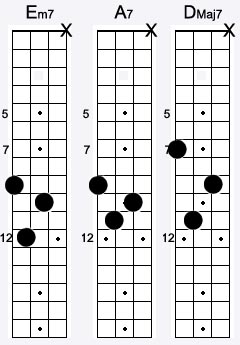 Same thing moving the blocks down two frets, we learn three new chords, not individually, but as a transposition of familiar, now you find yourself playing in a spooky flat key, Bb Major. Your bluegrass friends are impressed, but all you did was move your fingers a few frets lower.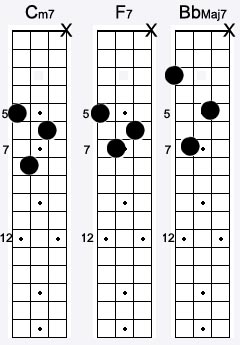 Take the keys in between, and you've learned the basic 'ii V7 I' sentence of some more chromatically intimidating keys, BMaj7 (also enharmonically spelled CbMaj7, by the way) and DbMaj7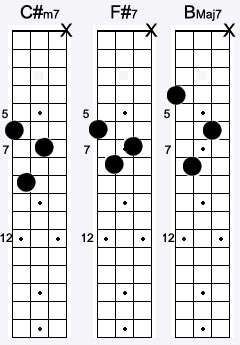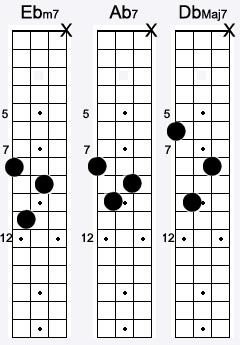 About that DbMaj7. Remember how we said that was a scary key to the folk musician, you just arrived there, as well as learned 15 more chords, simply by moving around the first two you learned from our Playing Card. Take into account there are only 12 keys, you've just now mastered in this short time, the capability of playing HALF of all of them.
This is probably obvious to the veteran jazz player, but it illustrates how much a little bit of theory multiplies fretboard facility. Hopefully, you're getting to the point where you don't even need to look at a chord reference again.
Of course, you can only transpose these so far before you run out of reasonable fingerboard real estate. That's why it's important to learn a few more blocks of the 'ii V7 I', to voice the other six keys, and develop some better voice leading in songs. Take some time to move them around, too.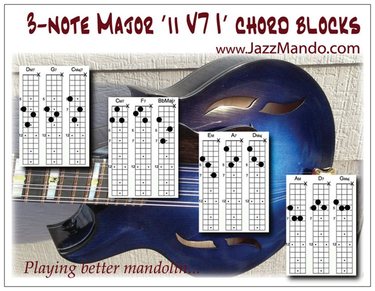 Purchase the whole set: 3-Note Playing Cards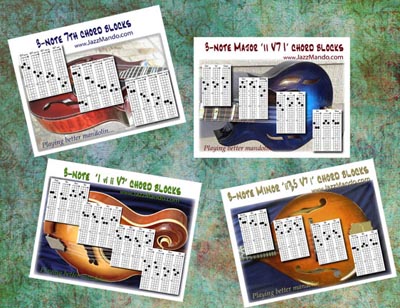 Further
Mobility--chord transit
Major 'ii7 V7 I' 3-note Mandolin Chord Blocks
Tasty Major landing chords
7th Chord Streams. Under the hood.
I hate music theory (Part 1)

Posted by Ted at 9:11 AM

April 18, 2013 | Best of JM: Thin-slicing and Music Theory
Enjoy the popular archive material below.
From December 8, 2011 | Thin-slicing and Music Theory

---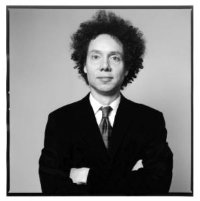 Best-selling author Malcolm Gladwell probes into the concept of thin-slicing in his breakthrough book, "Blink: The Power of Thinking Without Thinking." It's a survival concept we take for granted, the ability to assess a multitude of cerebral complexities in situations and compress them into a fast reacting response.

Say a large carton of roof shingles comes tumbling off a roof at a construction site and you happen to be standing beneath at impact. You hear it sliding, look up, and jump out of harm's way. Your reaction is primal instinct. Move. No calculating the speed of the fall, weight of the box, complex formulas of mass and velocity. Protective brain synapsis fire "Move, body!" and you do, sans science or physics. Your decision is reduced, "thin-sliced" out of necessity simply because to survive, or at least avoid a bruising blow, you judge you needed to move.

Music theory is a lot of science and mental calculating. We preach knowing the fundamentals to be able to understand chord context and intentionally create great sounding melodies during improvisation. Knowing when to plug in a Lydian mode or that the dominant chord requires a flatted 7th is important for moving around in music, but we can let it bog us down, especially when the music flows at light speed.

The purpose of drilling scales and modes, practicing chord progression is to internalize them so well you don't have to think. Like stepping out of the way of roofing shingles, you need to be able to just react at that Secondary Dominant chord, and raise the F natural to an F#. When the scales are familiar enough, it becomes more feel than calculation.

Listening to music involves more of this thin-slicing than we realize. Creating music that's intentional and appropriate requires us to be able to thin-slice, too.

Blink is a fascinating read, helpful in understanding our own decision making processes. We encourage you to add it to your library.

Purchase Book:
Kindle: Blink: The Power of Thinking Without Thinking
Blink: The Power of Thinking Without Thinking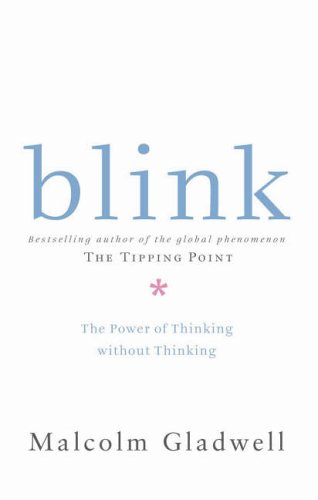 Further
Variables
The Basics of Auditioning Instruments
Approaching Improvisation
Suspicion of Melodic Intent
The Jazz Brain; Improv

Posted by Ted at 6:19 AM

April 11, 2013 | Stella by Starlight 'iiv7b5 V7' Fun
Minor keys often baffle the bluegrass musician. Generally a minor-ish folk song will be more simple, Dorian or Aeolian with it's more static 6th and 7th scale degree is far less challenging than the ever shifting minor keys of jazz. First casualty is the ii chord of the minor mode, most often expressed as a ii7b5. That lowered 6th expressed in this chord means we need to realign the way we express this chord, and it isn't always easy for the novice.
We introduced some block chords in our Tips and Tricks column several weeks ago Major 'ii V7 I' 3-note Mandolin Chord Blocks, and we encouraged you to continue to experiment with transposition. This week we'll take you into a traditional jazz favorite that will allow you to experience how valuable it is to be able to internalize the first two of these chords. The haunting Victor Young ballad is ripe with 'ii7b5 V7' and you'll enjoy a couple variations you can transport into other minor key songs.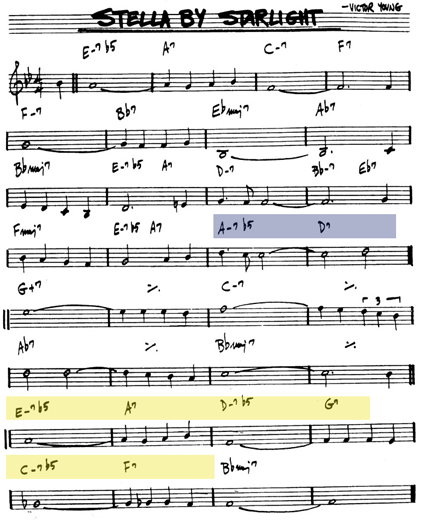 Note the chord progressions at the end we've outlined in yellow have "Circle of 5ths" progressions starting with the Em7b5. We've started this with a block higher in the frets, and you'll see why as you descend. You can play this whole section with just two blocks!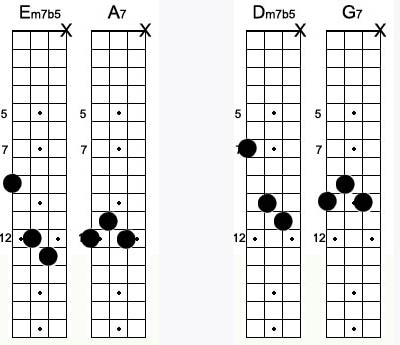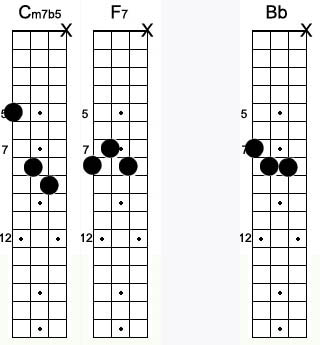 We ended this with a Bb chord like the song, but you can take the Circle of 5ths farther into your own exercise in music theory if you were to continue on with a Bbm7b5: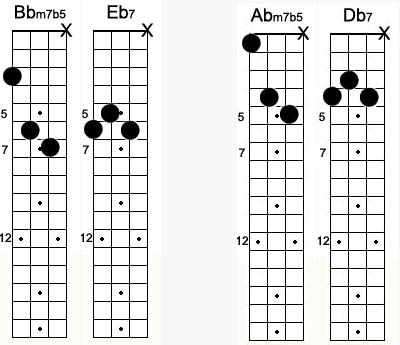 In the pattern we've outlined in blue, you can move the 'iim7b5 V7' up a fret and voice it there, or you can use another chord block higher up the frets we show below: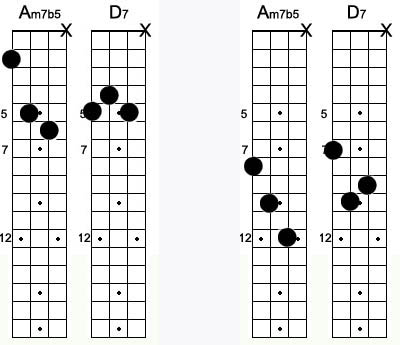 For kicks, how about taking the 'Am7b5/D7' on through some more theory and work it down the fretboard, too: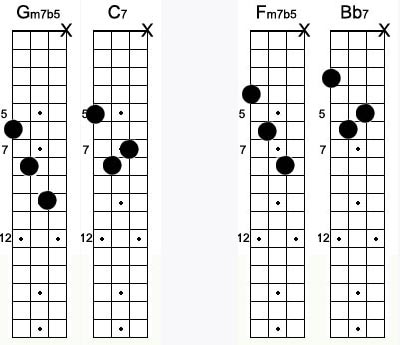 Again, we encourage you to be able to use these blocks in other songs, other keys. Go back and look again at our 'iim7b5 V7 I' grips and come up with your own Circle of 5ths exercises!
Ralph Patt backing track Stella by Starlight
Stella MP3 downloads
Further
m7b5 Chords
Applying minor chord blocks--Black Orpheus
'ii V7 I' and 'ii7b5 V7 i' Home Positions
Vamps. Minor modal
ii7b5 V7 i Minor Patterns
Posted by Ted at 10:12 AM

April 4, 2013 | Diatonic Major and Minor Chords with Brian Oberlin
For this week's Tips and Tricks article, we have another special treat from guest columnist and Oregon clinician, Brian Oberlin. In addition to his Pacific Northwest teaching and playing schedule, Brian coordinates the prestigious June River of the West Mandolin Camp, one of the finest mandolin workshops in the world. This week, Brian gives an important introduction into the world of music theory specifically for the ears and fingers of the mandolinist.
Quick but important plug in for River of the West, Brian tells us there is still some space available in the camp, but it would be a good idea to get your registration in right away. It's closer than you think! (See link below)
We can only imagine how beautiful the woodlands of Oregon is that time of the year.
Diatonic Major and Minor Chords with Brian Oberlin
Download 2 page PDF:

Diatonic Major and Minor Chords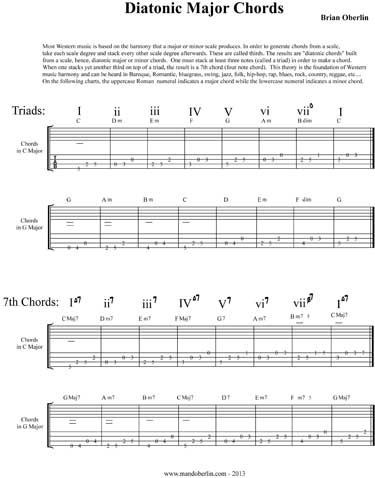 My students are always asking for new tips on improvisation and I consistently tell them that there is no "instant gratification." Meaning, once you learn a new chord and your fingers find it easily, it is instant gratification. Improvisation is not this easy. One must put in the time in order to speak the language of improvisation. The first step is to understand the chords that you will be soloing over. This is my first entry into "Better Improv" and you should familiarize yourself with diatonic chords in major and minor. Learn chord shapes and practice the arpeggios listed. Most importantly, understand the basic rules of what chords are in a key. Once you learn the rules, you can start breaking them and off we go!!!
Any questions, please email me. - Brian Oberlin
www.mandoberlin.com
Read previous Brian Oberlin article:
Voice-leading swing chords and extensions
---
Camp information: 2013 River of the West Mandolin Camp
June 6 - 9, 2013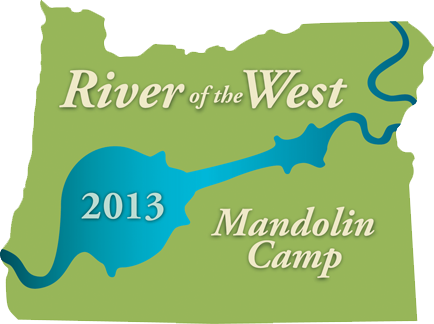 Columbia River Gorge, 20 miles east of Portland, Oregon
Further
Fitting in with triads
Vamps. Creating energy with Diatonic triads
Five part series on 3-note vamp chords complete
Vamps. Expanding the Diatonic triads
3-note Mandolin "Playing Cards"
Posted by Ted at 7:19 AM

March 28, 2013 | Chord Commonalities
In our August 2005 archive issue of Mandolin Sessions, we discussed how particular chords could have a different flavor or mood, depending on the context. Since we've explored a lot of ways to streamline extended chords into three simple notes, we thought it opportune to dig this issue up. In particular, we mentioned the four notes of a m6 chord where the same as a m7b5 and a rootless 9th chord.
Read article: Chord Commonalties; m6, m7b5, rootless 9th
Am6 = A C E F# * F#m7b5 = F# A C E * D9 (rootless) = (no D) F# A C E
We created a handy reference chart for you to visualize this.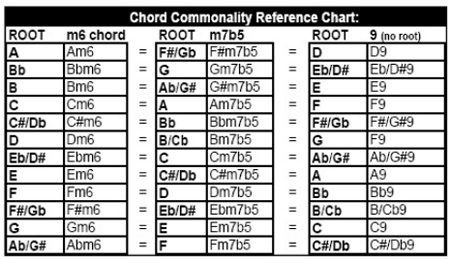 What's interesting is how the same set of notes F# A C E can be used in each of the three different "planets" of the Tonal Universe.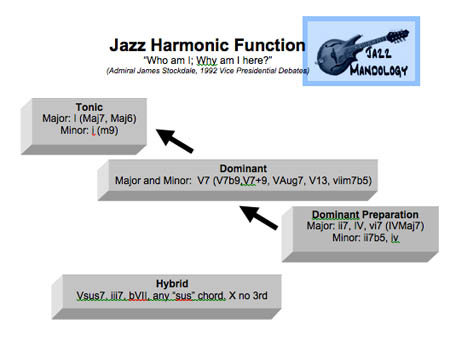 Am6 can be a Tonic chord, with an added voice for color. All chords progress to Am in the key of A minor.
F#m7b5 can be a Dominant Preparation chord. It is the iim7b5 chord in the key of E minor.
D9 (rootless) can be a Dominant chord. It is the V7 chord in the key of G Major (or Minor).
F# A C E. Same notes, different hats.
Sometimes when you throw out a set of notes, you don't always know where you are going. It pays to listen to what's going on around you!
Further:
Chord Commonalties; m6, m7b5, rootless 9th
Tasty Major landing chords
Chord Economy
Fourthness and Purple
Take Three
Posted by Ted at 12:47 PM

March 21, 2013 | Best of JM: Jazz and Bluegrass; How close?
Enjoy the popular archive material below.
From December 17, 2009 | Jazz and Bluegrass; How close?)

---
NPR has a terrific online article in their weekly "Take Five: A Weekly Jazz Sampler" series highlighting five incredible "hybridized" audio tracks from some progressive fret musicians including Bela Fleck, Alison Brown, David Grisman, Andy Statman, and Tony Rice. The thrust of the article is the similarities between the genres, and we concur. Despite the differences in complexity of chord structure (including complicated chord extensions and rapidly shifting tonal centers) and urban vs. rural origin, there remains several common threads between the uniquely American grown styles.
Take some time to listen to the tracks.



Read article: NPR Take Five: A Weekly Jazz Sampler; Jazz and Bluegrass

---

Just what are the similarities between jazz and bluegrass?

Variations on a Theme. You'll find jazz and bluegrass thrive on the conflicting elements of predictability and exploration. Both use the familiar tune as a jumping off point for improvisation and deviation, taking the rest of the ensemble and the audience on a creative journey, but the basic background chord structure remains the same. There is always a fabric of familiarity, something for the players to keep in common as they try new melodic riffs and explore the registers of their instrument using rhythmic motifs from the original melody.

Moments of virtuosity. The degree of "flash" varies with the level of musicianship, but it can be argued that both formats give the player the opportunity to be him/herself. You can get the blistering Dizzy Gillespie gymnastics, or the finesse and subtle nuance of tone in Miles Davis. You can get the unique signature styling of Bill Monroe, or the melodic dynamo and fretboard pyrotechnics of Ricky Skaggs.

Common library of "standards." Both styles are easily participatory with a good working knowledge of several dozen "classic" tunes. With a respectful musical ability, you can sit in on most jam sessions equipped with these familiar tunes in your quiver. Bluegrass has its own set of common songs, and of course jazz has its "standards," documented in what's established as a "Real book." It's amazing how no matter where you go on the planet, you'll find a commonality of songs.

Universal format of performance. Participation carries a common set of community "rules." Those who gather will let someone set the tempo, kick off the tune. There may be discussion prior as to who will take solos, or there will be an organic "understanding" of who goes next. In a good session, players will be considerate of their soloing time, reciprocate, and not hog the show. Of course every jam or performance will have its own outcome and variety of individual personality, but jazz and bluegrass are amazingly similar in the trade-off.

It's all good.


Further:
Tuneage: Sample Jazz Standards Set List
Plays Well With Others...
Analysis: Macroscopes and Microscopes Part 1
Respect the Silence


Posted by Ted at 7:48 AM

March 14, 2013 | Applying minor chord blocks--Black Orpheus
We've gone through the theory and we showed several different ways to grip the chords that comprise the most basic sentence of Western European music, the 'ii V7 I' and it's dark sister 'ii7b5 V7 i' the last few Tips and Tricks columns. It's one thing to have the vocabulary, quite another to use it in context. Knowing a few words in Spanish will only be beneficial if you know how to string them in a sentence, "Perdone, ¿d ónde estáel baño?"
We want to take some of our most recent blocks and apply them to a favorite Louis Bonfi jazz standard, Black Orpheus. Hopefully, you've had the chance to play through some of last week's minor 'ii7b5 V7 i' progressions, and of course we encouraged you to experiment with the fingerings in different keys. By the way, we did address an incorrect spelling of the Dm7b5 chord, so if you already printed it, you'll want to change to the recent version. This time, we'll extract two tonal centers and map them out for you, A minor and D minor.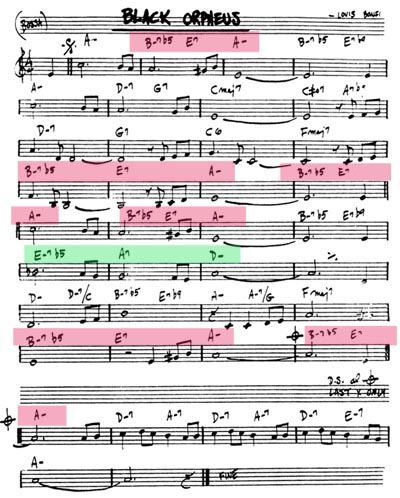 We've highlighted them with two different colors. All four grips are mapped out for you below. Of course a couple may not be that practical because of the their stratospheric position on the fretboard, but you can get the idea of how versatile these basic positions are.
Pink=A minor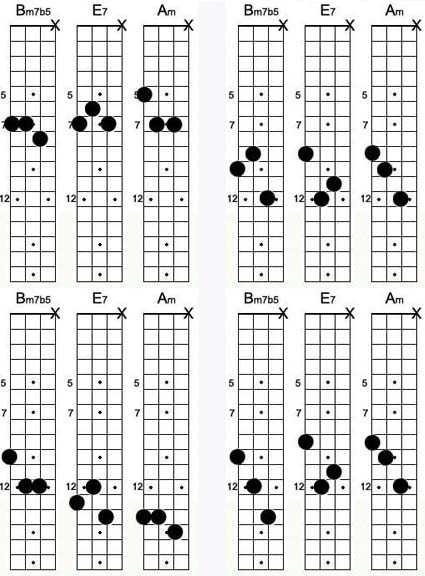 Now we'll do the same for the D minor tonal center. Note a lot of jazzers with use a V7b9 instead of a straight V7 in this tune, but we wanted to keep this basic for now. We left off the b9 extension. Enjoy:
Green=D minor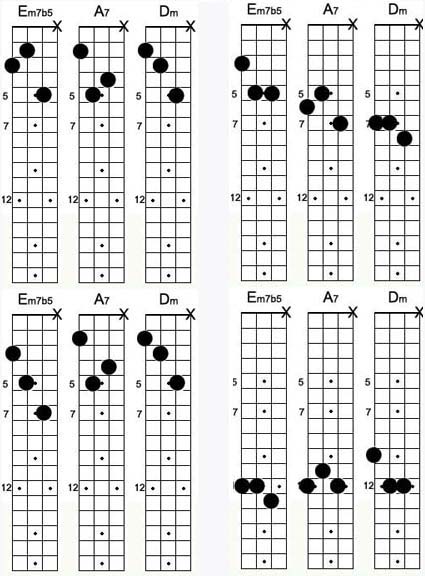 Here's a link for listening to the tune and playing along with it. Repetition will help you learn them, and you can try applying them to other minor songs.
Black Orpheus Fakebook

Further
m7b5 Chords
Major 'ii V7 I' 3-note Mandolin Chord Blocks
'ii V7 I' and 'ii7b5 V7 i' Home Positions
Vamps. Minor modal
ii7b5 V7 i Minor Patterns
Posted by Ted at 2:33 PM