Introducing Getting Into Jazz Mandolin 20835BCD from Mel Bay Publishing.
LIMITED DISCOUNT PRICING!!! Only $16.95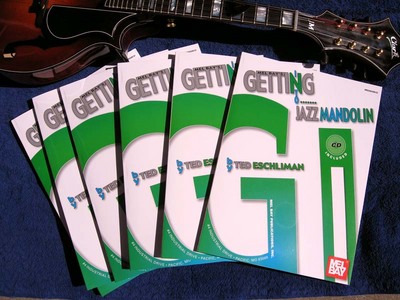 Why Jazz Mandolin?
The last half-century has produced an explosion of interest in guitar, mandolin, banjo, ukulele, and other string instruments. Once relegated to simple folk music, these instruments are now in their heyday of popularity, enjoying an exponentially expanding immersion into a variety of more complex styles, from blues to jazz, to a wide array of world ethnicities.
Though rooted in nearly three centuries of European tradition, only in the last two decades the mandolin is just recently following closely on the heels of its more popular bigger brother, the guitar. From Cowboy chords, to Elvis, to Guitar Hero, the guitar of today is prominently main-stream, arguably surpassing the piano in status. The mandolin is poised to capture and captivate a similarly expanding market and popularity; all that has been missing is the published pedagogies necessary to equip the player to enjoy a broader array of musical styles. Until now...
Jazz is the natural evolving starting point, with its complex rhythmic and harmonic structure; Mel Bay writer Ted Eschliman has developed a strategic method to take the advanced-beginner folk mandolinist into the richly verdant vocabulary of jazz. With this language at his/her fingertips, the player can dig deep not only into jazz, but other equally complex genres, including classical, Broadway, Brazilian Choro, and many other challenging musical styles.
What this book offers:
A clear, consistent course progression. The player starts with something already known (the Major Scale) and develops patterns that can be intuitively expanded. Jazz variations are introduced incrementally, and by the end of the book, the player should be relatively comfortable improvising.
Clear language. Advanced music theory is explained with unpretentious prose, uncomplicated terminology and good humor. A mandolinist could simply play through all the exercises, and at very least, get more proficient with the fretboard, at best build some higher level jazz vocabulary.
Supportive Audio. 70 minutes of recordings (accessible online) gives audio examples, as well as limitless opportunity to practice and jam with the exercises. An additional web-based audio page on the JazzMando.com website, "Webtracks" offers expanded opportunity to hear and interact with even more sound tracks and professional artists' interpretations of the music and concepts.
Tab and notation. Exercises are written in both standard notation and mandolin tablature to communicate proper fretboard positions. Fingering markings are included to suggest effective finger placement.

---
What makes this book different from any other mandolin book?
Though its exercises offer generous benefit to any mandolinist desiring better finger technique and fretboard familiarity, its focus is on the more complex harmonic vocabulary of jazz, but in a slow, non-threatening tack. It's comprehensive, but not cloyingly detailed, bogged down with esoteric trivia. It allows guidance, but also opens doors to nurturing further player self-discovery. It develops playing strength and discipline, but in a fun and entertaining manner.
Eschliman has pioneered the revolutionary "FFcP" pattern method of moving scales and patterns around the fretboard. Mandolinists across the world are already using his unique movable system to supercharge their improvisation skills, and the book takes this systematic methodology to a whole new level, while simultaneously introducing advanced aural concepts.
Instructions:
ORDER BOOK

---

20835BCD with domestic shipping $16.95 plus $4.05 Media Mail s&h
(International Shipping $18.75 below)
---
Or:
Send $21.00 check payable to "Jazzmando" (no cash, please!) specifying GiJM Book, with your request, and your mailing address to:
"GIJM OFFER"
JazzMando HQ
7341 So 35th
Lincoln, NE 68516
(Drop us a note if you send a check, so we can be sure to hold one for you.)

#USIFCP
We can ship non-domestic book orders for an additional $18.75 each, Canada $12.00. Countries we've had success shipping to include:
UK (Great Britain)
Ireland
France
Belgium
Germany
Israel
Australia
New Zealand
Finland
Norway
Sweden
Japan

---

If your shipping country is not listed above contact us prior to ordering.


Clicking this will add $18.75 to your shopping cart.


(Qualified) First-Class Mail© International Extra Shipping Charge

$18.75



---
Clicking this will add $12.00 Canadian Shipping to your shopping cart.
(Qualified) Canadian Mail© International Extra Shipping Charge
$12.00
---
Don't forget to check out the latest audio updates at our web-based PROFESSIONALS SOUND LAB here on the JazzMando website, "Webtracks," including demo tracks by premier jazz mandolinist Don Stiernberg.

---