May 19, 2013 | Why music moves us.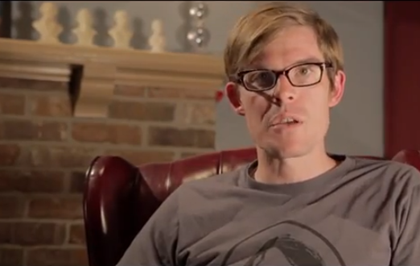 Music is "cheesecake?"
The following video makes the case for that, and activity that isn't something that drives our evolutionary advancement or need for sustenance. Still, it makes our live better and more enjoyable. And uniquely human.
It is an intriguing question posited. How is it that patterns of simple vibration (sound waves) can stir and move us emotionally?
Check out the following PBS Digital Studios video. Link: Why Music Moves Us
Posted by Ted at 6:42 AM

May 17, 2013 | Introducing 5-string chord pairs: 'm7b5 V7'
The 'IV V7' part of the 'IV V7 I' is pretty easy for any folk or blues musician to pick up. It's a major part of the DNA of western European music. Even the jazz version of this in the major key 'ii V7 I' is an easy segue, but once you tackle the minor version of this basic musical sentence, the 'ii7b5' lays down a bit of a speed bump for musicians.
We're introducing some 5-string chord strategies this summer, and our first stop is tackling the challenging part of the 'ii7mb5 V7 I' and showing how you can master it in all 12 keys, in the context of pairing with its V7 chord. Check out our latest Tips and Tricks article with a 1-page PDF download where we explain a little bit of the theory.
As always, even if theory isn't your thing, these 3-note voicings are good to get into your fingers and ears. Also, though a 5-string may not be in your arsenal, these chords are terrific for mandola and tenor banjo, and because of their transposable nature, you can ignore chord labels and just learn the blocks.
Enjoy article: 5-string chord pairs: 'm7b5 V7'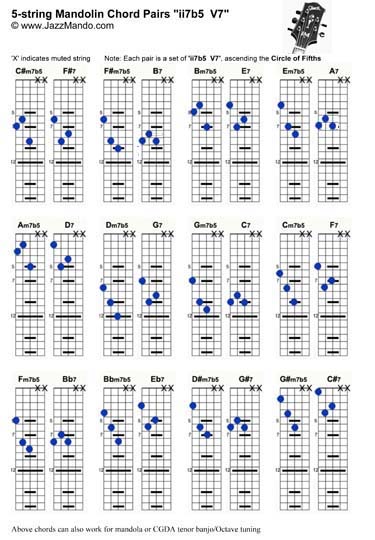 Posted by Ted at 6:13 AM

May 15, 2013 | Traveling in space... with an instrument?
Premier jazz mandolinist Don Stiernberg likes to jest in his clinics one of the best features about playing mandolin is its ease of storing in the overhead compartment of an airplane. So we ask, how easy is it to take into outer space?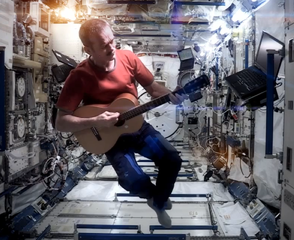 Canadian Astronaut Chris Hadfield resident of the International Space Station the last five months could tell you about traveling with his Larivee guitar, of course a bit larger than a mandolin. Most musicians spending an inordinate amount of time in isolation would probably want to pack their favorite instrument, the mandolin no exception.
One of his many amazing space "experiments," he recorded in space a magnificent cover of the 1969 David Bowie classic "Space Oddity," inarguably one of the greatest covers of the song.
Ever.
Enjoy his out-of-this-world version. Link: Space Oddity
Posted by Ted at 5:25 AM

May 13, 2013 | The latest from Don Julin
It's common knowledge now our friend and former JazzMando staff contributor Don Julin and his popular "Mandolin for Dummies" has been an international hit. The 378 page book is a comprehensive approach to the instrument, covering its history, instrument physiology, playing techniques, music styles, and a heaping boatload of references and external resources. There's enough range to encourage the beginner, but also nudge the advance player. It's a definite must-have in any mandolinist's library.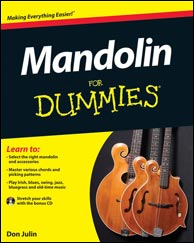 Don recently weighed in with us on some good news. "I have just signed a second book deal with Wiley & Sons 'Mandolin Exercises For Dummies'" he reports, "with an expected release date sometime in 2014." No doubt a concentrated attack will be an excellent follow up to the success of his first tome.
We also hope you didn't miss the fall release of his most recent CD, "Vibe." We reviewed this in November. http://jazzmando.com/new/archives/001910.shtml
Add this to your list of significant acquisitions, too.
Purchase: Don Julin; Vibe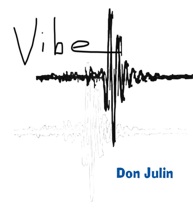 Posted by Ted at 4:33 AM

May 11, 2013 | Sorensen Sprite mandola
We're big fans of Santa Clarita (California) builder Steve Sorensen. Introduced to his craft in the spring of last year, we even commissioned him to create a personal custom Sprite JM Blueburst asymmetrical 2-point mandolin that gets regular stage rotation. He's very much a rising star, top shelf builder on an international level (customers in Europe, lately).
He's recently upped the ante with a mandola version of the Sprite, currently on sale in the showroom of Dennis Vance's Mandolin Store in Arizona. Check out the recent Mandolin Cafe Classified ad, or contact the store directly.
---

Read builder review: Sorensen "Sprite" Asymmetrical 2-point mandolin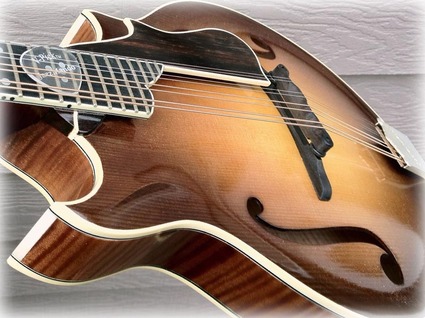 More about the Sorensen Sprite JM Blueburst mandolin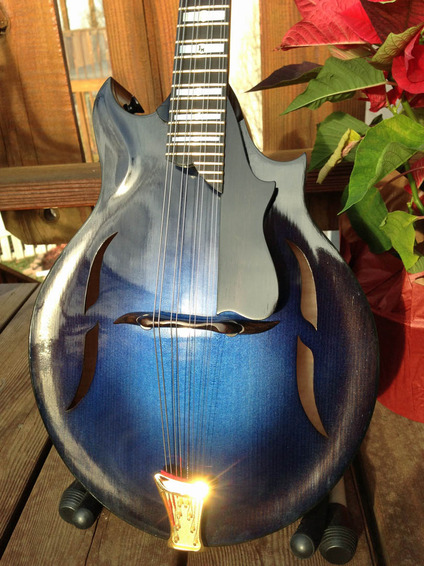 Posted by Ted at 5:51 AM

May 9, 2013 | Last Call! River of the West 2013
We're down to rhyme time for the June River of the West Mandolin Camp (less than a month away) and we want to put in a personal pitch for JazzMando staff writer and camp coordinator Brian Oberlin's little slice of Oregon forest paradise. Several of our readers have weighed in about what a great experience it was. Now in its 5th year, the workshops and educational experiences only get better.

The June 6-9 event is nigh--get your registration in this week!
Camp Details: River of the West Mandolin Camp June 6 - 9, 2013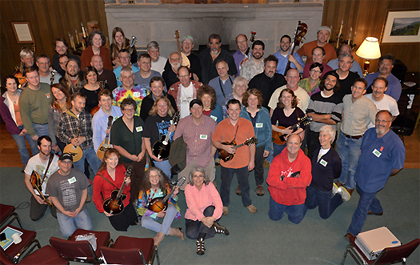 River of the West 2012 participants
Archive Video link: River of the West Mandolin Camp

River of the West Facebook Page
Posted by Ted at 6:17 AM

May 7, 2013 | JazzMando Tote Bag
Featured in the JazzMando Logo Store
The JazzMando 100% cotton canvas tote bag has plenty of room to carry everything you need when you are on the go. It includes a bottom gusset and extra long handles for easy carrying, made of 10 oz heavyweight natural canvas fabric.
We keep one in the car for groceries, and most of the local grocers give a nominal discount off your total each time you use this instead of plastic or paper. It paid for itself in a couple short months.
They're also great for starting conversations about mandolins!
Full side and bottom gusset
22" reinforced self-fabric handles
Machine washable
Measures 15" x 18" x 6"

Purchase information: JazzMando Tote Bag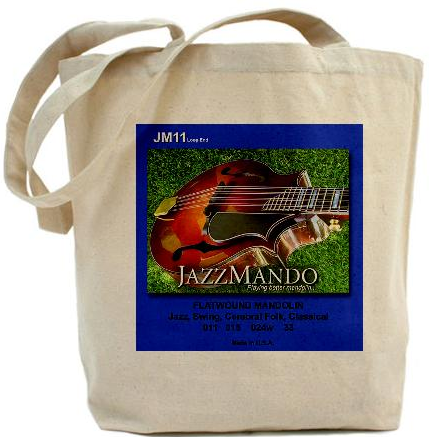 Posted by Ted at 5:15 AM

May 5, 2013 | When Bouzouki Shares Spirit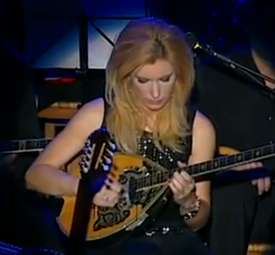 Mandolin, bandolim, mandola, octave, mandocello, emando--we love the mandolin family. That includes our double course brethren across the Atlantic (and Mediterranean), a fabulous Greek Bouzouki ensemble. The orchestration is festive, the mood celebratory. Greet musicianship and fellowship.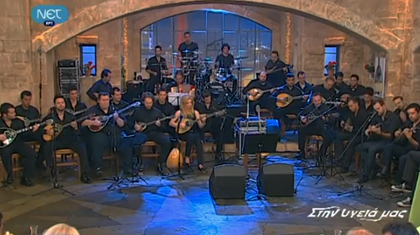 Enjoy!

Video Link: When Bouzouki Shares Spirit

Check out our previous eBay score: : Eko electric bowlback bouzouki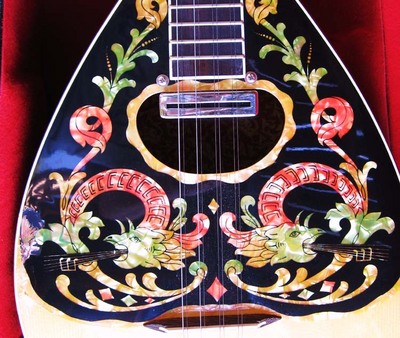 Posted by Ted at 6:01 AM

May 3, 2013 | Mischievous Swing Newsletter
We mentioned Oklahoma based acoustic string jazz ensemble "The Eichers" in February, the release of a fabulous video. Their song now has fans in over 20 countries. The patriarch of the group, Shelby Eicher is a long time veteran of the southwestern US Texas Swing scene, himself a National Hall of Fame fiddler (as well as a virtuoso swing mandolinist) joined by three sons, Nathan, Paul, and equally talented mandolinist, Isaac.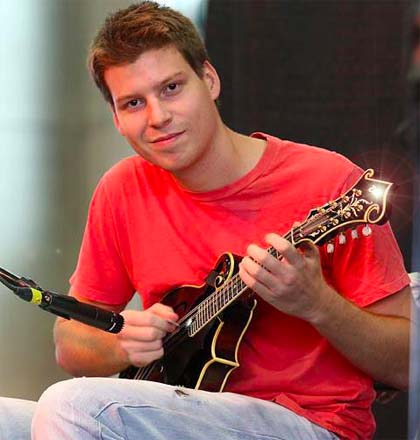 Isaac Eicher
The've just announced the creation of a semi-monthly newsletter and you need to check it out. The inaugural issue includes an interview with mandolinist Isacc, an update on their most recent recording Mischievous Swing and a free sheet music transcription from the new CD.
Visit Mischievous Swing Blog: Mischievous Swing Newsletter
Purchase or Download CD: Dance of the Gyspies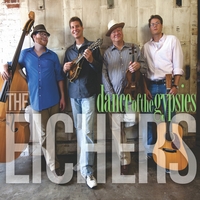 Posted by Ted at 5:10 AM

May 1, 2013 | Static Changes: V7 chords
Our popular four part series on static chord changes at the MandolinSessions.com website offered a revolutionary approach to supercharging long, stagnant chord progressions. Even 12 bar blues is a whole different ball game when you can play a 7th chord four different ways up the neck. We showed you how!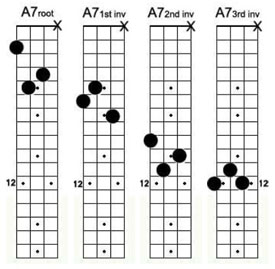 If you haven't seen this or just want a refresher, take the time to dig these up. Don't worry about the names of the inversions, just learn the blocks. Eventually you'll be able to replay them in your own jamming fretboard reality show!
Read archive article: Static Changes: V7 chords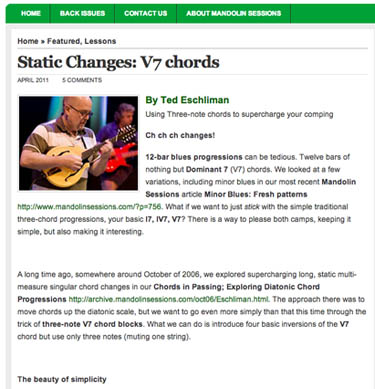 Posted by Ted at 5:08 AM