« Nathan Chan, "The Swan" | Main | Last day for orders! Strings/picks/cloths or book. »

May 30, 2011 | Will Patton; Flow
We've just been privileged to an advance copy of Will Patton's CD "Flow," and no surprise, enchanted with the swing and ethnic rhythms and the contagious melodies of this masterpiece project. We've been expecting this for a couple years, and it's everything we could have expected and more.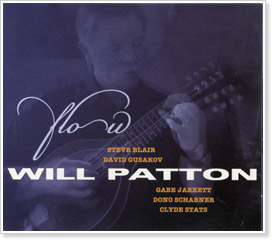 His fifth recording, Will takes us to some familiar Patton ensemble terrain, the hard driving four-beat-to-a-bar acoustic swing, some South American induced percussiveness, and a dab of French musette, but their is nothing tired about this. The inclusion of longtime musical friend, French jazz guitarist Nine Garcia is more Johnny Smith than Django Reinhardt in this recording, and we also have the sultry harmonica inclusion of Will Galson, and an almost country twang from the dobro folk stylings of Jim Pitman.
We also get welcome clarinet phrasings of daughter Anna Patton who continues to mature her own signature jazz sound. Violin (David Gusakov) and clarinet offer an enticing textural contrast to the plectral nature of Will's treasured vintage Gibson oval hole A mandolin. The majority of tracks are catchy original tunes, but the New Englander treats us to some terrific jazz standards like Cheesecake (Dexter Gordon), Bebop in Pastel (Sonny Stitt), and the Billy Strayhorn/Duke Ellington ballad waltz, Daydream.
Will jokingly confides, the entire project is "the latest salvo in my get rich slowly campaign. I kind of turned off the edit switch in my A&R deliberations (thus, partly, the title "flow,"). There's a bit of Cuban-Brasilian-French-Folkie-Bebop going on here."
We love it, delighted with the 5th installment in our personal Will Patton discography. You should, too.
Selections:
Cheesecake
Le Marais
Charanga
Waltz for Anna
Bebop in Pastel
Sampa
Big Dawg
Daydream
November
Caporal Swing
Read past reviews: 6th St. Runaround, String Theory.
Additional information:
Artist website
Purchase: Will Patton: Flow
Read our recent Mandolin Cafe artist interview: 10 Questions for Will Patton
Posted by Ted at May 30, 2011 6:18 AM