New from the Will Patton Ensemble,
6th St. Runaround.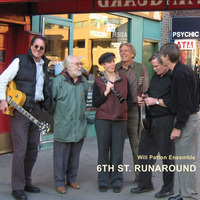 Will Patton, consummate Gypsy/Choro musician has wowed the mandolin world once again with his fourth masterpiece CD, "6th St. Runaround." Patton has recorded a consistent stream of signature "Django meets Jacob" music for over a decade, and this one further injects, as he confesses to his younger days "prowling around lower Manhattan taking in jazz every night" where he was inspired in paradoxically half-empty clubs by the likes of Bill Evans, Sonny Rollins, Art Farmer. Will muses, "James Moody at Sweet Basil, a late night set on a weeknight--there was a table of good natured hecklers behind us that led to a hilarious exchange from the stage--it was Cecil Taylor and his posse.... I felt like I was in jazz heaven."
The title track "6th Street Runaround" opens with a hard-swinging resolve, immediately establishing the CD's agenda, with the subsequent "Parana" returning to Patton's familiar South American sound. What we really have been eagerly anticipating was his first meeting with Texas Swing/Bebop mandolin authority Paul Glasse on the project's 5th track, "Breakfast Feud." Though the two had only corresponded long distance prior, and are certainly kindred spirits, their "first contact" recording in Austin prior to Summer NAMM 2007 gave the jazz mandolin powerhouses a chance to exchange ideas and commit some excellent playing to hard disk. Glasse, just recovering from a broken wrist six weeks prior clearly "took one for the team" and was still able to coax his signature magic out of his Monteleone A5. It's an interesting study in mandolin sound; in the left channel with Will's classic Teens Gibson A (right for Paul's A); the results are blissfully subtle and ironically commanding for instruments both known more for their sweetness than their gravitas.
Patton's interpretation of the Mercer/Van Huesen classic, "I thought about You," exemplifies his unique ability to fit in with the standard jazz combo, horn (clarinet here), piano, bass. The mandolin undeniably holds it's own within the traditional setting, as it does with the follow up Bud Powell bop familiar "Webb city" in the hollowbody jazz guitar/mandolin duo backed by rhythm section. The album, like the rest of the body of Patton's recordings, is a veritable laboratory of the mandolin's all-too-rarely tapped jazz potential.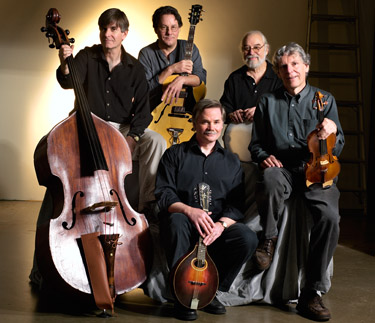 While Will's impeccable string improvisation skills dazzle, it's his structural sensibility that hits all cylinders on both cerebral and intuitive levels. Almost a folksinger approach to all of his craftily constructed songs, his original melodies are catchy and infectious. The project had been two years in the planning and though each soloist blows brilliant improvisation, the tunes are executed tightly with consistency and direction. The songs allow the players to breathe, yet the end result never betrays the ensemble's gestalt. Of particular note, daughter Anna's clarinet skills continue to mature and bring the next generation of the Patton genes to the microphone. Her sweet tone and classic jazz sensibility jibe well with the rest of "the boys;" it has to make a father proud.
This is a great collection of songs, and is destined to take its place with his other three projects already in permanent rotation in our stack of most-played CDs.
Selections:
1. 6th Street Runaround
2. Parana
3. Bess
4. Valse 29
5. Breakfast Feud
6. I Thought About You
7. Webb City
8. Bounce
9. Turbilhao
10. Nick's Tricks
11. Tournez a Trois
Purchase: 6th St. Runaround
Artist Website
Read past review: String Theory
Note: Will Patton has graciously contributed a song demo in our own book support page. If you're currently studying out of "Getting Into Jazz Mandolin," check out his interpretation of "Lydia O'Lydia" on the Webtracks page.


Check out other new release artist recordings