« Strings, Picks, Polish Cloths, Books, before it's too late... | Main | Will Patton; Flow »

May 28, 2011 | Nathan Chan, "The Swan"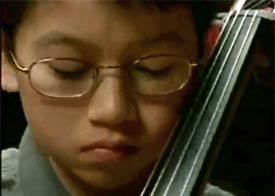 Sometimes we get so wrapped up in the mechanics of playing, we forget "to play."
We'd never undersell the pursuit of an in depth mastery of fundamentals and good mandolin technique, that's what we're for on the site, good tone, music theory basics, and effective practicing. Through it all though, we're here to make music.
Art.
The arpeggios, the FFcP, the m7b5 chords are nothing if they aren't used to ultimately express the soul.
This beautiful HBO video excerpt of young cellist Nathan Chan (11 at the time) does more to this notion than we could ever put into words.
Video link: Nathan Chan, cellist, plays The Swan by Camille Saint Saens
If you don't get a little teary eyed from Camille Saint Saens, check your pulse. You may well be dead...
Posted by Ted at May 28, 2011 5:38 AM