« Coming soon. Will Patton project #6! | Main | Fresh Rigel bargain gems »

November 17, 2014 | D'Addario FW74 flatwound strings now EFW74
The question has come up. What is the difference between D'Addario Strings newly listed EFW74 flatwound strings and the FW74 we helped them develop seven years ago (ultimately released in 2010)?
Answer: Cooler packaging.
From our inside sources, "Great question, we're in the process of migrating all of our mando strings into sealed, corrosion resistant packaging, like our acoustic strings. Hence, the item # change. New look, better packaging, that's the skinny. Go for the new ones with the "E" in the prefix. The old version will no longer be available once the current inventory is liquidated."
The strings did not change. The strings remain one of the best values in flatwound mandolin alternatives. With the premier Thomastik 154 sets street pricing around $49 US, you can find these sets at almost 1/4 of that price. They're also a terrific replacement for those who were fond of our own JM11 mandolin strings discontinued in 2013.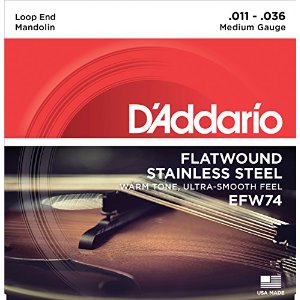 Read how these came to be: The origin of a new string: D'addario FW74
These strings are constructed using a complex combination of interlocking underwindings on a hex core, which builds the foundation for a delicate outer flat (ribbon) winding. This unique design allows the strings to vibrate freely, creating a true, clear sound and an ultra-smooth feel. Created for jazz, classical and folk players, they deliver unparalleled comfort for playing closed position fingerings and up the fretboard.
Posted by Ted at November 17, 2014 6:05 AM