« D'Addario FW74 flatwound strings now EFW74 | Main | Instrument finish names destined for market failure »

November 19, 2014 | Fresh Rigel bargain gems
There's quite a quintet of quality used instruments recently listed in the Mandolin Cafe Classifieds by a seller in the Pacific Northwest, and in particular a pair of unique Rigel mandolins. The rare Rigel Jethro asymmetrical 2- point has an asking price of $2300, and the cream top G-110 is listed at $2300. All five oval hole instruments are very reasonably priced, but these two really caught our eye.
Check them out: Mandolin Cafe Ad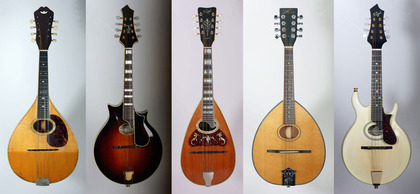 More Rigel mandolin history.
Posted by Ted at November 19, 2014 6:02 AM