« Mandolin as stress relief | Main | The Lick »

September 20, 2015 | Classifieds find; DeCava Jazz Mandolin
There's a terrific opportunity for a boutique mandolin on the Cafe Classifieds from Connecticut guitar builder James DeCava. We've not had hands-on experience with his craft yet, but the seller is solid and has always had an eye for quality and perpetually great collection of fabulous instruments.
This is one of his signature models that usually weighs as a $5K, so the asking price is quite a steal at $1950. Doubt this will be listed long at that price.
Classifieds Link: DeCacava Jazz Mandolin
We scored some exclusive pics:
Specs:
Spruce top, maple neck, back, and sides.
Radiused ebony fretboard.
Fully bound body and neck.
Adjustable bridge.
Custom matching ebony pickguard & tailpiece cover.
Includes external Pick Up The World under bridge pickup with carpenter jack.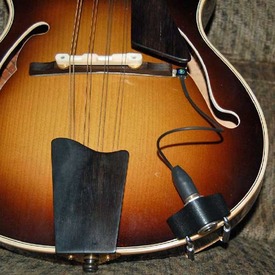 Posted by Ted at September 20, 2015 7:33 PM