« December 2014 | Main | February 2015 »

January 29, 2015 | 2015 Django in June features the return of Don Stiernberg.
The Django in June website has been updated for 2015 and is now ready to take registrations for full immersion Django Camp , June 16-21.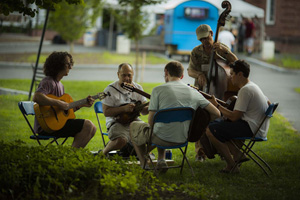 The first music camp in the US dedicated entirely to the Gypsy jazz tradition, Django in June offers an unparalleled opportunity to both dig deep and kick back with expert teachers and enthusiastic students of the style. Whether you want to build a strong Gypsy jazz foundation or take your playing to the next level, they offer guidance, inspiration and camaraderie at a depth you won't find anywhere else. The camp is held on the Smith College campus in Northampton, Massachusetts.
The instructional program for players of guitar, violin, accordion, mandolin, and bass, is offered by the same jaw-dropping musicians you'll enjoy in concert on the weekend. Staff of artists this year is internationally diverse, and includes jazz mandolin royalty Don Stiernberg again on mandolin.
Germany: Wawau Adler, Joscho Stephan and Sandro Roy
France: RP Quartet, William Brunard, and Ghali Hadefi
Holland: Tim Kliphuis and Rino Hooijdonk
Belgium: Tcha Limberger
Canada: Denis Chang, Damien Levasseur and Christine Tassan
United States: Don Stiernberg (mandolin), Dallas Vietty (accordion), Adrian Holovaty, Jeff Radaich, Jack Soref.
More information on all of these artists Artists and Staff
Dates: June 16-21. (Tuesday eve through Sunday morning.)
On-campus housing is available, private and recommended, meals are offered on-site as well. Most classes are organized into 4 broad level of ability, from novice to very advanced. Wherever you fall on the learning curve, you're welcome.
Early bird tuition rates are in effect through February.
Register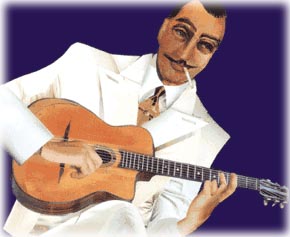 Posted by Ted at 1:46 PM

January 27, 2015 | Rigel Blue. Up for sale again!
It adorned the original banner of our landing page for the first few years we opened the site and became a sort of icon. It traveled across the pond years ago to be sold in Europe, and now it's back for sale in all its blue splendor. Unfortunately, it's not available for direct US sale, but don't rule out a trip to Brighton and fly over to purchase it personally!
Our friend and mandolin retail royalty Trevor Moyle of The Acoustic Music Company has posted our former blue-burst Rigel CT-110 for sale on his online website.
Memories...
Rigel's variation on the "Strat" like G-110, the lower bout is cutaway to provide fluid access to playing in the uper octave registers. Radiused (curved) figured maple sides, carefully chosen carved maple back, and painstakingly tuned spruce top in a breathtaking merge of beauty, tone, and function. This one included a unique custom black tortoise pickguard and a breakthrough cosmetic finish, a legendary blue-burst.
Purchase Information: JazzMando icon Blue-burst Rigel CT-110 mandolin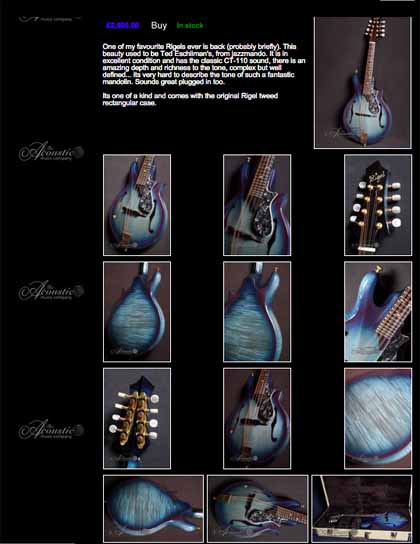 A bit of trivia--the original finish of the instrument was tobacco-burst. It was refinished in 2001 at the original Rigel shop in Vermont.
Check out pictures from our 2012 visit to The Acoustic Music Company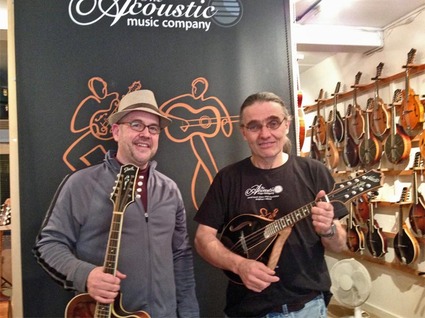 Posted by Ted at 5:59 AM

January 25, 2015 | Expanded tenor guitar series at Ibanez
Two new Ibanez tenor guitars introduced at the Winter NAMM show, up from the parlor body AVT1NT released at last year's Winter NAMM. Solid Sitka top AVT2ENT in a fuller body. This includes onboard electronics and will street price in the upper $500s. Also a scaled down PFT2NT without electronics (not solid top) street in the mid $200s, both gloss finish.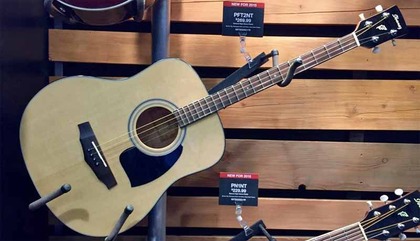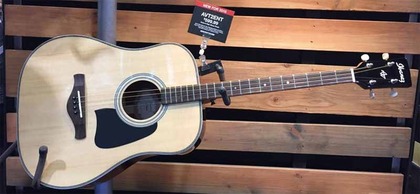 More pictures from this week's Winter NAMM on our Facebook Page.
Posted by Ted at 8:51 AM

January 23, 2015 | Thicker Primetone picks.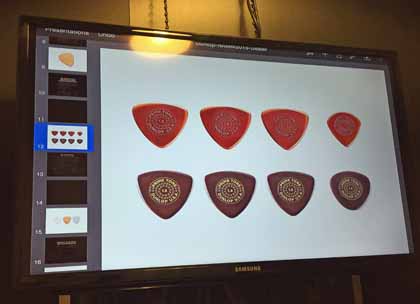 A bit of good news at NAMM in the Dunlop booth, the popular Primetone series picks have been expanded and our favorite 1.3 semi-round has been thickened up to a 1.5 gg and also offered in a textured grip version.
Cut from the same material as their Ultex series (this incarnation a more traditional brown than yellow), the pick has plenty of rigidity without being overwhelmingly heavy. These are now as thick as our 1.5 JazzMando V-pick or Proplec, it carves a lovely tone out of a double course instrument, rich with fundamental. The no-slip texture also feels great in the fingers.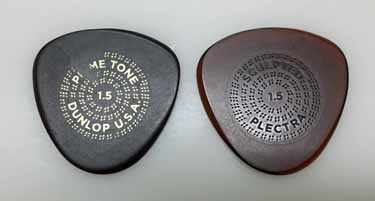 We love our samples and look forward to the mass release of these later this year.

Posted by Ted at 8:14 AM

January 21, 2015 | Winter NAMM 2015
Looking forward to a good NAMM show. Not sure what to expect here at the Anaheim convention with five football fields of musical gear and some 80,000 attendees, but we always find something intriguing in mandolin and peripheral accessories. As we do, we'll add pictures on our Facebook Page feed.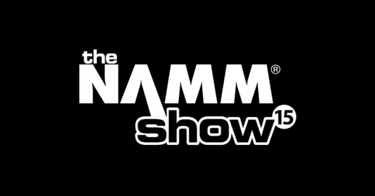 Posted by Ted at 12:02 PM

January 19, 2015 | Escaldante; Marcos Moletta
We always like to check in with the latest from Rio de Janeiro multi-instrumentalist Marcos Moletta. We've enjoyed following his bright career and are enthralled with his recent project, Multiplo. The 12 song instrumental project is a potpourri of folk styles including traditional Brazilian, European gypsy jazz, and a heaping helping of jazz fusion.
Here's a live video from last month you'll enjoy, too!
Video Link: Escaldante; Marcos Moletta

Artist Facebook Page: Marcos Moletta: Multiplo Marcos YouTube Channel
Read about Marcos' instrument: Fabio Batanj guitarra baiano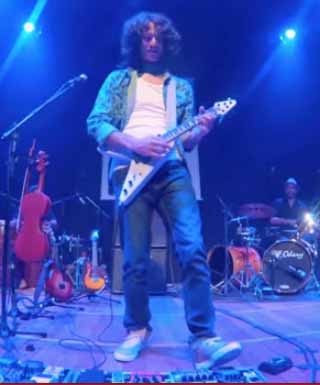 Posted by Ted at 8:07 PM

January 16, 2015 | New Eastwood custom tenor guitar
We mentioned the unique approach of Eastwood Guitars to introduce tantalizing, arguably experimental instruments to the market last month through crowdfunding projects. They post online a new model and solicit funding before the heavy investing it takes to design and manufacture, which ultimately brings down the cost to the consumer.
We've been in talks about 5-string mandolin in their Classic (AKA 335) body style, and we're hoping to see this available as a project in 4th quarter 2015. Meantime, they've launched an instrument that's already 150% funded as of today (with three weeks left), their 23" scale Astrojet (SG body) electric tenor guitar.
From the Custom Shop website: Following up on the huge success with the Warren Ellis series of Tenor guitars, we are planning to introduce the Astrojet Tenor in Spring 2015. Why introduce another Tenor model? For many, this tribute to the ultra-rare Gibson SG Tenor will feature a more comfortable, slim, traditional neck profile - unlike the wider Warren Ellis series. Our goal it to bring it to a production street price of $599 for the Stop Tail Version, $749 for the Bigsby Version. Vintage Cherry finish or White? If we reach 200% of the funding amount, we will make both!
Final Price $599 Stop Tail, $749 Bigsby version. All pre-funded instruments will include a $99 hardshell case FREE.
To purchase: Eastwood Astrojet Tenor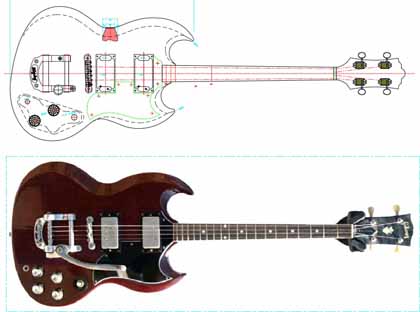 Visit: Eastwood Custom Shop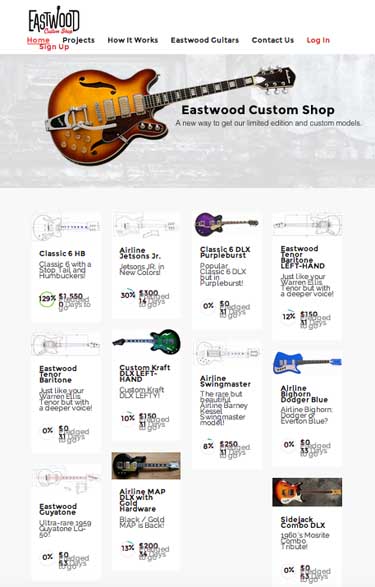 Posted by Ted at 6:15 AM

January 13, 2015 | Free PDF: Augmented 11th FFcP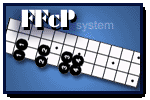 Augmented 11th FFcP
Of course, we are big on the Major Scale. Most of our FFcP entries have focused around this, with the exception of some entries in Pentatonic and Dorian/Minor.
We want to remind you of what we consider the 2nd most important scale or sequence of notes, one we've labeled the Augmented 11th Scale. We've written several articles in our Mandolin Sessions duties at Mel Bay, but for here (music theory geek alert...), we'll briefly mention it can be called a Lydian Dominant, Lydian b7 or a Mixolydian #4.
You can also envision it as a Major Scale with a raised 4th and a flatted 7th. Whatever works for you, but the purpose of this FFcP is you introduce you to the physical side of the sequence of notes.



The FFcP exercise is an extended version of one introduced over five years ago in the December 2009 Mandolin Sessions, and you can read more about it here: Something Old. Something New. What we've done is apply it to the other three fingerings, extending it from just the 1st FFcP below: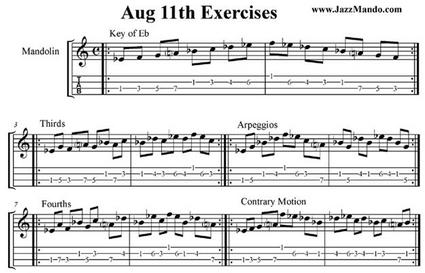 You'll do well to take this to the next level and apply it to all 12 keys and move it around the fretboard. Its application as improvisational fodder for improvisation on dominant functioning chords will become obvious to you, especially as it becomes intuitive. Keep in mind the note relationships are the same as what you will find in an Altered Scale and an ascending Melodic Minor Scale.
G Augmented 11th: G, A, B, C#, D, E, F G
C# Altered Scale: C#, D, E, F, G, A, B, C#
D Melodic Minor: D, E, F, G, A, B, C#, D
There's some pretty potent opportunities in this pattern of notes!
Download 2-page PDF: Aug11thExercises.pdf
More FFcP: FFcP Studies
Posted by Ted at 9:43 PM

January 11, 2015 | Red Cafe ball caps back!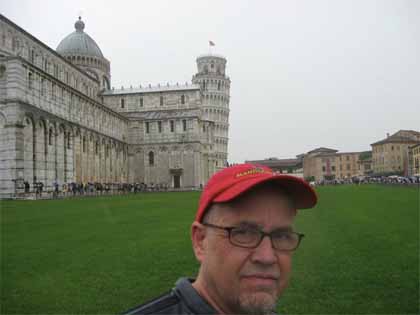 We were excited to see these back on the market for at least the short term from our friends over at the Mandolin Cafe. We sported one of these on our travels across the globe, until it got lost somewhere on a Mediterranean cruise ship.
If you ever see an NCL cabin steward wearing one of these, it's probably ours.

Purchase information: Red Mandolin Cafe Hat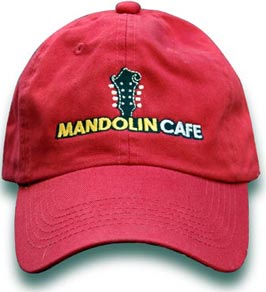 $14.00 USD plus shipping. While supplies last!
U.S. - $5.60 shipping/handling (USPS Priority shipping)
Canada - $8.80 First Class, U.S.
All other international locations - $12.75 First Class
Posted by Ted at 7:29 AM

January 9, 2015 | What can you do with three chords?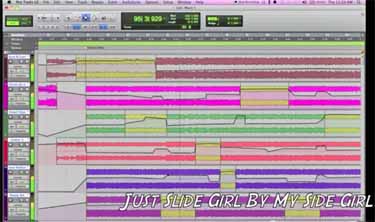 What can you do with three chords? Evidently launch entire careers in music. The following video shows how acceptably homogenous pop music can get, in this case from the country music genre. Of course the blues musician has known this for almost a century.

Still, that's two more chords than some rap or hip hop "artists" use.
Video Link: 6 Song Country Mashup
Posted by Ted at 5:42 AM

January 7, 2015 | River of the West Mandolin Camp 2015
If you haven't already, read through our archive Tips and Tricks feature with staff contributor Brian Oberlin. His nuts and bolts approach to music theory on the mandolin fretboard is a great gateway for the novice player, and extra-credit material for the more advanced. His introduction to Diatonic Major and Minor Chords provides a crucial overview to understanding not only jazz, but Western European music in general.
Read article: Diatonic Major and Minor Chords with Brian Oberlin
Brian is an in-demand performer and teacher, but we should also mention his sensational work administrating the River of the West Mandolin Camp. Several of our readers have weighed in about what a great experience it was. Now in its 7th year, the workshops and educational experiences only get better.
The June 4-7 event is located in Corbett, Oregon, located in the Columbia River Gorge just 20 miles east of Portland. Instructor's include Don Stiernberg (swing and jazz), Evan Marshall (classical and folk), Chris Acquavella (classical) and the Camp director Brian Oberlin (bluegrass and swing). In the four days of mandolin immersion, each Camper will experience workshops from all four teachers, ensemble rehearsals and performance, structured and non-structured jams, bonfires, meals, and lodging. The maximum student capacity is 45 which makes for smaller classes from some of the best teachers and players in the world. The cost for campers and commuters is $550 which includes all events, meals, and a shared room.
Camp Details and registration form:
River of the West Mandolin Camp June 4 - 7, 2015


Archive Video link: River of the West Mandolin Camp

Posted by Ted at 6:42 AM

January 5, 2015 | Free Circle of Fifths Decoder
Scott Sharp of Fretboard Toolbox Creator has just released for free an intriguing look at the practical application of the circle of Fifths aptly titled "Circle of Fifths Decoder." This is a great sample of some of his ebook format instructional materials we've mentioned before.
This one is unusual in that it has 15 pages showing lots of connecting lines that show which chords make up each Major Key, and the notes that make up each Major and Major Pentatonic scale. (It also shows the blues pentatonic notes in each key).
You can download it and watch his first set of video instructions here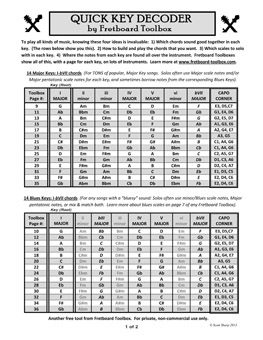 .
The author weighs in, "This free two-page tool can be used with any instrument, and it has sections showing the chords that make up each of the 14 Major, blues, and minor keys, and their Roman numerals. The goal is for it to help you start thinking of chord progressions as Roman numeral progressions, because knowing this constantly helps me do things like quickly figure out the chords in songs, and change songs into any key I want. Thinking of chord progressions as Roman numerals is one of the most important musical ideas I know!"
Posted by Ted at 9:31 AM

January 3, 2015 | Mandolin for Dummies redux
Released almost three years ago, we think Don Julin's comprehensive approach to mandolin is one of the best written in this (and the last) century. We recommend it to everyone interested in going deeper with our little 8-string wonder.

---
"Don't never go full Dummy."
Paraphrase, Robert Downey Jr, Tropic Thunder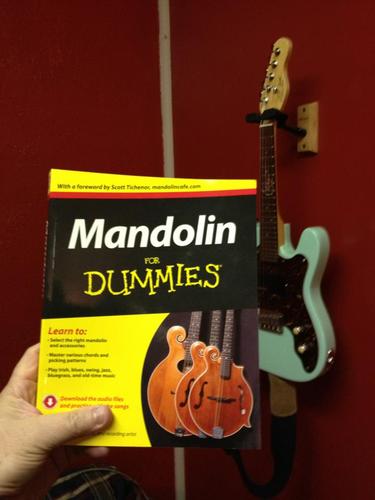 Okay, it's a rough paraphrase, but also a touch of irony that scholarly material, about anything out of The Dummies lifestyle books could be so helpful. Each book is intended to be a bridge for the uninitiated, a trip somewhere down the path of expertise, and Don Julin's entry "Mandolin for Dummies" proves no exception. We ordered our copy in July 2012, and were thrilled to keep it around.
We've got nothing but praise for the hard work put in covering such a wide variety of topics related to the mandolin. History, instrument physiology, playing techniques, music styles, and a heaping boatload of references and external resources. Julin's ability to be comprehensive, academic, but still bring it all to a street-savvy, real-world sensibility is impressive. 378 pages to cover all that's mandolin? Not an easy chore, but the upper midwest US native was definitely up to the task.
Though tightly organized book should be approached like a method book, rather the reader should feel free to encyclopedia to skip around chapters and dig out information in smaller doses over a long period of time. Definitely something to keep permanently on the bookshelf. Most of the information is more "contemporary," not so much of the three centuries of the instrument, but that's not the purpose of the book. The "Dummy" approach means any mandolinist, even if he/she doesn't own an instrument yet can find something useful immediately. Songs are available in traditional and TAB notation, photos show clear playing and handling techniques, and greyed-out trivia paragraphs take interesting side trips into the periphery of mandolinning.
We had the pleasure of posting an interview with the author twice. You will find the process of tackling a project as vast as this intriguing, so take the time to look under the hood. It will help you appreciate the book even more.
Mandolin Cafe: An Interview with Don Julin
Purchase link: Mandolin for Dummies

Posted by Ted at 10:28 AM

January 1, 2015 | New Year's resolution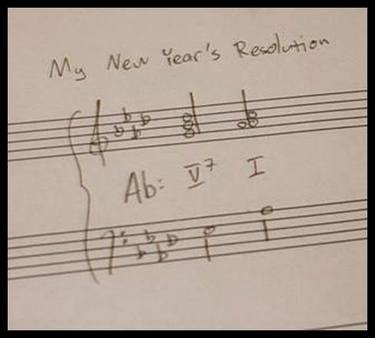 We borrowed this image from the Fretboard Journal Facebook page and it fits the website just fine today.
Enjoy the cerebral humor and we wish your 2015 to be the best!!
Posted by Ted at 5:41 AM