« Lawrence Smart Tuxedo 2-point | Main | Looking back: What the Pros say about Good Tone »

May 14, 2011 | "Peaches en Regalia" on Electric Mandolin (Guitarra Baiana)
Our third installment from our friend and guitarro baiana speciallist from Rio de Janeiro Marcos Moletta, this terrific interpretation of the Frank Zappa classic, "Peaches en Regalia." We first ran across the electric artist in May of last year, and again in January of this year with his 14 minute tour of his amazing instrument.
Marcos weighs in: "This instrument is, in fact, a GUITARRA BAIANA, the brazilian 5 string solidbody electric mandolin created in the mid 40's by Dodo & Osmar, from Bahia, Brazil. This Flying V shape model was named VALKYRIA, and is custom made for me by Bahian luthier FABIO BATANJ."
He has also weighed in kindly on the benefits of personal study of our FFcP exercises. We always love hearing from artists who have benefited from these, especially in other parts of the globe.
And love the tone on that white Flying V!
View video link: "Peaches en Regalia" on Electric Mandolin

Artist MySpace Page: Marcos Moletta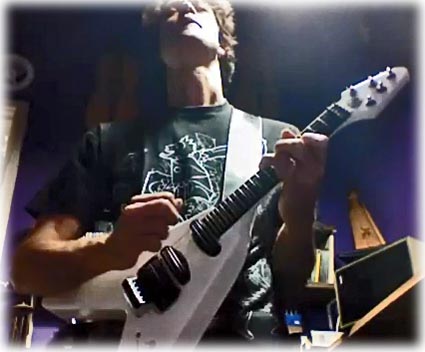 Posted by Ted at May 14, 2011 5:06 AM