« Planet Waves Headstock Tuner Sale! | Main | "Peaches en Regalia" on Electric Mandolin (Guitarra Baiana) »

May 12, 2011 | Lawrence Smart Tuxedo 2-point
Once in a while you run across an instrument that hits you in the gut. Intellectually, you conclude the features, the pedigree, even the overall aesthetics are sound, but it's not just the head that draws the conclusion that a mandolin warrants raving, sometimes it's the heart. Such is the case with an exceptional axe brought to our attention by our friend Chip Booth, who actually owns a Lawrence Smart 10-string fanned fret. He shared with us some gorgeous shots of what he refers to as a signature "Tuxedo 2-point."
We did a hands-on review a couple winters ago on a Smart A-body 10-string, and it was exquisite. He and Chip have work out some stunning aesthetics of an instrument destined to be a showcase classic. We thought in addition to the drool-worthy pics, we would add some of the correspondence and comments about the process from Chip, himself.
It's our understanding the unit is still for sale by the builder. Click on the Smart Instruments link near the bottom if you're interested.
Enjoy!
Lawrence Smart and I have been friends and bandmates for some time, and this is the second instrument we have collaborated on. The first was the 10-string fanned fret mandolin that I eventually purchased. When he found himself in a position to build an instrument in this batch without a buyer he asked me if I would like to help design it. I have always loved the look of 2-point mandolins, especially the L&H offset design. I suggested we go with this body style, without a clear plan at first. Lawrence agreed, and he picked some maple for the back and sides that he especially likes to work with (sorry, I don't know the variety). It isn't the most figured wood, but he thinks highly of it, and describes it as "creamy" to work with. It is from the same board my 10-string is made from, and that turned out amazingly well. He also suggested a lightweight piece of Englemann spruce that he had been wanting to use. Lawrence uses locally cut Englemann with X-bracing almost exclusively. As basic work on the instrument progressed we discussed who would want to play a 2-point mandolin. Jazz players came to mind for both of us, so we went in that direction.

When it came time to carve the top I assumed Lawrence would carve it with some very specific tonal idea in mind. He understands these things far more than he lets on, but what amazed me was how much it appeared he let the wood "decide" how it would be carved. He carved a little, tapped, scraped and listened, and let me try it, until the wood came alive. The difference was obvious, even to me, when the wood reached some shape or weight that allowed it to vibrate freely. From there he honed it with tiny changes until he found just what he was looking for. He measured and recorded the end results, but never seemed to assume there should be a specific result, rather he let each piece of wood come alive in the way that best suited it. We chose S holes rather than F holes to move towards a slightly more modern design without straying too far from tradition.
Once the body was assembled I made some final decisions about the aesthetics, such as binding, inlay, and a general idea of the finish. I asked for block inlay on the neck specifically. In my opinion nothing says jazz like block inlay. I also had the good fortune to recently play a wonderful torch and wire F style mandolin with block inlay built by our friend Fletcher Brock, who is also a local builder. I never realized how hard it is to see fret dots on a mandolin until I played his mandolin with the large block inlay. Instantly I felt more comfortable playing up the neck. I find the inlay just as useful on this instrument. Lawrence used his own art deco inspired design for the headstock inlay, which perfectly suits the style of the instrument.

My first instinct was to go for a dark brown sunburst, but as the mandolin neared completion we began to refer to it as the "tuxedo" mandolin. Lawrence was making a black-top 10-string at the same time, so at the last minute we decided to go with black for the two point as well to complete the tuxedo look. I suggested if we go black on the top we should make the back and sides very light. We spent a morning playing with stain and creating a series of five custom colors which Lawrence hand rubbed to create the sunburst. It is a unique color scheme that feels reasonably traditional but isn't clearly reminiscent of anything in particular. As a final treatment to the finish I ask Lawrence to try a technique that he had mentioned to me he occasionally used. It dulls the gloss of the French polish, making the mandolin appear a little bit more "vintage", like the finish is older, but without being distressed. The difference is subtle, the effect is nowhere near satin, but it really compliments Lawrence's very organic, handmade aesthetic, and I feel especially compliments the black top. (And boy does it make it easier to photograph!)

Lawrence custom designed the ebony pickguard at my suggestion to compliment the triangle shape of the headstock inlay and continue the deco motif.
So, how does it sound? The low end is smooth and present but not overwhelming. You can hear and feel the wood, but it doesn't get in the way. The low end continues to develop as it has only been strung for a week, but I suspect this mandolin will never be considered bassy. The high end is sweet and clear, the strings really ring out, and it has wonderful note separation. Combined with an unusual amount of sustain for an F hole instrument, the tone is well suited to jazz playing. Extended chords ring clearly without unwanted modulation, even though the mandolin has plenty of overtones. I believe this is because the overall voicing of the instrument is fairly high. Not thin, rather a bright, cutting note that can be easily distinguished in an ensemble. Though he word "bright" is seldom used when describing ideal jazz tones in this case it is a clear advantage as the most potentially dissonant note can be heard clearly without the mushiness that a low mid heavy instrument can create. There is plenty of volume and dynamic range. No matter how hard I hit the mandolin it responds well and doesn't overdrive, and it sounds full and clear when played softly.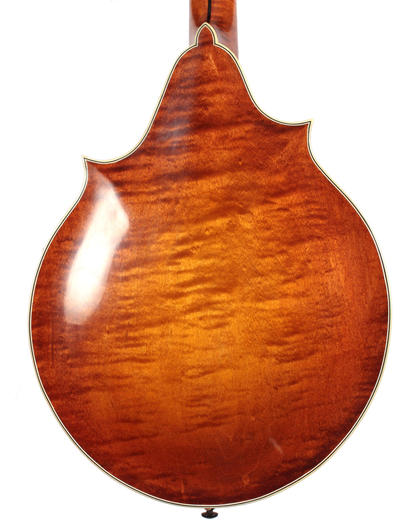 The custom specifications include:



Two point L&H inspired body


Light weight Engelmann spruce top


X-bracing


One piece maple back


3-piece maple neck with black stripe


Radiused ebony fingerboard


Hand applied varnish/French polish finish with final treatment to knock down the gloss


L Smart Design "mountain" headstock


L Smart designed deco style headstock inlay


Black top


custom amber burst back and sides


white-black-white double binding (top and sides)


pearl block inlay


S holes


silver hardware with ebony tuner buttons


ebony pickguard, shape inspired by headstock inlay



Read past review: Lawrence Smart10-string Mandolin
Builder's website: Smart Instruments
Chip Booth's website: Chuck Moose

Posted by Ted at May 12, 2011 5:49 AM