« Metronomes "listen" to each other | Main | Lawrence Smart Tuxedo 2-point »

May 10, 2011 | Planet Waves Headstock Tuner Sale!
We first mentioned the Planet Waves PW-CT-10 Chromatic Headstock Tuner back in February of 2009, and at the time it was a pretty good value, with a street price around $30. Since being challenged by competitive products like the Snark, Intelli-Touch, and import knock-offs, its shine was somewhat diminished. Around the first of the year, D'addario dropped the retail price, and we've found them available for half that price, at a crazy $14.95.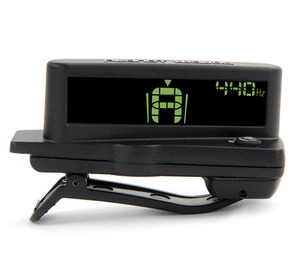 What we like:
Low mass, the unit's stealth fitting lies unobtrusively on the edge of the headstock but it's easy-to-read LED face shows a virtual needle that glows red left and right, until you've centered the pitch and POP!, the readout turns green, visible at almost any angle. We've returned to the tuner as a personal favorite.
Purchase: PW-CT-10 Chromatic Headstock Tuner
Video Demo Link: Planet Waves Headstock Tuner Demo

Posted by Ted at May 10, 2011 5:48 AM