« The Situation | Main | Planet Waves Headstock Tuner Sale! »

May 8, 2011 | Metronomes "listen" to each other
Video Link: Synchronization of Metronomes

"Five metronomes are set to 176 bpm and placed on a Foam Core board. When empty cans are placed underneath, the board is free to move from side to side and the metronomes are able to influence each other into synchronization. When the cans are removed the metronomes are no longer physically coupled and some of them begin to fall out of step."
It's not only a cool thing to observe from a sheer Physics perspective, there's a lot a musician can glean from this experiment. With the right amount of "space," the Taktell Super Mini mechanical metronomes are able to listen to each other. This is not unlike musicians in an ensemble. When you take care to listen to the musician next to you, conscious or subconsciously, things tend to synchronize no matter where they start. When they don't, strict time drifts.
Interesting to see this played out graphically like this!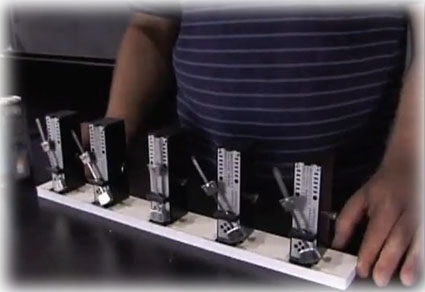 Save 60% and purchase a metronome from one of our sponsors: Seiko SQ50
Only $17.95!
Posted by Ted at May 8, 2011 5:56 AM