« Expanded tenor guitar series at Ibanez | Main | 2015 Django in June features the return of Don Stiernberg. »

January 27, 2015 | Rigel Blue. Up for sale again!
It adorned the original banner of our landing page for the first few years we opened the site and became a sort of icon. It traveled across the pond years ago to be sold in Europe, and now it's back for sale in all its blue splendor. Unfortunately, it's not available for direct US sale, but don't rule out a trip to Brighton and fly over to purchase it personally!
Our friend and mandolin retail royalty Trevor Moyle of The Acoustic Music Company has posted our former blue-burst Rigel CT-110 for sale on his online website.
Memories...
Rigel's variation on the "Strat" like G-110, the lower bout is cutaway to provide fluid access to playing in the uper octave registers. Radiused (curved) figured maple sides, carefully chosen carved maple back, and painstakingly tuned spruce top in a breathtaking merge of beauty, tone, and function. This one included a unique custom black tortoise pickguard and a breakthrough cosmetic finish, a legendary blue-burst.
Purchase Information: JazzMando icon Blue-burst Rigel CT-110 mandolin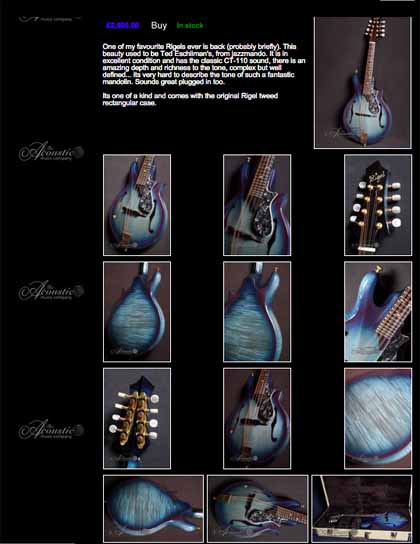 A bit of trivia--the original finish of the instrument was tobacco-burst. It was refinished in 2001 at the original Rigel shop in Vermont.
Check out pictures from our 2012 visit to The Acoustic Music Company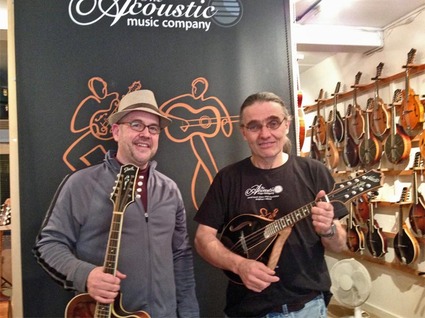 Posted by Ted at January 27, 2015 5:59 AM