« Darol Anger & Mike Marshall; Borealis | Main | New York Gypsy All Stars »

September 21, 2014 | Marcos Moletta: Multiplo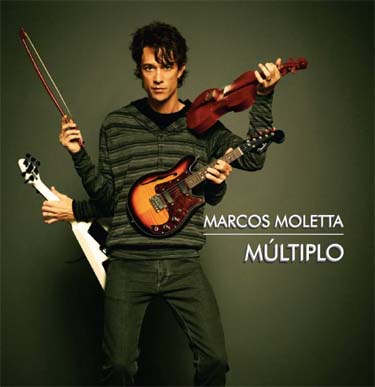 We're enjoying listening to the recently released CD "Multiplo" from Rio de Janeiro multi-instrumentalist Marcos Moletta. The 12 song instrumental project is a potpourri of folk styles including traditional Brazilian, European gypsy jazz, and a heaping helping of jazz fusion.
All but two of the songs are original compositions he performs with his instruments including his signature guitarra baiana (5-string electric mandolin), Fender electric 5-string, rebeca (native South American fiddle), violao tenor guitarra, and bandolim in an exciting native Brazilian rhythm ensemble context.
In the past he has credited his musical influences from such diverse flavors as Jimi Hendrix, Pat Metheny, Bob Marley, Pixinguinha, Frank Zappa, and Wes Montgomery, but his regional roots are firmly planted in each of the selections. The songs are deftly executed, aurally stirring, and his unique voice in this marvelous ethnic sonic backdrop is like nothing you'll hear this far north.
Highly recommended! Get this for your library.
Artist Facebook Page: Marcos Moletta: Multiplo Marcos YouTube Channel
Video link: Dia de Vida!

Video link: "Peaches en Regalia" on Electric Mandolin

Read about Marcos' instrument: Fabio Batanj guitarra baiano
Posted by Ted at September 21, 2014 3:15 PM