« End of JM11 & JM10B | Main | Update: Jonathan McClanahan »

February 17, 2014 | Dunlop "Primetone" series pick
We've had a few weeks since NAMM to put our new Dunlop "Primetone" series pick through its paces. Not likely you Bluechip Pick fans are going to put yours down for this, but we think the new 1.3 Semi-round with its custom bevel is a serious contender for the mass market pick.
Cut from the same material as their Ultex series (this incarnation a more traditional brown than yellow), the pick has plenty of rigidity without being overwhelmingly heavy. Not quite as thick as our 1.5 JazzMando V-pick or Proplec, it still carves a lovely tone out of a double course instrument, rich with fundamental. The no-slip texture also feels great in the fingers.
We look forward to the broader market release of these next month.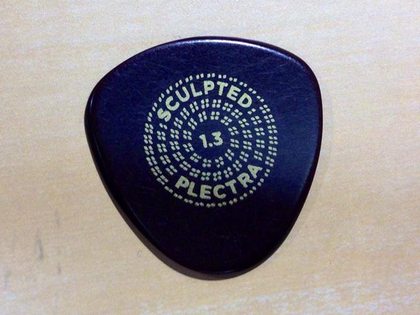 Primetone Semi-Round Sculpted Plectra
515P
Hand-burnished sculpted edges
Made from Ultex
Available in three different shapes with a low-profile grip or a smooth traditional surface

Posted by Ted at February 17, 2014 10:09 AM