« Free PDF: Augmented 11th FFcP | Main | Escaldante; Marcos Moletta »

January 16, 2015 | New Eastwood custom tenor guitar
We mentioned the unique approach of Eastwood Guitars to introduce tantalizing, arguably experimental instruments to the market last month through crowdfunding projects. They post online a new model and solicit funding before the heavy investing it takes to design and manufacture, which ultimately brings down the cost to the consumer.
We've been in talks about 5-string mandolin in their Classic (AKA 335) body style, and we're hoping to see this available as a project in 4th quarter 2015. Meantime, they've launched an instrument that's already 150% funded as of today (with three weeks left), their 23" scale Astrojet (SG body) electric tenor guitar.
From the Custom Shop website: Following up on the huge success with the Warren Ellis series of Tenor guitars, we are planning to introduce the Astrojet Tenor in Spring 2015. Why introduce another Tenor model? For many, this tribute to the ultra-rare Gibson SG Tenor will feature a more comfortable, slim, traditional neck profile - unlike the wider Warren Ellis series. Our goal it to bring it to a production street price of $599 for the Stop Tail Version, $749 for the Bigsby Version. Vintage Cherry finish or White? If we reach 200% of the funding amount, we will make both!
Final Price $599 Stop Tail, $749 Bigsby version. All pre-funded instruments will include a $99 hardshell case FREE.
To purchase: Eastwood Astrojet Tenor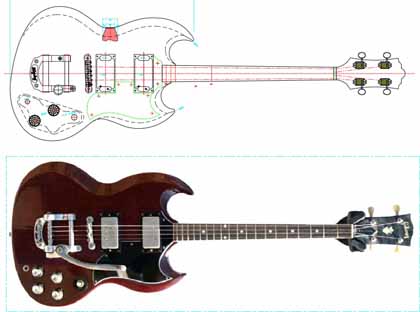 Visit: Eastwood Custom Shop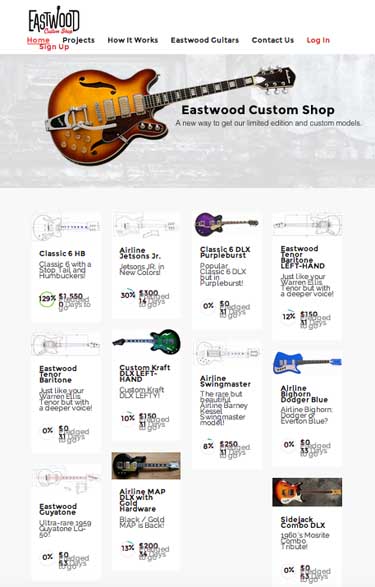 Posted by Ted at January 16, 2015 6:15 AM