« Planet Waves NS Mini Tuner special, $10.95! | Main | Naima--John Coltrane; solo mandolin »

April 13, 2012 | New Blues Mandolin Fretboard Toolbox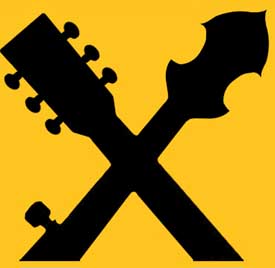 For those of you who might be new to the game of unraveling the mandolin and the theoretical geography of the fretboard, we mentioned last year's introduction of Scott Sharp's Fretboard Toolbox. (See archive.) One who would want to step back and visually assess in a graph format might appreciate the pages of fingering charts of basic concepts like Major and Minor Scales and Pentatonics.
New to the series is the same approach, devoted to understanding the Blues. Scott presents the Blues Mandolin Fretboard Toolbox. He weighs in, "The cool part about this edition is that it shows both the Major and minor pentatonics for each key on the same page. So, for the key of E Major, you'll see both the E Major pentatonic and the E minor pentatonic at the same time. In this book, the minor pentatonic notes are in white boxes and the Major pentatonic notes are underlined. The 1 and 5 notes are found in both scales, so they are both underlined and in white boxes. This makes a lot of the chromatic runs make much more sense, and it allows people to see just what kind of cool sounds you can get from playing minor pentatonic scales over Major chord progressions, and moreover, it shows you this info in each of the Major keys!"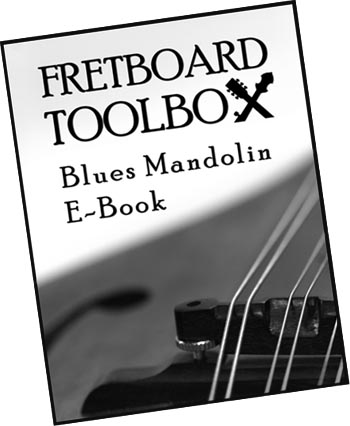 $12.99 print copy, $6.49 ebook
More information: Blues Mandolin Fretboard Toolbox
Visit website: Fretboard Toolbox
Free Samples: Free pages!
Other instruments available, too!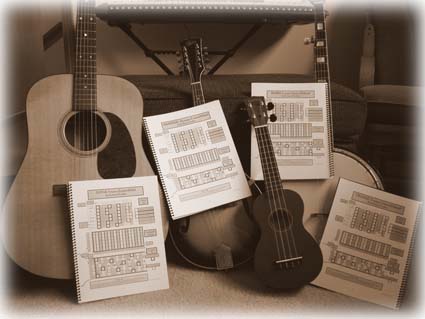 Posted by Ted at April 13, 2012 5:39 AM