« The Acoustic Music Company | Main | New Blues Mandolin Fretboard Toolbox »

April 11, 2012 | Planet Waves NS Mini Tuner special, $10.95!
You probably aren't going to find a better price than this for a while. Part of the Dietze Music doorbusters special for their April Guitar Month celebration, the Planet Waves PW-CT-12 "NS Mini" tuner for only $10.95!
The clip-on tuner's immediate, easy to see response and low profile make it a winner for the the headstock of the mandolin--no awkward projection over the top and front for your audience to be able to tell you you're out of tune, too. We think its the best answer for mandolin on the market.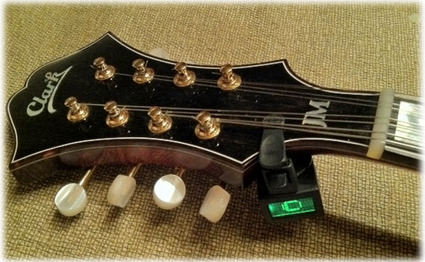 Purchase online: PW-CT-12 NS Mini clip tuner
Mention JAZZMANDO SHIP $4.50 in the comment field and get default reduced shipping charge.
Read archive review.
Posted by Ted at April 11, 2012 4:53 AM