« Free Download from the Hamilton de Holanda Quintet: Brasilianos 3 | Main | Clean up the band this Christmas »

December 12, 2011 | Still our favorite mandolin tuner: Planet Waves NS Mini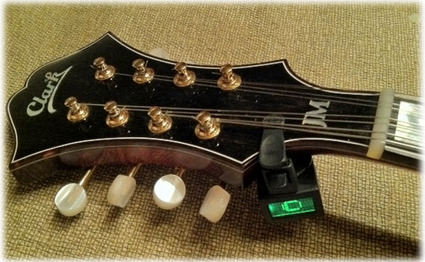 PW-CT-12 displays red and green. Like Christmas!
You might be looking for stocking stuffers this Christmas for that special mandolinist (or even yourself), and we can't say enough good things about the Planet Waves NS Mini Headstock tuner. We've had one since August, and use it so much we've already gone through one battery (CR2032 easily purchased at a drug store). Its immediate, easy to see response and low profile make it a winner for the the headstock of the mandolin--no awkward projection over the top and front for your audience to be able to tell you you're out of tune, too. Those brightly colored Snark tuners are like buying a new clothes and leaving the tags on.
Tacky.
Not much larger than the camera/watch battery that powers it, the unit can lay discreetly behind the headstock, and triggers green/red like its bigger sister, the PW-CT-10. These have been available since September from recommended vendor Dietze Music for $17.99. Clamp it on, small enough to leave it on, even in while in your case.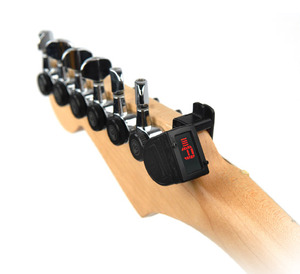 From the manufacturer's website:
"The NS Mini Headstock Tuner precisely tunes a wide variety of stringed instruments while its low-profile design blends with the aesthetics of your instrument, concealing it from your audience. The highly sensitive piezo transducer and backlit display allow for easy and accurate tuning in noisy, dim or well-lit environments, where other tuners fail. Enjoy effortless and inconspicuous tuning with the NS Mini Headstock Tuner."
*Low profile compact design
*High sensitivity piezo pickup allows for accurate tuning
*Easy to read display in both well lit & dark environments
*Adjustable calibration between 430hz and 450hz

Posted by Ted at December 12, 2011 5:14 AM