« They're back! JL Smith mandolins. | Main | Still our favorite mandolin tuner: Planet Waves NS Mini »

December 10, 2011 | Free Download from the Hamilton de Holanda Quintet: Brasilianos 3
We are huge fans of the Brazilian superstar, Grammy nominated bandolimist Hamilton de Holanda, and own several of his amazing CDs. We're thrilled to announce his quintet's latest, Brasilianos 3, is available for a limited time as a free download.
His music is as passionate as it is technically strong. It's an aesthetic instrumental journey guaranteed to move and inspire. Rough English translation from the Portuguese information on his site:
Music is also image, smells, and memories. Saudade. Joy, sadness. Love. It can be improvised, can be serious, if it is funny it`s also well worth it, after all humor is good for health. Another thing that also does well is play with friends, and that's good! The titles give an idea of inspiration. At the same time, if I close my eyes and I forget what it is, a new image is projected. Who listens, creates its own history with the nuances of dynamics, timbre, rhythm, like life itself is.
And the references, ah, they are always around us. Choro, samba, jazz, classical music. Tom Jobim, Heitor Villa-Lobos, Pixinguinha. Hermeto Pascoal, Egberto Gismonti. Carlos Drummond de Andrade. Oscar Niemeyer, Lucio Costa and Candido Portinari. Milton Nascimento, who gave an appearance in a magical way and definitive in "War and Peace I." Music can be sophisticated and accessible at the same time. For that, needs to keep it simple in its essence. It must be as simple as a hug."
Enjoy this gift!
Download CD Brasilianos 3 - Hamilton de Holanda Quinteto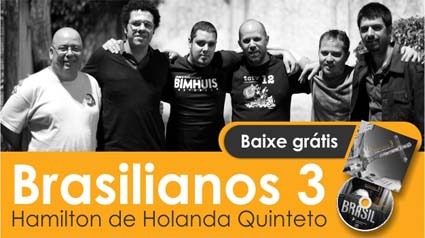 Hamilton de Holanda - 10 strings mandolin
Andre Vasconcellos - acoustic bass
Gabriel Grossi - harmonica
Daniel Santiago - acoustic guitar
Marcio Bahia - drums
Past JazzMando review: Hamilton de Holanda Quinteto, Brasilianos
Get Brasilianos
Get Brasilianos 2

Posted by Ted at December 10, 2011 5:25 AM