« Ebay steal: Arrow F4 (Paul Lestock) | Main | Free Download from the Hamilton de Holanda Quintet: Brasilianos 3 »

December 8, 2011 | They're back! JL Smith mandolins.
You may not have been aware of this but Florida builder (formerly South Carolina) J.L. Smith is back in the saddle again, making his sensational craft available for commission. We picked up one of his 5-string Telecaster style creations in 2009, which continues to be a personal go-to instrument when the electric muse inspires.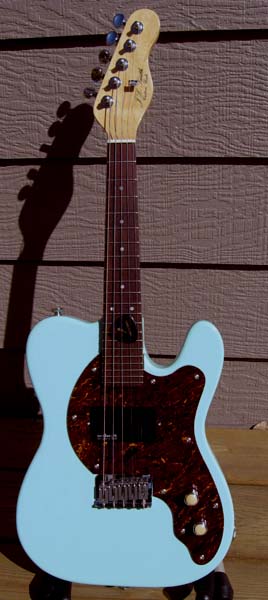 We initially found this alluring Sea Foam Green "Tele-mando" in a review by fellow website administrator and columnist, Martin Stillion at eMando.com. Smith was born in upstate New York, and played lead guitar and fiddle for many years. The woodworking trade drew him to the Carolina/Virginia area where he eventually made home in the late '80s. His full-time work as a cabinet maker and later as a paint shop owner allowed him free time as a part-time luthier, incubating a keen sense for wood and finishes. After much thought, he became determined to create his own line of electric mandolins, focusing on the traditional Telecaster body, doing one thing and doing it well. Compared to other competitive boutique, high-end electric mandolins on the market, his instruments might be labeled "no frills," lacking multiple pick-ups, knobs and switches. There is arguably a wealth of sonic versatility in the simple design.The instrument feels great in the hands, too.
John took a good share of the year off to move to his new location in Florida. Glad to see him back!
Builder's Website:
JL Smith Mandolins
Contact builder: John Smith
Read review: JL Smith 5-string Electric Mandolin
Participate in discussion at the Mandolin Cafe Forum.
2011 Prices:
4-String Model: $799.00
5-String Model: $899.00
Posted by Ted at December 8, 2011 7:50 AM