John Smith

JL Smith 5-string Electric Mandolin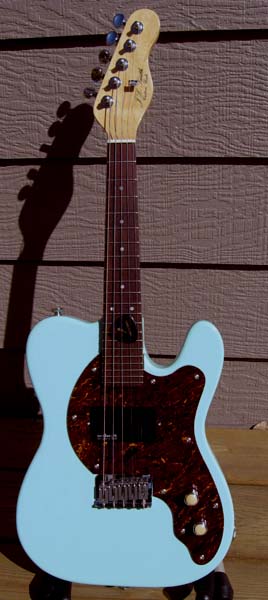 We had already observed this alluring Sea Foam Green "Tele-mando" in a review by fellow website administrator and columnist, Martin Stillion at eMando.com. Not long after, it became available for sale and we took advantage of not only reviewing it, but acquiring it for the JazzMando Studio.
Hand-crafted by South Carolina wood specialist and self-professed Telecaster junkie John Smith we knew his recent coming out into the public eye had caused a stir; after personal experience playing it, we now understand why. Not only does it strut a superb visual mojo, it offers a playing capability that ranks with many other world renown established builders. There's a new kid on the block. (Okay he's in his mid-fifties, nonetheless a kid at heart.)
Immediate reaction first: substantially heavy in physical weight to the shoulders, the instrument feels solid and offers the confidence of a veteran player's "workhorse" axe. This mass contributes to its high-octane sustain; tone can kick with the signature swamp-ash Telecaster "quack," although this body is a dense Alder wood. Spartan tone control choice and EMG pickup combination offer a no-fuss access to rich but penetrating sound. This is the most "plug and play" electric we've experienced; some instruments need perpetual tone tweaking, knob twiddling, but the JL Smith dials right in to where you want to be, a ready choice between the aforementioned country spank and contrasting jazz fluid. A slight variation in treble yields this; any more knobs or additional pickups would needlessly detour you off the path to the ax's true sonic strengths.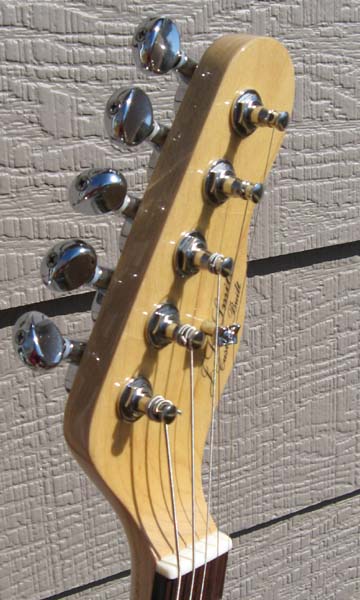 Those who are familiar with the inherent chronic difficulty of 5-string construction will ask right away, "What about the characteristic 'flop' of the lower C string?" Smith addresses this with an extreme headstock angle curve that pulls the lowest string back with a satisfying tension, maintaining a superb, consistent balance across the fretboard from low string to high. You want a 5-string that responds like a 4-string, this is your critter.
John's craft is meticulous in detail, going to great effort to copper-shield the body interior cavity from noise (another very common problem), and it's impact apparent in this model. No ground hum, only pure tone comes out the jack! Other trivia: the neck is one-piece Maple, two-way adjustable truss rod unders a Rosewood fretboard, mother of pearl dots, comfortable 12" radius and side position markers. Width at the nut is 1.125", and 12th fret 1.5" with a 14.5" scale. Standard pickup is an EMG Select Humbucker. Pickguard is his own custom design, in this case a lovely simulated tortoise celluloid. Our friend and Mandolin Cafe Administrator Scott Tichenor teased, "Woof! Where's the sunglasses and 57 Chevy with fuzzy dice hanging from the mirror?" The instrument certain packs its own undeniably stunning visual panache.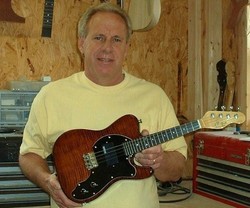 Smith was born in upstate New York, and played lead guitar and fiddle for many years. The woodworking trade drew him to the Carolina/Virginia area where he eventually made home in the late '80s. His full-time work as a cabinet maker and later as a paint shop owner allowed him free time as a part-time luthier, incubating a keen sense for wood and finishes. After much thought, he became determined to create his own line of electric mandolins, focusing on the traditional Telecaster body, doing one thing and doing it well. Compared to other competitive boutique, high-end electric mandolins on the market, his instruments might be labeled "no frills," lacking multiple pick-ups, knobs and switches. We would argue that there is already plenty of sonic versatility in the simple design. Glad to see something so simple sound and feel so good.
Interestingly, about the time we acquired this 5-string, premier Michigan-based mandolinist and JazzMando perennial favorite, Don Julin had just purchased a JL Smith 4-string. We asked Don his impressions; he weighed in with the following response, "For many years I have been searching for a 4- or 5-string electric mandolin. I was first introduced to the electric mandolin by the Tiny Moore recordings. A few years later I was listening to everything I could on the ECM record label. My heros were Pat Methany, John Abercrombie, Ralph Towner, etc. One John Abercrombie Quartet album was my current favorite and as I read the liner notes I was surprised to see that he was playing an electric mandolin. Since then I have learned it was a Fender mandolin and he had it tuned like a guitar. I have been looking for that smooth jazz tone ever since."
Julin elaborates further: " Over the years I have owned many electric mandolins covering a variety of price ranges. All or most of them had some of the qualities I was looking for but never all in one instrument. The qualities I was looking for were: 1. Smooth jazz guitar like tone. 2. Even balance from string to string. 3. Hot enough output to match other instruments that I use on stage. 4. Adjustable action and intonation."
Don could have just as well written this review for us. All his accolades align with our experience. The only thing we'd expand on--the positive results tackling that elusive 5th string; not all 5-string designs turn out with this much success eliminating string flop.

Listen to a demo of:

Don's JL Smith 4-string he was kind enough to submit.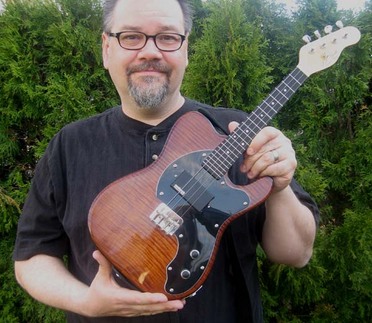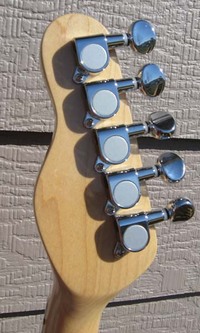 We emphasize the simple, straightforward aspects of his craft, but we should point out that John Smith is willing to work with his customers on custom requests. What he's introduced is an amazing starting point, and we'd struggle to come up with any deviations on the stellar achievement. It should be noted that Smith's current bargain pricing structure boasts an exceptional value, 5-strings under $800 and 4-strings under $700.
Caveat: we don't expect this to stay this way once the word gets out. If you're looking for a good investment, buy two now before they go up.
---
Builder's Website JL Smith Mandolins

Contact builder: John Smith