« Mandolin for Dummies redux | Main | River of the West Mandolin Camp 2015 »

January 5, 2015 | Free Circle of Fifths Decoder
Scott Sharp of Fretboard Toolbox Creator has just released for free an intriguing look at the practical application of the circle of Fifths aptly titled "Circle of Fifths Decoder." This is a great sample of some of his ebook format instructional materials we've mentioned before.
This one is unusual in that it has 15 pages showing lots of connecting lines that show which chords make up each Major Key, and the notes that make up each Major and Major Pentatonic scale. (It also shows the blues pentatonic notes in each key).
You can download it and watch his first set of video instructions here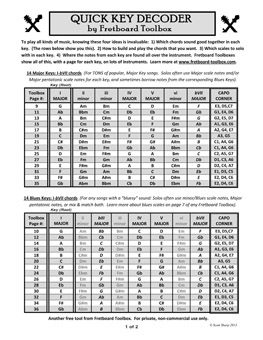 .
The author weighs in, "This free two-page tool can be used with any instrument, and it has sections showing the chords that make up each of the 14 Major, blues, and minor keys, and their Roman numerals. The goal is for it to help you start thinking of chord progressions as Roman numeral progressions, because knowing this constantly helps me do things like quickly figure out the chords in songs, and change songs into any key I want. Thinking of chord progressions as Roman numerals is one of the most important musical ideas I know!"
Posted by Ted at January 5, 2015 9:31 AM