« October 2014 | Main | December 2014 »

November 29, 2014 | Design your own mando cell phone case
We love Black Friday/Cyber Monday weekend for some of more esoteric online deals. A good example of this is the ability to create a skin for your computer or a custom cell phone case. We took one of our best pictures to the Casetify web site months ago when the iPhone 6 was first introduced and made our own classic.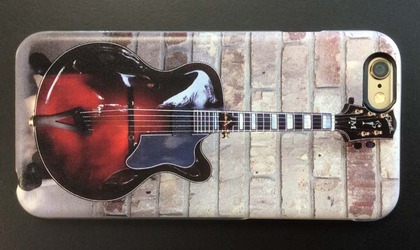 Austin Clark JM-5 guitar body 5-string acoustic mandolin
No financial interest, but if you act this weekend, you can get an uncommon 20% off your own cell phone case (discount code BLACK2014). We're very satisfied with the fit and level of protection of this case. The image is very crisp and clear in person! There may be even other deals out there on Cyber Monday for other companies, too.
12/1/14 update: Monday's discount code: CYBER2014
Let us know if you want a high resolution picture of this image (instead of your own) to copy this.
Posted by Ted at 7:10 AM

November 27, 2014 | NS Micro Tuner. Still our favorite.

Unless you like your headstock lighted up like a Christmas tree on stage, we suggest forgoing the popular Snark tuners for the new D'Addario Planet Waves NS Micro headstock tuner. We have one pictured below comparing the size to its previous incarnation mounted one on one of our favorite instruments, the Clark JM-5 Signature 5-string.
The headstock on this instrument was a challenge for the older NS Mini in placement. We were able to make it work well, but it took some mental energy to get it just so. Once there, we never felt the need to move it. The NS Mini became a virtual part of the instruments. Really, these tuners are so inexpensive, you might as well keep them on each and every one of your instruments (stores in the case), especially if you enjoy the more stealth feature of its design.
We're happy to say the slightly smaller Micro is even more flexible. We enjoy the new reversible "flip button" that allows you to place it on the headstock upside down with out having to physically change the display. New to this is a center that changes the orientation with software.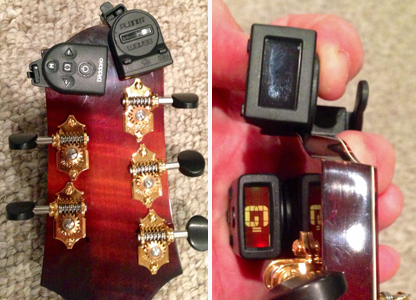 NS MIcro size comparison with previous gen NS Mini. Even smaller footprint.
The 2nd generation of the NS Mini offered a three color approach to tuning, not only the green "you're there" and red "you're not there," it added a yellow "almost there." This newer offers the same but we felt the responsiveness was even better on this newer NS Micro. The power automatically shuts off in 10 minutes, but you'd still want to manually turn it off to save battery. We never had problems finding CR2032 replacement batteries for our old ones, though.
With a street price barely $15, you can't go wrong.
More information: PW-CT-12 NS Micro Tuner

Posted by Ted at 5:49 AM

November 25, 2014 | Added to the JazzMando Logo Store
We've just added a new long sleeve T-shirt to our JazzMando Logo Store. Chances are pretty good Cafe Press will be offering some kind of Black Friday coupon specials on these and some of the other items there, so keep this in mind for your Christmas shopping. Available in Black or Navy, this one is an understated design that can also be purchased in a short sleeve version.
Purchase information:
Better Mandolin Long Sleeve T-Shirt (dark)
Tell the world you're committed to playing better on the mandolin.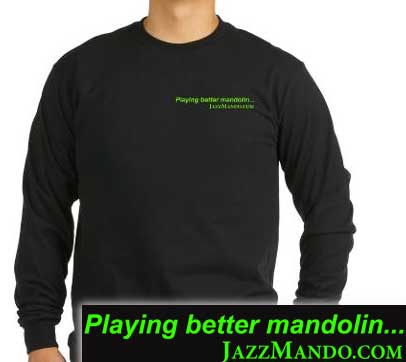 $27.99
Long Sleeve T-Shirt
6.1 oz. 100% soft ring spun cotton
Standard fit
Ribbed sleeve cuffs
Visit the JazzMando Logo Store and purchase other cool gift items to help underwrite expenses that keep this website going.
Posted by Ted at 8:33 PM

November 23, 2014 | John Paul Jones and the mandolin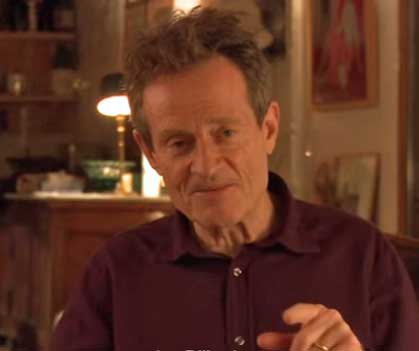 You might already be aware rock icon and Led Zeppelin bassist, John Paul Jones has long been a strong aficionado of the mandolin. The video below is a 9 minute history lesson in his experience with the instrument, and worth a view.
Video Link: John Paul Jones and the mandolin

Trivia. Did you know he also performed the three multi-track dubs of recorder on "Stairway to Heaven?"
Posted by Ted at 8:03 PM

November 21, 2014 | Instrument finish names destined for market failure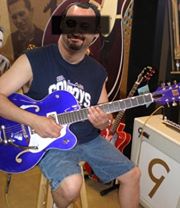 Marketing experts depend on branding that sells the sizzle of the steak. A catchy slogan or description can make or break a new product.
Consider the romantic names of successful guitar finishes like "Sea Foam Green," or "Vintage Sunburst." Even the eccentrics like "Solar Yellow" or "Hot Pink" have their own niche appeal, but there are some names you'd never want to list in a guitar or mandolin builder's catalog. We ran a Facebook poll about five years ago and wanted to revisit our own list.
Consider the following potential calamities; let's hear your own ideas destined for total creative aesthetic failure:
1.) Olive Loaf
2.) Baby Seal Blood Red
3.) Crimson Rash
4.) Psoriasis Flake
5.) Umbilical Brown
6.) Compost
7.) Farmer Tan
8.) Liverwurst (or just "Liver")
9.) Cremation Ash
10.) Maple Wilt
Honorable mentions: Linda Blair Pea Green, Nuclear Holocaust sunburst, Placenta magenta, Jaundice, Pate, Chlorine, 3rd Degree Burn, Milk-toast, Soylent Green, Varicose Vein Violet, Shirley Temple Black, Golden Showers, Cistern White, and Earwax Brown.

Posted by Ted at 3:48 PM

November 19, 2014 | Fresh Rigel bargain gems
There's quite a quintet of quality used instruments recently listed in the Mandolin Cafe Classifieds by a seller in the Pacific Northwest, and in particular a pair of unique Rigel mandolins. The rare Rigel Jethro asymmetrical 2- point has an asking price of $2300, and the cream top G-110 is listed at $2300. All five oval hole instruments are very reasonably priced, but these two really caught our eye.
Check them out: Mandolin Cafe Ad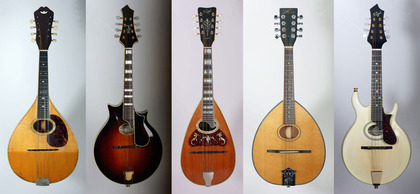 More Rigel mandolin history.
Posted by Ted at 6:02 AM

November 17, 2014 | D'Addario FW74 flatwound strings now EFW74
The question has come up. What is the difference between D'Addario Strings newly listed EFW74 flatwound strings and the FW74 we helped them develop seven years ago (ultimately released in 2010)?
Answer: Cooler packaging.
From our inside sources, "Great question, we're in the process of migrating all of our mando strings into sealed, corrosion resistant packaging, like our acoustic strings. Hence, the item # change. New look, better packaging, that's the skinny. Go for the new ones with the "E" in the prefix. The old version will no longer be available once the current inventory is liquidated."
The strings did not change. The strings remain one of the best values in flatwound mandolin alternatives. With the premier Thomastik 154 sets street pricing around $49 US, you can find these sets at almost 1/4 of that price. They're also a terrific replacement for those who were fond of our own JM11 mandolin strings discontinued in 2013.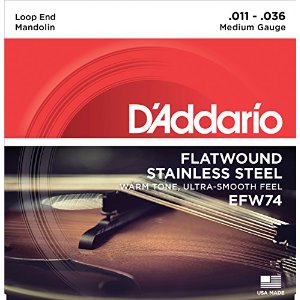 Read how these came to be: The origin of a new string: D'addario FW74
These strings are constructed using a complex combination of interlocking underwindings on a hex core, which builds the foundation for a delicate outer flat (ribbon) winding. This unique design allows the strings to vibrate freely, creating a true, clear sound and an ultra-smooth feel. Created for jazz, classical and folk players, they deliver unparalleled comfort for playing closed position fingerings and up the fretboard.
Posted by Ted at 6:05 AM

November 15, 2014 | Coming soon. Will Patton project #6!
Excited to find out New England jazz master mandolinist, Will Patton is releasing a new CD very soon. His first five were incredible, and we wouldn't expect this one to be anything less. Will chimes in, "always an exciting moment when 2 years of writing, playing and arrangement decisions come together."
What's on this? Will replies (tongue in cheek) "Horace Silver, Opus de Funk, Zoot Sims, some Toquinho, Jo Privat, Steven Foster - you know, the usual mandolin stuff."
Purchase previous recordings: Will Patton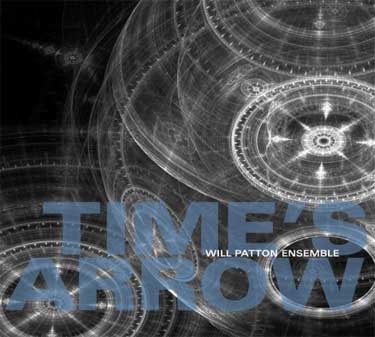 Sneak peek of the cover. We'll keep you posted!
Posted by Ted at 3:44 PM

November 13, 2014 | Eastman DG1 mandolin for sale
We caught another of the Eastman DG1 mandolins on today's Mandolin Cafe Classified candidates. We reviewed the iconic instrument five years ago, and were pretty impressed. A far cry from the Lloyd Loar Florentine tobacco-burst template, the DG1 is a horse of a completely different color, from its cutting edge Cubist outline to its resounding aural sweetness.
A new model street pricing in the low $3K makes the asking price of this one, $1850 an exceptional deal. Grab it while you can!
Mandolin Cafe Classified: Eastman DG1 mandolin for sale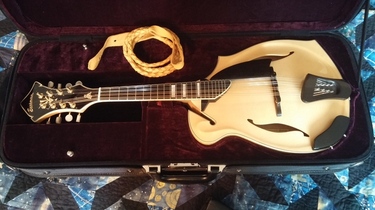 Read review: Eastman/Giacomel DG1
Posted by Ted at 4:46 PM

November 11, 2014 | 1K Facebook Milestone
We're pleased to have achieved an important milestone on our JazzMando Facebook Page! We've broken the 1,000 member barrier!
If you're on Facebook, it's a good place to follow us. We do breaking news from our status entry, and try to keep you current with the latest and greatest developments in the worlds of mandolin, jazz, and making music. If you haven't already spotted us, be sure an click the link and hit the "Like" button.
Thanks everybody, for your support!
Link: JazzMando Facebook Page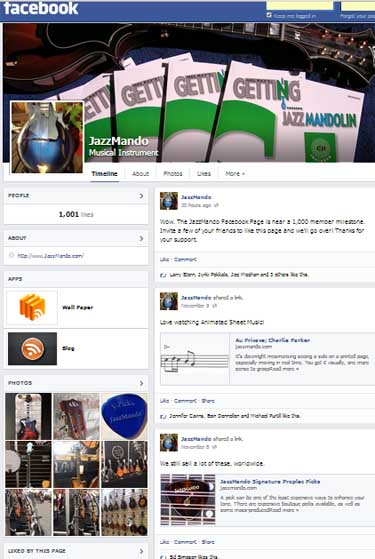 Posted by Ted at 5:05 PM

November 9, 2014 | Au Privave; Charlie Parker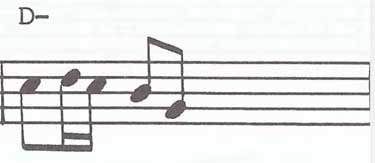 It's downright mesmerizing seeing a solo on a printed page, especially moving in real time. You get it visually, one more sense to grasp the periods of intensity and the breaks in between. It's also a way to help demystify a really good solo.
We love the Dan Cohen transcriptions on YouTube. Below is a section of the popular Charlie Parker classic, "Au Privave." Head and three choruses from a recording of the legendary saxophonist.
See what you can glean from it.
Video Link: Animated Sheet Music: "Au Privave" by Charlie Parker

Check out the Jordan Ramsey mandolin transcription by Dave Peters.
Posted by Ted at 8:16 PM

November 7, 2014 | JazzMando Signature Proplec Picks
A pick can be one of the least expensive ways to enhance your tone. There are expensive boutique picks available, as well as some mass-produced cheapies, but we're admittedly biased in our resounding preference for the signature JM Proplec pick.
Rounded three-corner shaped, modest bevel, durable acetate material, and double-sided hot stamped for confident grip, we'll toot our own horn and claim it's one of the best values on the mandolin accessory market. At industry standard 1.5 mm, it's just the right thickness for string thwacking power but not too heavy to control.
Occasionally the question comes up. Is the JazzMando pick any different than the standard off the rack D'Andrea Proplec 346 pick? The answer is yes, and even though the hot-stamped double siding seems trivial on the surface, this added feature really has a major impact on the tactile memory of your fingers, the interactive geo-position grip of the pick. Having the uniform surfacing in the same stamping from pick to pick is a great help in maintaining a consistent communication with the pick. Is it the same for everyone?
You be the judge. Try it yourself.
If you want a sample, you can send a self-addressed stamped envelope in the mail. Hit our Contact menu above to request the address.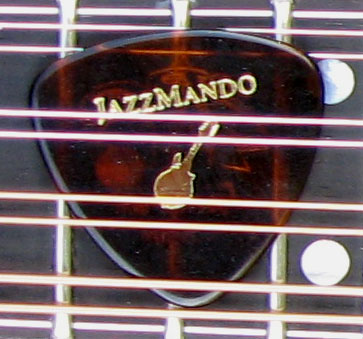 Prescription strength tone at an over-the-counter price...
Order quantities: Signature JM pick
More thoughts on picks: Top Picks

Posted by Ted at 12:28 PM

November 5, 2014 | Isaac Eicher Trio; Lullaby Of Birdland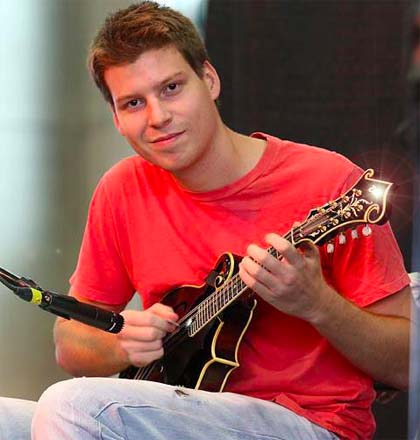 We've been huge fans of the fret wizard Isaac Eicher since the young Oklahoman came across our radar. His father, Shelby, and two others make up the acoustic jazz quartet, Mischievous Swing. He recently posted a trio incarnation of his artistry on SoundCloud, and we couldn't resist sharing it here.
Terrific arrangement of a classic standard, and so well played! We hope this might be a sample of a whole project someday...
Audio Link: Isaac Eicher Trio; Lullaby Of Birdland

Purchase Mischievous Swing

Posted by Ted at 8:37 PM

November 3, 2014 | Rigel A+ mandolin under $1K
Because of our fondness for Rigel mandolins, we're on perpetual alert for a deal, and it's not often you catch the premier entry level A+ model for under $1,000 US. One just popped up on the Mandolin Classifieds for $975 we don't expect to last long. Granted, it doesn't include a hard case (does have gig bag), but it does include shipping to the continental US.
Seller is a friend of the site and reputable. If you're looking to upgrade from a Pac Rim starter model and want a handmade US mandolin with a pickup, this is your answer.
Move quickly. It won't last.
Mandolin Cafe Classifieds listing: Rigel A+ Mandolin
Picture link.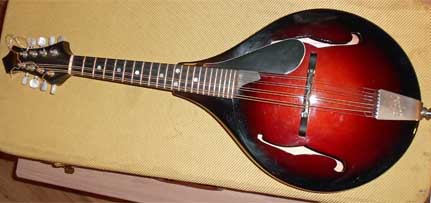 Posted by Ted at 12:40 PM

November 1, 2014 | Set your clocks tonight.
If you live in the US and you're like us you have a chore ahead of you tonight, resetting your clocks for the end of Daylight Savings time. Okay, maybe not Hawaii and Arizona, but the rest of us dread the attack on our physiology adapting to the hour difference the next few days.
Video Link: Daylight Saving Time Explained

Hopefully one of those clocks you'll set has been one of our most popular Logo Store merchandise item, our 10 inch Circle of 5ths wall clock.
So many ideas music theory concepts are spelled out on the face of these, the 6 hour (180 degree) jump across the face gives you the Tritone pairs (i.e. A/Eb). Clockwise adds sharps and eventually subtracts flats. Counter clockwise does the reverse. A four-hour jump does yield the Relative Major/Minor keys (i.e. C Major/A Minor). We all have our favorite zone of the face, generally the strings like the sharp keys, the horn players like the flats, and of course, everyone dreads the enharmonic hours with all the extra flats & sharps (B/Cb, F#/Gb, C#/Db).
Surrounded by a black plastic case, the background comes in your choice of classic Clark JM Cherry-Colaburst, and the new Sorensen Sprite Blueburst. Requires 1 AA battery (included).
Purchase one (or both!) for your home or office from our CafePress JM Logo Store and help support the site while you're at it. Only $18.99!
Click image(s) to purchase: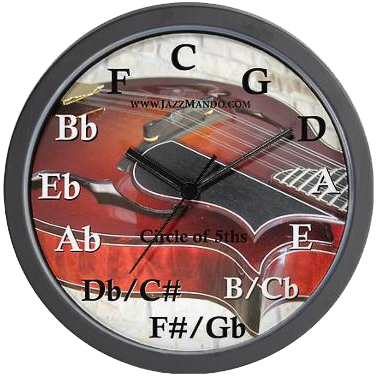 Circle of 5ths Wall Clock Cherry-Colaburst $18.99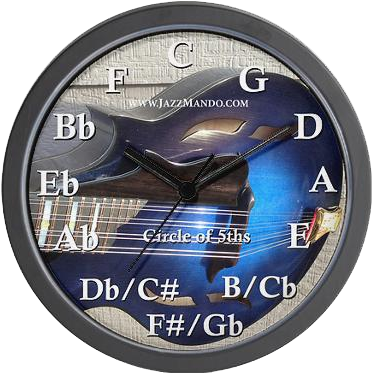 Circle of 5ths Wall Clock Cherry-Colaburst $18.99

Special bonus: Item includes free 60 bpm metronome, no additional charge!
Enjoy more possible gift items at the JazzMando Logo Store
Posted by Ted at 12:21 PM