« September 2014 | Main | November 2014 »

October 30, 2014 | Pumpkin spice Q-95
Pumpkin spice? Not our favorite flavoring at Starbucks, or any other place they decide to poison the natural bean of a good coffee drink. None-the-less, this time of year we always look back at one of our favorite creations, the Q-95 "Gypsy Q" mandolin we helped design at Rigel Instruments almost a decade ago.
The 'Gypsy Q' with its unique lap corner had a short run, but could still be purchased from Pete Langdell at Rigel Instruments through a custom order. You might also consider commissioning one with a cream top.
Visit site: Rigel Instruments
More about the Rigel Q-95.
Listen to MP3's!

My Foolish Heart

It is Well (With My Soul)
Posted by Ted at 3:19 PM

October 28, 2014 | Amazing Learning Breakthrough
Young violin student John Man (no relation to the like-named Tennessee emando builder) reports a revolutionary approach to learning.
Listening to his teacher...
"I tried just playing the way I want over and over and over again, hoping that it would get better," he said. "It never did! It was like, the more I played it the same way the more it would sound the same. What could I do?"
Read article: Student Has Amazing Breakthrough by Doing What His Teacher Says.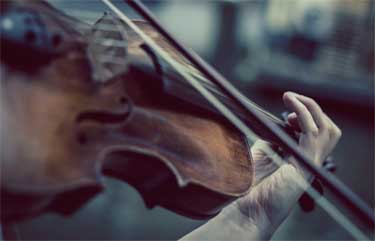 Who knew?
Posted by Ted at 7:26 PM

October 26, 2014 | Sorensen Green 2 Pt.
It's not easy being green. Unless you're a Sprite 2 point mandolin on the bench of SoCal master luthier Steve Sorensen.
We're pretty enamored of the instrument recently posted on Steve's Facebook page, a gorgeous green with the varnish curing and awaiting its French polishing.
We're a little biased, owning a custom Sorensen blueburst Sprite JM ourselves, which remains a prime go-to stage ax.
Read more: Blueburst Sorensen Sprite JM mandolin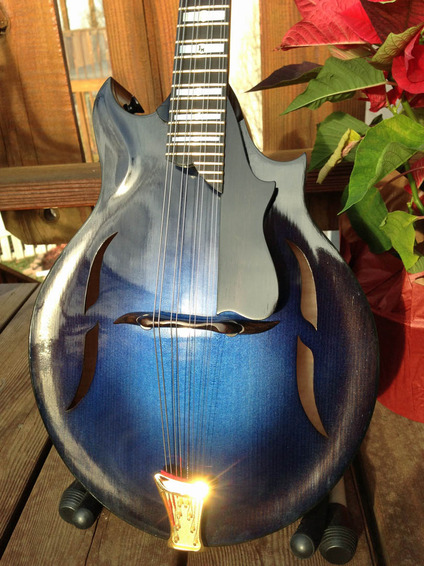 Builder's website: Sorensen Strings

Posted by Ted at 4:14 PM

October 24, 2014 | "Revoicing" a Gibson F5 Master Model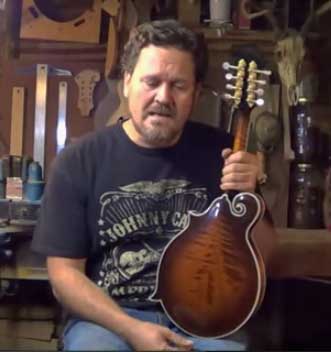 We've mentioned the hand craftsmanship of Tennessee builder Jonathan McClanahan almost 8 years ago. His specialty is the more traditional mandolin body shapes, having put his time in with Gibson mandolins and since then developed an international reputation for work on his own.
He's also in demand for repair and restoration, and we found this recent informal YouTube video fascinating. He takes an "odd duck" early 2000's Gibson production model and reworks it into a reasonably good professional model. Learn more about the nip & tuck in his steps to breathe new life into the instrument.
Video Link: Revoicing" a Gibson F5 Master Model

More information and pictures: Jonathan McClanahan "revoicing"

Posted by Ted at 5:59 AM

October 22, 2014 | Sierra Hull at breakfast
We were fortunate enough to see the following performance live at a 2014 Summer NAMM breakfast, although from about 200 feet back. It's great to see it again on NAMM archive video, the talent of the young mandolinist Sierra Hull and her arsenal of exceptional Weber fretted instruments. You'll note from the video, she sings as well as she plays. It's been a well-earned meteoric rise since the Berklee alum's debut recording at 15 years old.

Video Link: Sierra Hull and Justin Moses

Purchase Music: Sierra Hull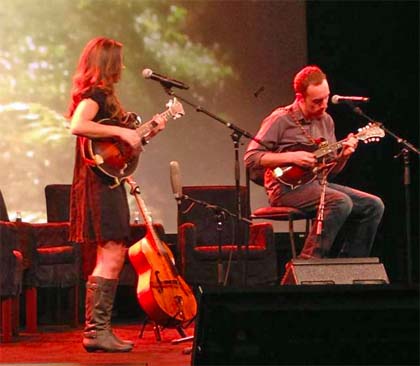 Posted by Ted at 2:56 PM

October 20, 2014 | Aaron Weinstein; LIZA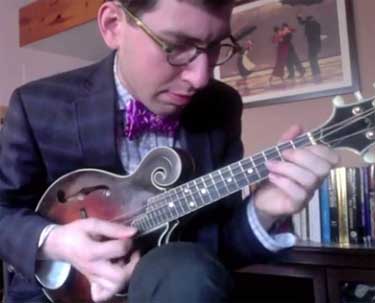 Do we ever get tired of viewing a fresh new chord melody arrangement from east coast string wizard Aaron Weinstein? Nope.
Complete with walking bass on his acoustic 4-string alto-tuned F5 (CGDA), the classic swing tune, "Liza."
Who needs a rhythm section?
Video Link: Aaron Weinstein plays Gershwin's "LIZA"

Purchase music of Aaron Weinstein
Posted by Ted at 5:54 AM

October 18, 2014 | Michael Lampert on iTunes
The first CD recorded by Los Angeles area jazz mandolinist Michael Lampert, Jacaranda, remains an exercise in silky smooth tone. This and his subsequent project, Ephemeral released a little over a decade later are available for immediate download in iTunes.
Both projects are in an informal quartet setting, very easy on the ears.

Read: Michael Lampert on tone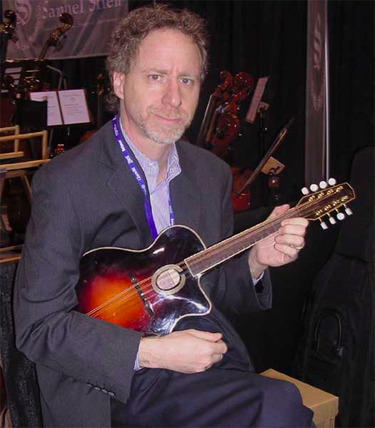 .
Posted by Ted at 12:13 PM

October 15, 2014 | LeRoy: the new bass player
LeRoy could hardly carry a tune in a bucket as they say, but he always wanted to be a bass player. On his 45th birthday, he decided to take the plunge, went into his local music store and purchased a used Vintage Sunburst Fender Precision Bass with hardshell case, and paid for two months of lessons. His first encounter with his new teacher Rufus, had him focusing on what the music veteran considered the two most important characteristics of bass playing, articulation and "attitude." Starting him with the open D string only, Rufus had LeRoy pluck the string hard in succession, "D. D. D. D. etc."
"D. D. D. D. D. D. D. D. etc."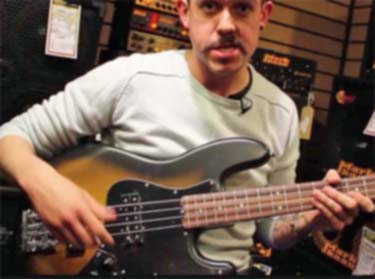 "Work on that all week and in the next lesson, we'll add another string." LeRoy came back for lesson number two, finger raw from playing three hours a day; Rufus thought he was ready for the next pedagogical concept.
"Now play the next open string down and alternate between the two, D. A. D. A. etc." and LeRoy spent the next week practicing four hours a day developing his calluses and was prime for his third lesson.
"D. A. D. A. D. A. D. A. etc."
"Now we're going to push down your first fingers of your other hand on the first fret and try the same exercise, Eb. Bb. Eb. Bb, etc." Rufus instructed. "And since you seem to be getting this down pretty darn fast, try moving you left fingers up frets and try E. B. E. B. etc. If you're really get ambitious keep going up with other combinations, 5th fret G. D. G. D, etc. You'll get the idea, but just stay playing on two strings at a time."
LeRoy missed his next lesson as well as the week after and Rufus was concerned, phoning him "What's up dude? You paid for two months of lessons and you've already missed your last two! You okay?"
LeRoy embarrassed, apologized. "Ah man. I'm soooo sorry, I would have called, but I've just been WAY too busy the past two weeks...
All the gigs!"
Posted by Ted at 5:58 AM

October 13, 2014 | Watch Mike Marshall Live Online
Pre-register to participate in another live google hangout with Mike Marshall and Mandolin Cafe administrator, Scott Tichenor.
ArtistWorks is offering another workshop you can be a part of through your own computer screen. Tuesday, October 14th 2014 5:00 PM PDT/8:00 EST (you can do the math, Central & Mountain), is your opportunity to once again join Mike and others, but you'll need to go to the website to register for the promo code.
Link: Watch Mike Marshall Live Online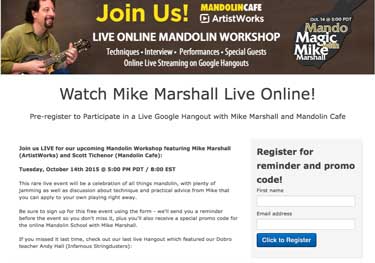 The last couple were fun. This one will be, too. Don't miss out!
More on ArtistWorks
Posted by Ted at 4:38 PM

October 11, 2014 | Chris Biesterfeldt "Bye-Ya," Thelonious Monk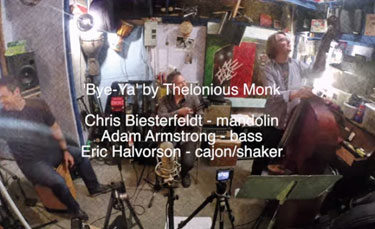 Dig this 7/4 groove with New York multi-instrumentalist Chris Biesterfeldt in the classic Monk composition, "Bye-Ya." a slimmed down acoustic three piece ensemble is the perfect format for this fun tune. Now you see Chris's amazing musicianship captured visually!
Video Link: Chris Biesterfeldt "Bye-Ya," Thelonious Monk

Original Monk recording.
If you haven't already picked up last fall's CD release "Urban Mandolin," what are you waiting for?

CD Purchase information:
CD Baby
iTunes
Amazon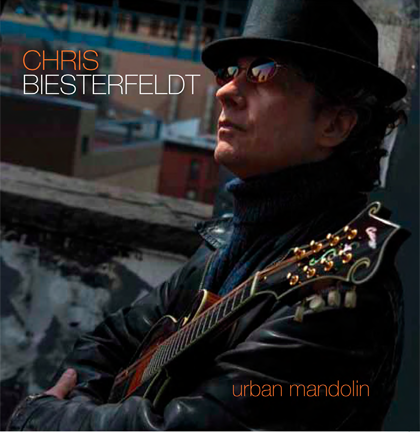 Chris Biesterfeldt; "Urban Mandolin" Release 11/5/2013
Posted by Ted at 8:20 AM

October 9, 2014 | How to change mandolin strings
Most of us learned through trial and error, but sometimes it's good to get tips from others on better ways to do it. Some use simple tools like a toothpick to wedge the loop of a string into its peg on the tailpiece (Gibson style model). Some use a capo to hold down the string until it's tensioned close to pitch.
We like using a peg winder and keeping a tuner close by. Once the loop end is seated, there's also a way of wedging the string into place with the fleshy forearm while you wrangle the tuning end.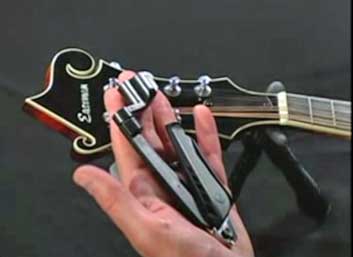 We all have our own ways, and here is a video from the D'Addario Strings website using one of their tools:
Video Link: How to restring a mandolin

Posted by Ted at 5:02 PM

October 7, 2014 | Memphis Belle Mandolin Pick
Probably one of the strangest mandolin pick shapes we've tried, but the new convex (or concave) mandolin pick, Memphis Belle is worth trying for yourself. We got our sample at the V-picks booth during summer NAMM.
From the website founder Vinny Smith explains, "This is a mandolin pick that you will not soon forget. Bowed and con-vexed to fit your thumb. This is the first pick ever made like this, and it is the most comfortable pick I have ever played. Every one is 100% hand made by a pick artisan here at V-Picks. Each one is unique. Tone is rich and full. Has the V-Pick Grippage factor as well as thumb grip!"
Only $8.00--worth taking for a (literal) spin.
Purchase information: Memphis Belle Mandolin Pick
Specs: 1.5mm & 1-3/16" tip to tip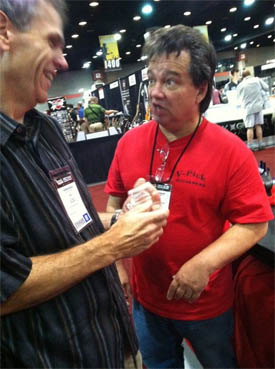 Posted by Ted at 8:34 PM

October 5, 2014 | David Grisman and Don Stiernberg Discuss Jethro Burns Legacy
Mandolin Cafe Admin Scott Tichenor and crew have outdone themselves again with another terrific interview. This week the topic is the Jethro Burns Legacy from former protege Don Stiernberg and legendary mandolin innovator David Grisman. They discuss newly mastered recordings of the mandolin swing master who passed 25 years ago.
Read article: Jethro Burns Legacy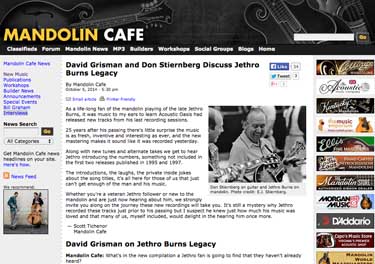 For the jazz mandolin aficionado, this is one of the most important recordings you can own.
Purchase information: Swing Low, Sweet Mandolin; Remastered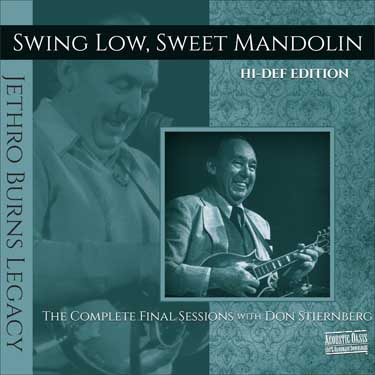 Posted by Ted at 7:38 PM

October 3, 2014 | Zak Borden, Fall River/Elzic's Farewell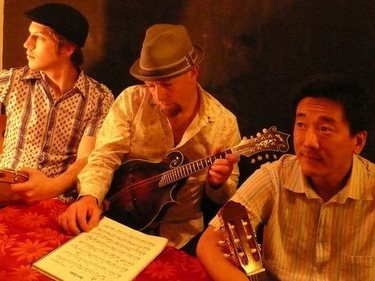 We posted a cool video last winter, Portland mandolinist Zak Borden and his trio, The Brazillionaires in "Tarde de Chuva." This time the muli-instrumentalist treats us to a unique hybrid of old time folk and a unique original in the video clip below.
Enjoy!
Video Link: Fall River/Elzic's Farewell; Live at Empty Sea, Seattle

Check out Zak's YouTube link for some lessons and tips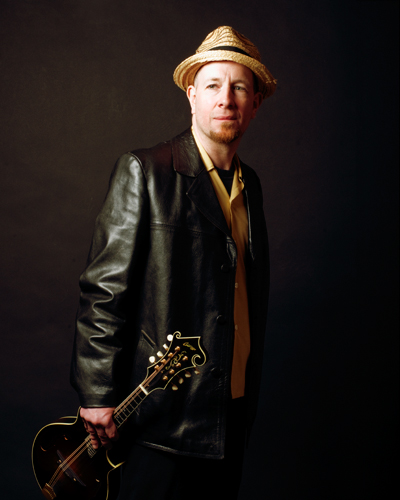 .

Posted by Ted at 5:26 PM

October 1, 2014 | Aaron Weinstein Sparkles. Or Twinkles.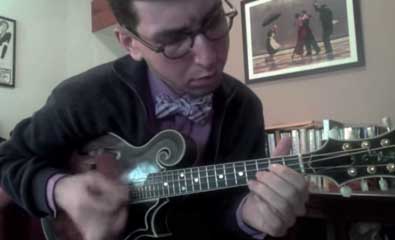 For most of us, watching Aaron Weinstein perform his chord melody magic is like striking a match in front of a caveman. We just had to post his latest video, an uber sophisticated approach to the pedagogical classic, "Twinkle Twinkle."
Marvelous!
Video Link: Aaron Weinstein; "Twinkle Twinkle Little Star"

Posted by Ted at 8:01 PM