« Chris Biesterfeldt "Bye-Ya," Thelonious Monk | Main | LeRoy: the new bass player »

October 13, 2014 | Watch Mike Marshall Live Online
Pre-register to participate in another live google hangout with Mike Marshall and Mandolin Cafe administrator, Scott Tichenor.
ArtistWorks is offering another workshop you can be a part of through your own computer screen. Tuesday, October 14th 2014 5:00 PM PDT/8:00 EST (you can do the math, Central & Mountain), is your opportunity to once again join Mike and others, but you'll need to go to the website to register for the promo code.
Link: Watch Mike Marshall Live Online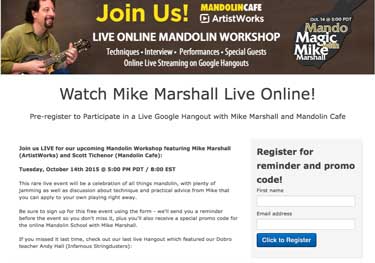 The last couple were fun. This one will be, too. Don't miss out!
More on ArtistWorks
Posted by Ted at October 13, 2014 4:38 PM