« Watch Mike Marshall Live Online | Main | Michael Lampert on iTunes »

October 15, 2014 | LeRoy: the new bass player
LeRoy could hardly carry a tune in a bucket as they say, but he always wanted to be a bass player. On his 45th birthday, he decided to take the plunge, went into his local music store and purchased a used Vintage Sunburst Fender Precision Bass with hardshell case, and paid for two months of lessons. His first encounter with his new teacher Rufus, had him focusing on what the music veteran considered the two most important characteristics of bass playing, articulation and "attitude." Starting him with the open D string only, Rufus had LeRoy pluck the string hard in succession, "D. D. D. D. etc."
"D. D. D. D. D. D. D. D. etc."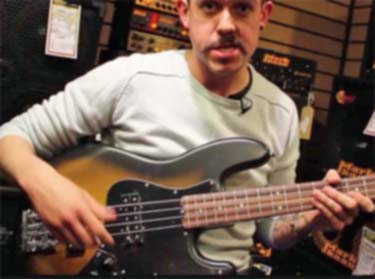 "Work on that all week and in the next lesson, we'll add another string." LeRoy came back for lesson number two, finger raw from playing three hours a day; Rufus thought he was ready for the next pedagogical concept.
"Now play the next open string down and alternate between the two, D. A. D. A. etc." and LeRoy spent the next week practicing four hours a day developing his calluses and was prime for his third lesson.
"D. A. D. A. D. A. D. A. etc."
"Now we're going to push down your first fingers of your other hand on the first fret and try the same exercise, Eb. Bb. Eb. Bb, etc." Rufus instructed. "And since you seem to be getting this down pretty darn fast, try moving you left fingers up frets and try E. B. E. B. etc. If you're really get ambitious keep going up with other combinations, 5th fret G. D. G. D, etc. You'll get the idea, but just stay playing on two strings at a time."
LeRoy missed his next lesson as well as the week after and Rufus was concerned, phoning him "What's up dude? You paid for two months of lessons and you've already missed your last two! You okay?"
LeRoy embarrassed, apologized. "Ah man. I'm soooo sorry, I would have called, but I've just been WAY too busy the past two weeks...
All the gigs!"
Posted by Ted at October 15, 2014 5:58 AM