« "Grassman" Dudu Maia | Main | Two years: Path To Mando Mastery »

September 23, 2010 | Reminiscing : the Rigel Q-95 "Gypsy Q"
In the spring of 2005, we had the pleasure of working with Rigel Instruments in developing a nifty new moderately priced American-made professional mandolin, the Q-95, aka "Gypsy Q." The concept was fairly simple, take the already profoundly popular Rigel A+ Deluxe mandolin and put a lap corner on it.
Builder Pete Langdell's revolutionary process in constructing these instruments made it very easy to voice these beauties like a vintage 'teens Gibson A body instrument. The solid, radiused sides allowed the instrument to be tapped, played, and custom carved to the proper tone before completely glueing top back and sides together. We also captured the vintage aesthetic vibe in two stock colors, the "Espresso con Pana" cream top and the Doppio con Zucchero (double esspreso with sugar). Some of the variations we sold include a Petite Bouche (turned) hole, a pumpkin top, and we even had a delicious blueburst ordered at one time.
From the Rigel Instruments website: "These are premeditatively voiced to replicate the sweet sound of vintage A-style oval-hole mandolins, but with modern tuners and none of the issues that so often accompany vintage instruments. The Q95 has the look, feel and sound of the best classic 'teens instruments, and at a street price that rivals the best of the rare vintage A-style instruments that have structurally withheld the test of time."
Though these are no longer in current production, you could still have one custom-made through the Rigel Instruments website. Contact Pete Langdell if you are interested.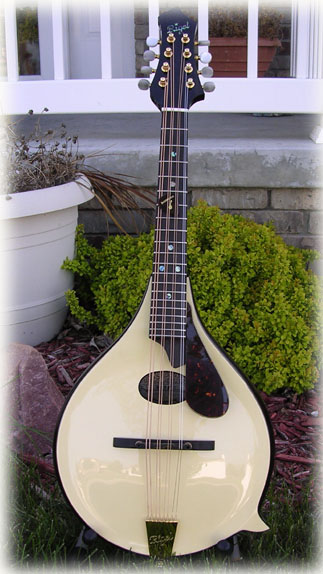 JazzMando history: Rigel Q-95--The "Gypsy Q"
Rigel Website: Q95
We even worked on a mandola version, the Rigel Q-200, but sadly, only two were ever made.
Posted by Ted at September 23, 2010 6:29 AM