« Reminiscing : the Rigel Q-95 "Gypsy Q" | Main | Dale Ludewig, Emory Lester Signature mandolin »

September 25, 2010 | Two years: Path To Mando Mastery
Released September 2008 after five years in the making, we're celebrating two years of success of the Mel Bay best seller, "Getting into Jazz Mandolin." From the publisher's website:
"The last half-century has produced an explosion of interest in guitar, mandolin, banjo, ukulele, and other string instruments. Once relegated to simple folk music, these instruments are now in their heyday of popularity, enjoying an exponentially expanding immersion into a variety of more complex styles, from blues to jazz, to a wide array of world ethnicities.
Though rooted in nearly three centuries of European tradition, only in the last two decades the mandolin is just recently following closely on the heels of its more popular bigger brother, the guitar. From Cowboy chords, to Elvis, to Guitar Hero, the guitar of today is prominently main-stream, arguably surpassing the piano in status. The mandolin is poised to capture and captivate a similarly expanding market and popularity; all that has been missing is the published pedagogies necessary to equip the player to enjoy a broader array of musical styles. Until now..."
If you are already familiar with the book (even if you aren't), check out the additional web-based audio page here on the site, "Webtracks" with expanded opportunities to hear and interact with even more sound tracks and professional artists' interpretations of the music and concepts.
Purchase book from the author Getting into Jazz Mandolin
Explore supportive audio: Webtracks
Listen:

Craig Schmoller, Lydia O' Lydia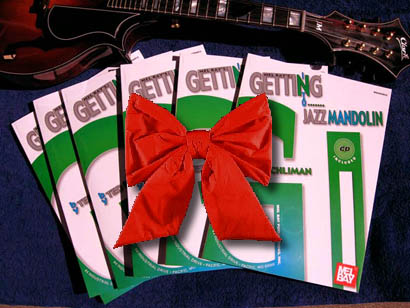 Tab and notation. Exercises are written in both standard notation and mandolin tablature to communicate proper fretboard positions. Fingering markings are included to suggest effective finger placement.
"The notes just seem to come out of nowhere for me, now..."
Posted by Ted at September 25, 2010 5:59 AM