« Two years: Path To Mando Mastery | Main | The Cleverlys: Walk Like an Egyptian »

September 27, 2010 | Dale Ludewig, Emory Lester Signature mandolin
We've had the opportunity to personally review almost three dozen amazing instruments in the JazzMando "New Models of Mandolins" showcase. One of the earliest entries was a delicious blackface A-body mandolin from Illinois builder Dale Ludewig, his Emory Lester Signature mandolin. We couldn't imagine the Canadian mando tone-meister would put his name behind anything but the best, and personal experience affirmed that.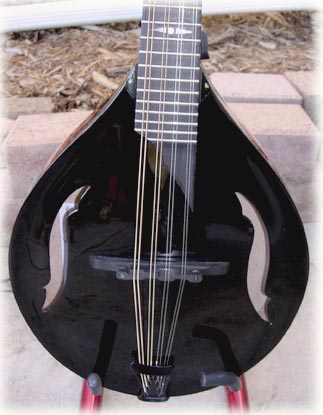 We've kept in touch with Dale over the years. Balancing his high-demand business of custom cabinet building, and an unfortunate catastrophe with a shop flood a couple years ago has made high output a challenge, but we've been contacted by a number of his satisfied customers since the review. He's since made a couple of Emory mandolas, some intriguing custom finishes on some mandolins, and lately he's dabbled in a few guitars. All of course, with an intense attention to tone and aesthetic detail and a seasoned cabinet maker's intrinsic knack for structural integrity.
Check our review in the Builders archives: Dale Ludewig Emory Lester mandolin
Recent pictures: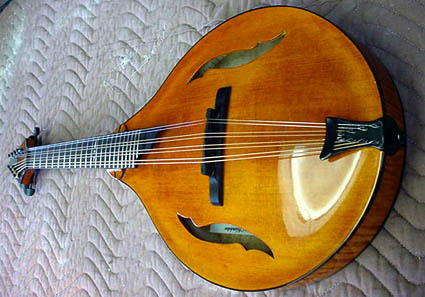 Ludewig butterscotch Emory Lester signature model mandola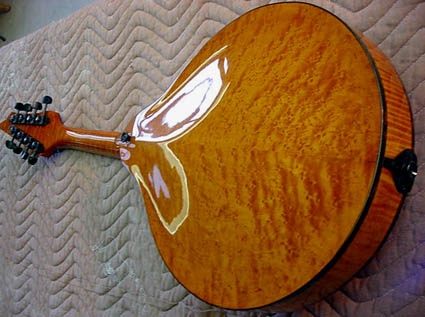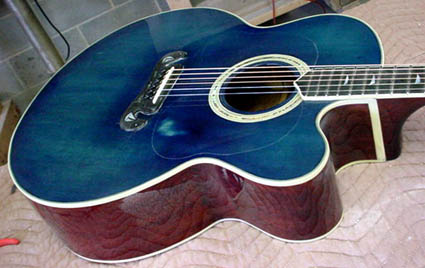 Ludewig Guitar
Read up on other world class mandolin builders.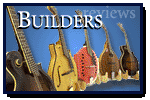 Posted by Ted at September 27, 2010 5:50 AM