Dale Ludewig
Dale Ludewig Emory Lester A Model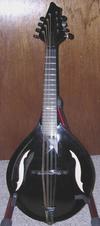 I've had the recent privilege of reviewing the new Emory Lester model A mandolin from Illinois master luthier Dale Ludewig. Thirty years of custom wood working and the pursuit of perfection in both old and news ways of making instruments has gifted Mr. Ludewig the reputation of a world-class mandolin building business.
His recent collaboration with New Acoustic Artist Emory Lester has yielded a uniquely "stealth" ax that is anything but sonically invisible. Its sleek, subtle form betrays the rich, complex tone it personifies. Slightly oversized F holes give it endearing warmth, much like an oval hole instrument, but a defining "snap" with every note articulated.
The feel of the instrument is as compelling as the sound. A fingerboard radius at 9-1/2" along with an exaggerated fretwire give it a Rigel-like comfort and playability, yet it's punch yields a tonal character all its own. The acclimation is immediate; the player becomes "one with the mandolin" at the fifth note on, the mark of a well-crafted musical implement.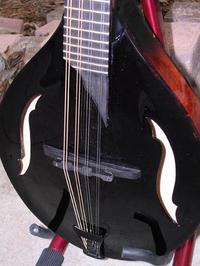 Though its sleek, all black look understates its potential as a "Weapon of M.A.S. Destruction," closer inspection uncovers the professional details, including black-chromed Allen tailpiece, customized ebony Grover (one side F, one side A) tuners, tortoise-shell binding, and a dynamic asymmetrical headstock.
Disclaimer: Jazzmando has no financial interest in Ludewig Mandolins. This page is meant to promote one we feel worthy of attention for bringing mandolin design into the 21st Century.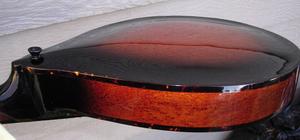 The tortoise binding is quite special. Bordering the Darth Vader black top it drifts elegantly into a honey-brown side and licorice-burst back. Bindings are supposed to separate, to distinguish. Dale defies convention, however; on the EL it balances and amalgamates the two seemingly incompatible colors. Just the right kind of light really makes this combination dance.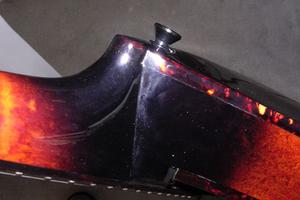 (Simulated) Tortoise Shell Binding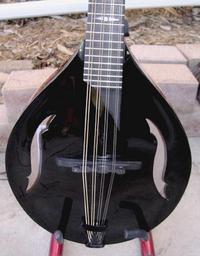 Exaggerated F-hoes for open, warm tone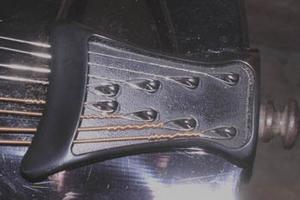 Allen Monteleone style Tailpiece.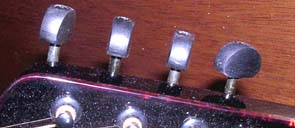 Custom ebony pegs

Paradoxically, great effort has been made to "understate" the cosmetics. The dark-of-all-dark top, the anodized black chrome hardware and ebony pegs, the intentional departure from fretboard markers and headstock logo yield a cosmetic signature all its own.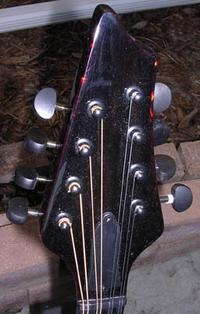 The slightly wider fingerboard parks its symmetry in a tasteful, yet profoundly simple geometric complement to the headstock with its scooped extension.
Understand, this is not a "campfire" instrument. Nor is it meant to be a sideman's ax. This is a rich, complex, solo "stage" instrument, deserving of prominent place in the ensemble, front and center, tone warm but BIG...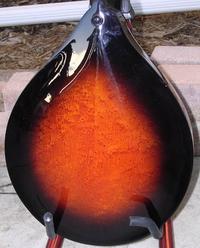 Special Bird's Eye Maple Back, as easy on the eyes as it is the ears!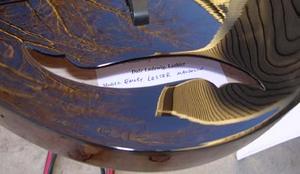 More information on Dale Ludewig's craft at his website.



---

Read up on other world class mandolin builders: