Rigel Q-200 Mandola
Understand that anything you read here about the Q-200 will be pure, unadulterated bias. A spin-off of the 2004 love-child collaboration of JazzMando and Rigel instruments, the Q-95 "Gypsy Q," we couldn't say anything bad about this instrument any more than one could in good conscience publicly berate one's own kid.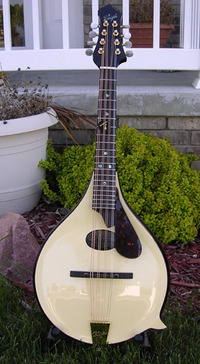 Q95 roots
Nothing like the sound of a good vintage instrument. The teen's Gibson A mandolins are extremely popular workhorse axes for many musicians, especially in the more intimate settings of Gypsy Jazz ensembles. Unfortunately, the natural aging process that gives this warmth is more often not without the prerequisite baggage of bent necks, warped fingerboards, and tired tuners that fail to crank effectively. Not that there aren't good ones out there that have survived the years of loving, caressing, and playing, but these tend to fetch a price at a premium, unless you happen to be master bargain-hunter, or just extremely lucky.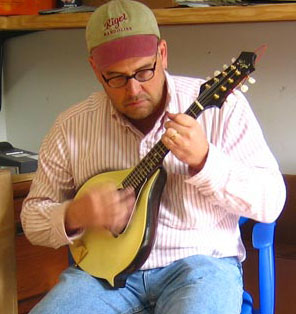 Enter the Rigel building process. Because of their revolutionary approach to assembling a mandolin through solid block sides (this process is a story unto itself--see our article, "Rigel How") an instrument can be predestined and later tweaked to imitate this incredible tone. We enlisted Rigel's services designing a modern instrument capable of this kind of tone, borrowing from the success of their entry level A+ Deluxe; we suggested the addition of a Loar Style lap corner, and marketed the Q-95 with cosmetics appropriate for Coffee House venue playing.
The 'Gypsy Q' has been widely popular, its success transcending to other styles of playing, including Classical and Cerebral Folk music. Its quirky body shape has been covered in many more finishes besides the stock "Espresso con Pana" (cream top with Espresso-burst back and sides) including Blue-burst, Salmon Rose, Blonde-burst, Burgundy-burst, and the traditional Cremona.
Reaching for Lower Ground
It seemed a no-brainer. The recently increasing broad scale popularity of the mandola, the bigger sister to the mandolin with its tuning a fifth lower (CDGA) and longer scale (16") was a logical expansion of the success of the Q-95. We just received our first Q-200 and needless to say, it did not disappoint.
Worth the wait, and of course, worth the weight!
Tubby with a Punch
Resonance because of the lower register (more wood) was expected, but the critical issue would be whether it could still provide projection. We're happy to say the sound is not only rich and full, but packs a fistful of macho intensity. Tender yes, but don't accuse it of being dainty. Best described as robust with a dynamic reserve.
Feels good
As expected the legendary Rigel comfort remains its strongest selling point. Radius fingerboard, expertly detailed and finished, even the larger neck retains the world renowned Rigel playability players revere.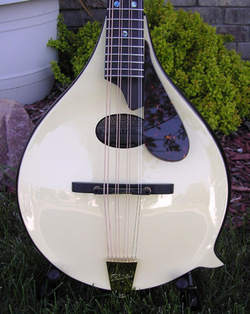 Weight and balance is terrific; it feel good strapped around the neck and the lap corner is even more delightful here than on the Q-95 because of the larger size. It's easy to pound at fortissimo but wields an elegant pianissimo as well.
Under Construction
Vermont maple trees are known for their sweet syrup. The highly-figured Vermont Rock Maple in the Q-200's back and sides offer its own sonic sweetness, as well. Spruce top, painstakingly carved internally to just the right amount of richness, we still extract and enjoy a confident, opulent tone.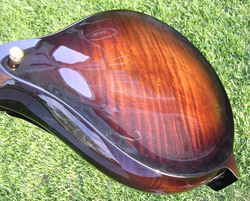 This one sports an incredible one-piece back.
When you know you can get this kind of vintage sound and still reach for tuners that respond, exploit a fretboard that is fully intonated at every fret with no compromises in homage to aged wood and metal, it would be hard to argue against this being an incredibly viable option for anyone lured by the vintage instrument market.
Pardon us. We're heading to the front porch to Dola out a little personal pleasure...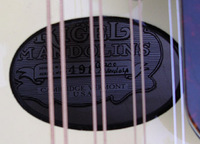 Rigel Q-200
"Espresso con Pana"
(espresso with a dollop of cream)
Espresso-burst back & sides with cream top, with tortoise shell pickguard and oval hole inlay.
List $3995
Street = (lower)
Purchase through the Rigel Website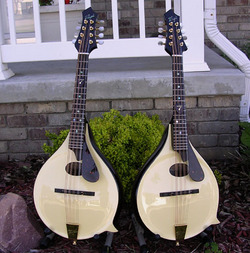 ---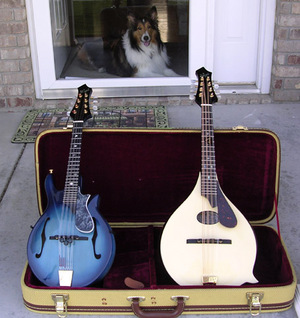 Size comparison: our revered Blue-burst CT-110 and the new Q-200 Mandola
---
In the oven: JD-13 Mandola Flatwound Strings