« August 2014 | Main | October 2014 »

September 29, 2014 | In the beginning. The origins of JazzMando.com.
One year ago, MandolinCafe.com published an interview about the site author. If you want to know a little more about the origins of the site, take a few minutes to read the article. FFcP, jingles, dogs. You should find something interesting there.
Mandolin Cafe: Ten years plus of JazzMando.com online. What does the future look like for the site down the road?
Ted Eschliman: I'm very grateful for the support of my readers, and the beyond the call of duty mentoring you've done personally with my own site. Folks may not realize we have over 2,000 separate pages at JazzMando, complete with lessons, reviews, news, tips and tricks, guest writers, and a lot of practical knowledge that goes even beyond learning jazz.
Of course it started in 2003 with the intent of bridging the jazz world with the mandolin fretboard, but I'd like to think we've done a good job compiling tips, techniques, and playing concepts that go beyond just that and expand the horizons of any mandolinist. One problem I have through is that that massive gravity of the material is falling into itself. There's so much that it's easy to get lost, and I'm thinking the best thing for me to do is clean it up, categorize, and reorganize to make it even more navigable. That's a never-ending battle. I know I can't administrate this forever, and I'm already planning when I might sunset it into more of an archive collection.
Read article: Ted Eschliman Interview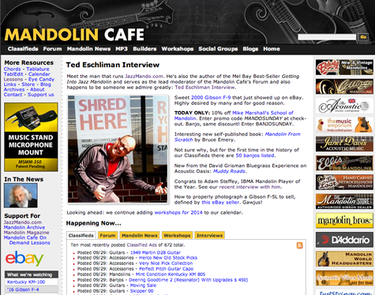 Posted by Ted at 11:27 AM

September 27, 2014 | Fretboard Journal; Mowry Stringed Instruments
We've been big fans of the innovative west coast builder, Andrew Mowry since we first reviewed one of his 2-point mandolins in 2007. This summer, Fretboard Journal wrote up a marvelous pictorial interview worth your time. He's responsible for some incredibly innovative instrument design and has an international following.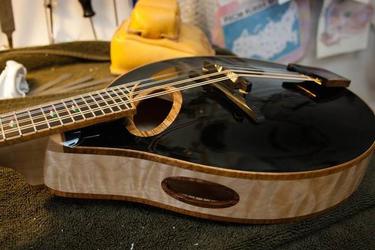 From the article: "Whether he's building a traditional F-5 style mandolin or an innovative fanned-fret cittern, Andrew Mowry is known for his immaculate workmanship and the impressive tones he's able to get out of his instruments. The Fretboard Journal decided to check in on the Bend, Oregon builder to hear about some of his most recent projects and find out how this former geologist decided to start hand-crafting instruments."
Read more: Bench Press: Mowry Stringed Instruments
Posted by Ted at 8:28 AM

September 25, 2014 | Six years! Getting into Jazz Mandolin
It's our 6th year anniversary since the book "Getting into Jazz Mandolin" was released (September 2008). We have some great free resources here on the site, but if you really want something in your hands that is both systematic and comprehensive, consider a purchase of "GiJM." It holds up as a strong Mel Bay best-seller, something you should consider for purchase, either for your own personal use or you can spread the love and give it as a generous and thoughtful gift to your mandolin playing friends.
This will bring joy and fretboard mastery to anyone willing to invest a little time in the FFcP based exercises as they are laid out in the context of unraveling jazz. However, this is not just for the jazzer, anyone seeking to leave the world of cowboy chords, let alone the key of G, will find this approach useful.
If you wanted an extra electronic copy to carry around with you, it's available direct from Mel Bay in an eBook format.
Lots of great information for you here around the site, but there's nothing like the compact, portable access to the book's methodic approach.
Purchase information: Getting into Jazz Mandolin
Prime Members save at : Amazon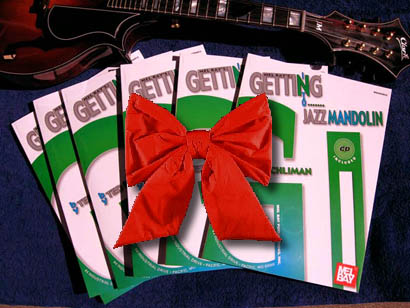 Getting into Jazz Mandolin
What this book offers:
A clear, consistent course progression. The player starts with something already known (the Major Scale) and develops patterns (FFcP) that can be intuitively expanded. Jazz variations are introduced incrementally, and by the end of the book, the player should be relatively comfortable improvising.
Clear language. Advanced music theory is explained with unpretentious prose, uncomplicated terminology and good humor. A mandolinist could simply play through all the exercises, and at very least, get more proficient with the fretboard, at best build some higher level jazz vocabulary.
Supportive Audio. The 70-minute CD included gives audio examples, as well as limitless opportunity to practice and jam with the exercises. An additional web-based audio page on the JazzMando.com website, Webtracks" offers expanded opportunity to hear and interact with even more sound tracks and professional artists' interpretations of the music and concepts.
Tab and notation. Exercises are written in both standard notation and mandolin tablature to communicate proper fretboard positions. Fingering markings are included to suggest effective finger placement.
Posted by Ted at 8:18 AM

September 23, 2014 | New York Gypsy All Stars
Some of the hottest Turkish kanun playing you will see this morning. We couldn't resist stepping out of our standard mando-centric focus and bring you something that will no doubt get your pulse going.
This 2001 recording of the New York Gypsy All Stars featuring kanun, clarinet, drums, bass and synth is audio dynamite.
Enjoy!
Video Link: New York Gypsy All Stars performs EZ-Pass

What is that, 11/16 time?
Purchase link: Amazon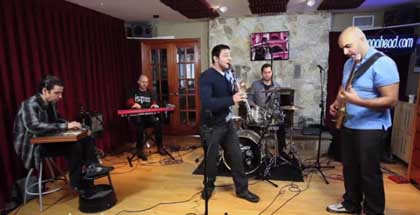 Posted by Ted at 6:13 AM

September 21, 2014 | Marcos Moletta: Multiplo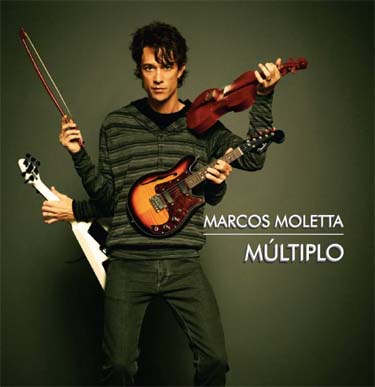 We're enjoying listening to the recently released CD "Multiplo" from Rio de Janeiro multi-instrumentalist Marcos Moletta. The 12 song instrumental project is a potpourri of folk styles including traditional Brazilian, European gypsy jazz, and a heaping helping of jazz fusion.
All but two of the songs are original compositions he performs with his instruments including his signature guitarra baiana (5-string electric mandolin), Fender electric 5-string, rebeca (native South American fiddle), violao tenor guitarra, and bandolim in an exciting native Brazilian rhythm ensemble context.
In the past he has credited his musical influences from such diverse flavors as Jimi Hendrix, Pat Metheny, Bob Marley, Pixinguinha, Frank Zappa, and Wes Montgomery, but his regional roots are firmly planted in each of the selections. The songs are deftly executed, aurally stirring, and his unique voice in this marvelous ethnic sonic backdrop is like nothing you'll hear this far north.
Highly recommended! Get this for your library.
Artist Facebook Page: Marcos Moletta: Multiplo Marcos YouTube Channel
Video link: Dia de Vida!

Video link: "Peaches en Regalia" on Electric Mandolin

Read about Marcos' instrument: Fabio Batanj guitarra baiano
Posted by Ted at 3:15 PM

September 19, 2014 | Darol Anger & Mike Marshall; Borealis
We enjoy watching the decades long pairing of string wizards Mike Marshall and Darol Anger. This one, recorded in Europe showcases an original composition, "Borealis," featuring Mike on his legendary Monteleone mandocello. With so much closeup fingerboard and finger coverage, we can only assume it was a player who captured the performance on video.
Enjoy!
Video Link: Borealis - Darol Anger & Mike Marshall

Purchase music from the duo's discography: Marshall/Anger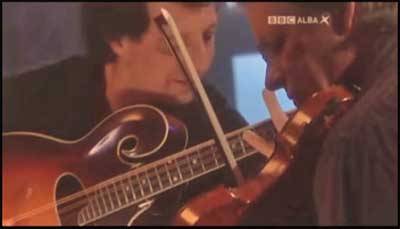 Posted by Ted at 2:55 PM

September 17, 2014 | The Killigans, mandolin fight song?
Nothing stirring like a good old traditional college fight song. Our old alma mater the University of Nebraska has a few, but one recently came across the desk, and updated punk/folk version featuring, you guessed it... mandolin.
These guys, native Lincoln Nebraska six-piece band, The Killigans put the "man" in mandolin.
Enjoy:
.
Compare.
Traditional version, Robert W Stevens, Cornhusker (Come a Runnin' Boys):
University of Nebraska-Lincoln's Varsity Men's Chorus circa 2000-2001, arrangement Peter Ecklund

Posted by Ted at 4:48 PM

September 15, 2014 | New review: Kala KA-GTR Tenor Guitar
We've had the privilege of a hands-on sneak preview of the new Kala Tenor Guitar. We had our first glimpse in a noisy Summer NAMM trade show floor, but the last week we were able to get more intimately acquainted in the privacy of our own studio and take some good pictures.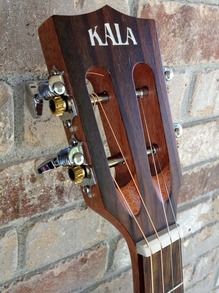 .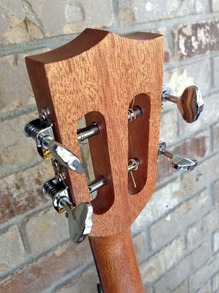 The 5ths tuning allows the mandolinist to transition easily to the slightly larger scale of a guitar as well as play in lower accompaniment range. The narrow neck Kala is arguably more uke-like in feel, which makes it perfect for the mandolinist. Take some time to read our review for more details, but spoiler alert--we love this instrument and plan to purchase one of our own.
You will want one, too!
Read review: Kala KA-GTR Tenor Guitar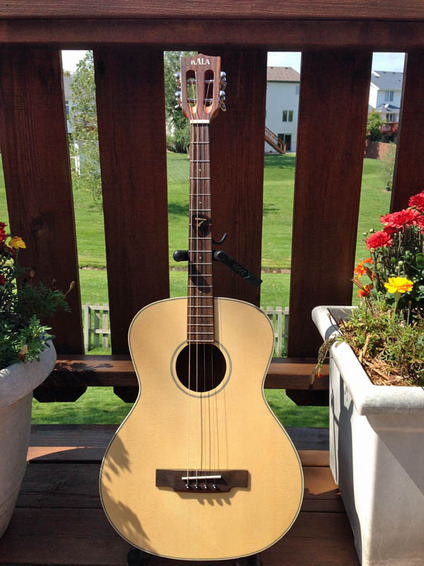 Posted by Ted at 6:04 AM

September 13, 2014 | Footstool for playing while sitting? Yes!
Mandolinists who sit while playing often struggle to get optimal posture. The spine can be bent uncomfortably, and the arms constricted unnecessarily. Educators Mike Marshall and Don Julin highly recommend the use of a guitar footstool to elevate the knee and balance the instrument properly. The instrument is more stable and you don't have to crowd its back so both player and mandolin can "breathe."
In a pinch, you could put your foot on top of your case, but a simple tool like the one pictured below gives better adjustability and a rubber tack surface will keep your shoe from sliding around.
We suggest the Nomad NFS-G301 Guitar Footstool. For around $10, you have something you can tote easily (folds flat!), and a variable height adjustment. It's also metal for sturdy support and the rubber tips keep it in place on wood or tile floors.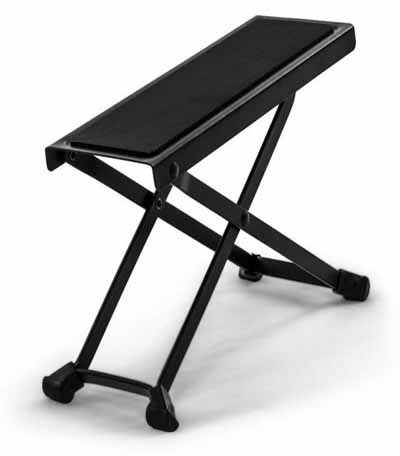 Purchase information (US only): Nomad NFS-G301 Guitar Footstool


Mike Marshall On Mandolin Tips
Posted by Ted at 2:56 PM

September 11, 2014 | Aaron Weinstein plays "Tea for Two"
Thanks to our friends at the Mandolin Cafe for bringing this to our attention, a fabulous chord melody from the fretboard wizardry of New York multi-instrumentalist Aaron Weinstein. Master of chord melody and arrangement, Aaron is someone we could watch in fascination for hours.
He tells us he prefers to use "Johnny Gimble" tuning. (CGDA in case you were wondering...)
Video Link: Aaron Weinstein plays "Tea for Two"

Read Interview: 10 Questions with Aaron Weinstein
More Aaron Weinstein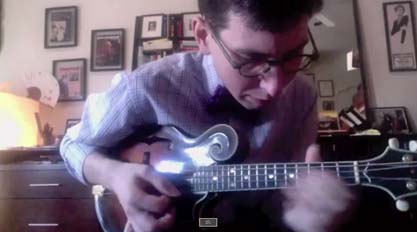 Posted by Ted at 1:18 PM

September 9, 2014 | iReal Pro for iPad and iPhone
With the announcement of iPhone6 out later in a matter of days, we thought it timely to remind everyone about our favorite iOS music ap. Hardly a day of practice goes by that we don't use this tremendous resource. We've even taken to creating our own charts for practice purposes.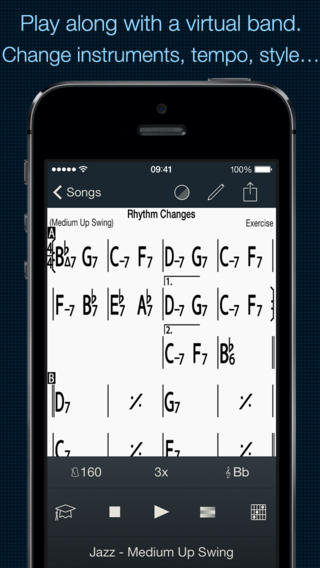 We mentioned this in a previous article, strike that, we RAVED about this nifty iPhone app that gives you literally hands-on access to now over 1,000 song chord changes (including 1300 jazz standards in the forum). In addition to releasing versions for iPad and 'Droid, there's a feature introduced in 2010 that makes it an absolute must have. Not only can you transpose to different keys and alter the chords within the song, the program features MIDI playback.
The sounds are decent, and as you can see from the demo below, you can alter the tempos and the different style presets. In other words, if you're playing slow ballad version of Autumn Leaves, you can dial in an uptempo swing and really kick it in. We've even created some files from the "Getting Into Jazz Mandolin" book into some practice files. Let us know if you're interested in using these.
View Video: iReal Pro for iPhone and iPad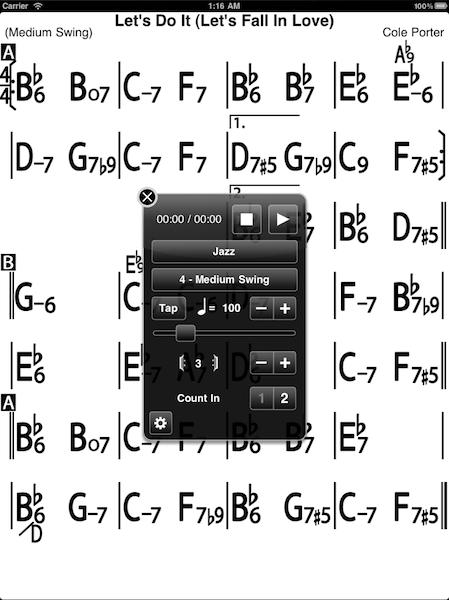 Visit iReal Book Website.
Purchase on iTunes.
Posted by Ted at 8:31 PM

September 7, 2014 | Mandolin chord sweetness
When you started playing the mandolin, you learned a lot of folk chords, straight triads and an occasional dominant 7th chord. In a February 2008 archived Mandolin Sessions article, we tabbed out some aural treats for you introducing some extended chords.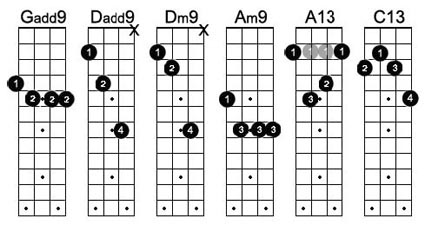 Doesn't take much, sometimes just a simple Add9 or 6. Sometimes it's just as simple as opening the voices a little bit. We also don't need to get trapped in the every-string-every-note rut. Two- and three-note chords work amazingly well in many contexts, too.
You don't even have to worry about the music theory behind them, but it helps to be able to move them around the fretboard if you transpose them.
We presented a series on "Lizard Ear" chords in the Mandolin Sessions archives, but the earliest glance was the aforementioned "Sweet" Chords; Fresh chord voicings and their context." Get out your ax and savor some harmonic goodness.
Review article: Mandolin Sessions, Feb 2008
Check out the more than eight years of articles listed in our archive table of contents:

Posted by Ted at 6:50 PM

September 5, 2014 | Kerman Mandolin Quartet; Piazzolla "Coral"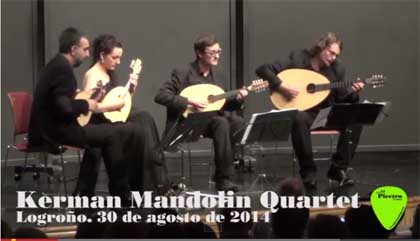 Some great playing captured on YouTube of the Kerman Mandolin Quartet. Astor Piazzolla "Coral" in the August 2014 Festival Internacional de Plectro de la Rioja.

Enjoy!
(Quartet starts after 35 second introduction)
Video Link: Kerman Mandolin Quartet
Posted by Ted at 9:50 AM

September 3, 2014 | Sorensen. Stooping to some new lows
So Cal builder Steve Sorensen really got us on this one, stooping to new lows. That would be a 12th below a mandolin, his new guitar body arch top mandocello we just spotted on his Facebook Page. How tempting is this finish!?!
In case you are new to the mandolin family, the mandocello is tuned like a cello--an octave below a mandola, and an an octave plus a 5th below the mandolin. It must be played with a slightly different fingering technique, more guitar-like in its finger for every fret approach, unless you have huge Mike Marshall hands.
We love the art deco touches, the tailpiece, compound block inlay and exaggerated integrated side binding/armrest. Judging from the other instruments we've seen we can only imagine how great this must feel and sound.
Builders Website: Sorensen Strings
More pictures: The Instruments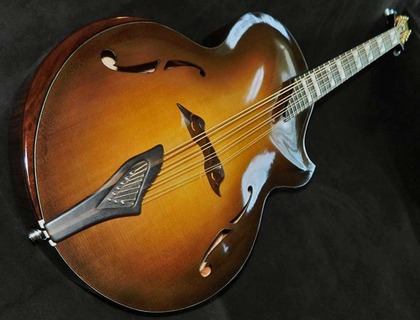 Contact: steve@sorensenstrings.com
Phone: 661-345-6684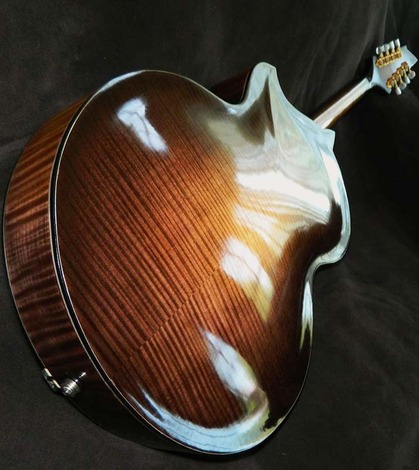 Posted by Ted at 7:36 PM

September 1, 2014 | Purchase a shirt. Help us keep going.
Wear your heart on your sleeve, but wear your 'I vi ii V7' chords on your chest.
A recent design in our Logo Store is from our 3-note chord "Playing cards." Now you can strut these chords emblazoned on a background of Paul Lestock's classic Arrow F4. These and other items, shirts, mugs, clocks, tote bags, etc. are available in the JazzMando Logo Store. If you've ever considered making a donation to the upkeep of this site, commission from a purchase here will do just that!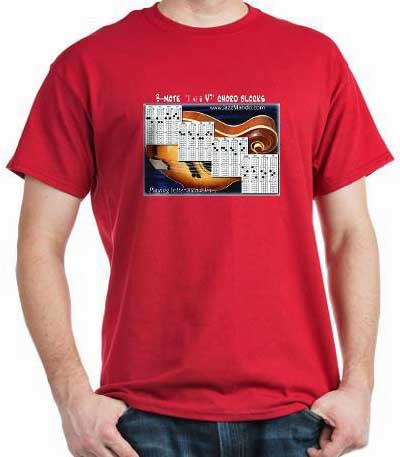 Purchase: 3-note mandolin 'I vi ii V7' chord shirt.
Check out these and some of our signature items in the JazzMando Logo Store. We cover out of our own pockets the administrative costs to host the server and maintain these educational resources. Your purchase also helps us keep the lights on here at the website.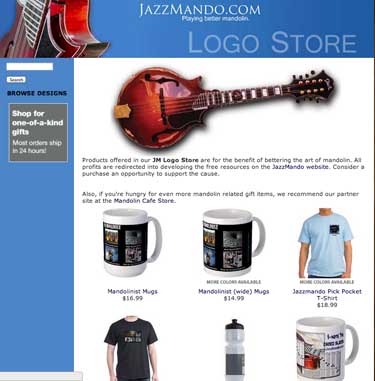 Posted by Ted at 9:26 AM