« Aaron Weinstein plays "Tea for Two" | Main | New review: Kala KA-GTR Tenor Guitar »

September 13, 2014 | Footstool for playing while sitting? Yes!
Mandolinists who sit while playing often struggle to get optimal posture. The spine can be bent uncomfortably, and the arms constricted unnecessarily. Educators Mike Marshall and Don Julin highly recommend the use of a guitar footstool to elevate the knee and balance the instrument properly. The instrument is more stable and you don't have to crowd its back so both player and mandolin can "breathe."
In a pinch, you could put your foot on top of your case, but a simple tool like the one pictured below gives better adjustability and a rubber tack surface will keep your shoe from sliding around.
We suggest the Nomad NFS-G301 Guitar Footstool. For around $10, you have something you can tote easily (folds flat!), and a variable height adjustment. It's also metal for sturdy support and the rubber tips keep it in place on wood or tile floors.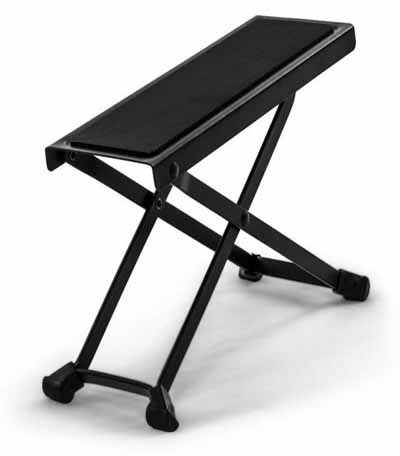 Purchase information (US only): Nomad NFS-G301 Guitar Footstool


Mike Marshall On Mandolin Tips
Posted by Ted at September 13, 2014 2:56 PM