« Breathtaking treasures at The Acoustic Music Company | Main | Prep for 'Django in June' Camp 2010 »

May 4, 2010 | iReal Book for iPad now available!
We mentioned this app back in May of 2009, and we thought it was cool even on the small-ish iPhone size screen. When word of Apple's new iPad came out in March, this was the first app our circle of musicians talked about that would benefit from the larger 9.7 inch high resolution screen real estate, and we're happy to see iReal Book 2.6 for the iPhone/iPad is out as of April 27, 2010.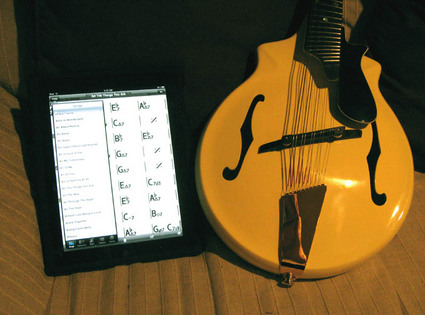 Some new enhancements came out in versions 2.4 and 2.5, including another 400 songs (900 total) and access to a user forum with a global exchange of new songs from other iReal Book owners and categorized by styles. Keep in mind the program also allows you to write and store your own user songs.
Our only hesitation is the vulnerability of the glass and aluminum casing in the should the iPad get knocked off a bandstand. Someone will need to come up with a good way to secure this without blocking the screen. A charging/docking station would be cool hardware, but with 10 hours of battery life, a musician diligent about recharging shouldn't have any problems.
All these songs and the convenient access for under $8.00, this app is an absolute must have for any iPhone/iPad owner. Highly recommended.
Visit iReal Book Website
Join iReal Book Forum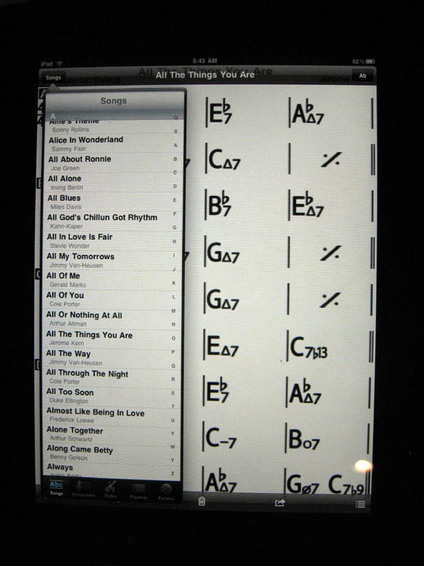 View YouTube demo of iPhone/iPod Touch: iReal Book Forum
Posted by Ted at May 4, 2010 5:59 AM