« Purchase a shirt. Help us keep going. | Main | Kerman Mandolin Quartet; Piazzolla "Coral" »

September 3, 2014 | Sorensen. Stooping to some new lows
So Cal builder Steve Sorensen really got us on this one, stooping to new lows. That would be a 12th below a mandolin, his new guitar body arch top mandocello we just spotted on his Facebook Page. How tempting is this finish!?!
In case you are new to the mandolin family, the mandocello is tuned like a cello--an octave below a mandola, and an an octave plus a 5th below the mandolin. It must be played with a slightly different fingering technique, more guitar-like in its finger for every fret approach, unless you have huge Mike Marshall hands.
We love the art deco touches, the tailpiece, compound block inlay and exaggerated integrated side binding/armrest. Judging from the other instruments we've seen we can only imagine how great this must feel and sound.
Builders Website: Sorensen Strings
More pictures: The Instruments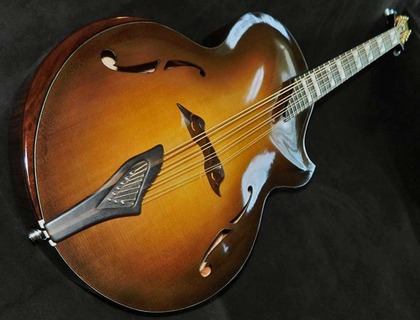 Contact: steve@sorensenstrings.com
Phone: 661-345-6684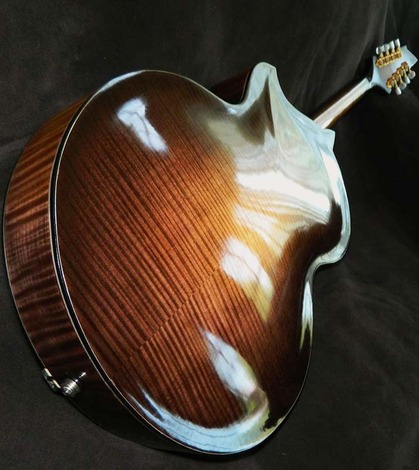 Posted by Ted at September 3, 2014 7:36 PM