« July 2014 | Main | September 2014 »

August 30, 2014 | Chord sentences; 'ii V7 I' cheat sheet
Hint: Every set of closed chords on a mandolin is movable. If you can get away from the open strings and your transposing skills are good, you can establish a chord vocabulary up, down, and across the fretboard. One set of patterns becomes an immediate cheathsheet.
We revamped our original 'ii V7 I' chord sheet a year and a half ago. If you haven't already downloaded it, here it is again.
3-note chords. Harmonically complete, sonically sound.
Important Chords!!
Download PDF:

Major 'ii7 V7 I' Blocks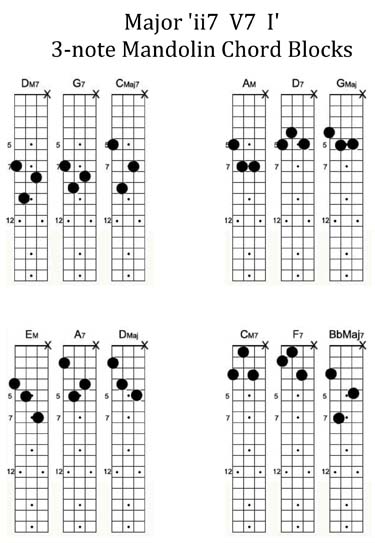 Spice them up.
Want to know more about the theory? Check out the original article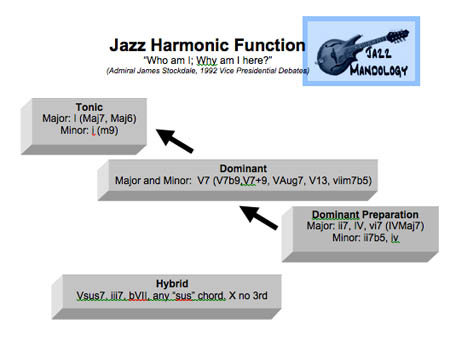 Posted by Ted at 3:39 PM

August 28, 2014 | Led Zeppelin classic voted best guitar lick
When you think iconic guitar riffs, there has to be a slew of different favorites out there, but somewhat among consensus, a panel from BBC Radio Two threw out about 100 licks to vote on, and 'Whole Lotta Love' by Led Zeppelin ended up at the top. These things always end up a beauty contest, driven by age, style preferences, and industry promotional machinery.
Still, it's an interesting exercise determining what riffs grab the average listener. Ultimately, it will define the instrument and put it in historical contest.
The top 10:
'Whole Lotta Love' - Led Zeppelin
'Sweet Child O'Mine' - Guns 'N' Roses
'Back in Black' - AC/DC
'Smoke On The Water' - Deep Purple
'Layla' - Derek and The Dominoes
'How Soon Is Now?' - The Smiths
'Down Down' - Status Quo
'Money For Nothing' - Dire Straits
'You Really Got Me' - The Kinks
'Money' - Pink Floyd
Read article: 'Whole Lotta Love' has been named the' best guitar riff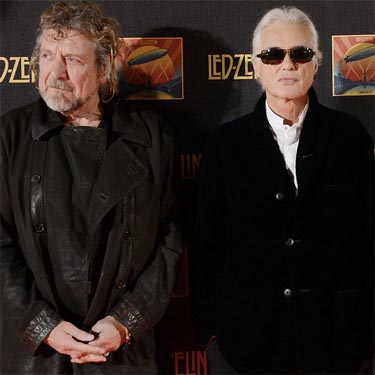 Question begged. What is the most iconic mandolin lick?
Posted by Ted at 9:22 PM

August 26, 2014 | Austin Clark: JM5 Pair pictures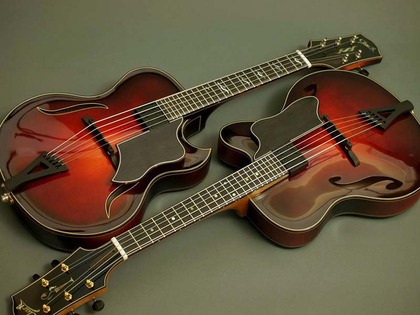 We couldn't help but steal these pictures from the Clark Mandolins Facebook page, but who could blame us? These recently completed fraternal twin JM5 guitar bodied 5-string mandolins are the bomb! We commissioned ours in September of 2012 and couldn't be happier now two years later, the personal craftsmanship of Idaho builder Austin Clark at his finest.
Story: Introducing: Clark JM5 guitar bodied 5-string mandolin!
Check more pictures at theJM5 Pair Facebook picture album
Hear ours in context...
Video link: Old Devil Moon

If Cherry Cola-burst isn't your thing, how about one in blonde?
Visit builder site: Clark Mandolins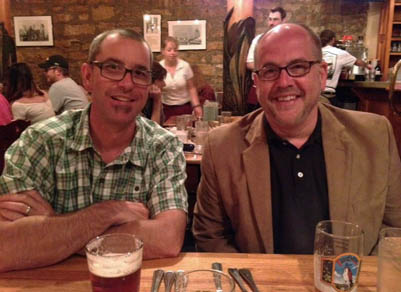 Austin Clark, Ted Eschliman in Lawrence, KS, 9/12
Posted by Ted at 3:06 PM

August 24, 2014 | Does anybody really know what time it is?
One of our most popular Logo Store merchandise items functions both as an educational tool and studio decor. This 10 inch wall clock will not only help you handily travel the Circle of 5ths, it can help you keep time.
So many ideas are clear here, the 6 hour (180 degree) jump across the face gives you the Tritone pairs (i.e. A/Eb). Clockwise adds sharps and eventually subtracts flats. Counter clockwise does the reverse. A four-hour jump does yield the Relative Major/Minor keys (i.e. C Major/A Minor). We all have our favorite zone of the face, generally the strings like the sharp keys, the horn players like the flats, and of course, everyone dreads the enharmonic hours with all the extra flats & sharps (B/Cb, F#/Gb, C#/Db).
Surrounded by a black plastic case, the background comes in your choice of classic Clark JM Cherry-Colaburst, and the new Sorensen Sprite Blueburst. Requires 1 AA battery (included).
Purchase one (or both!) for your home or office from our CafePress JM Logo Store and help support the site while you're at it. Only $18.99!
Click image(s) to purchase: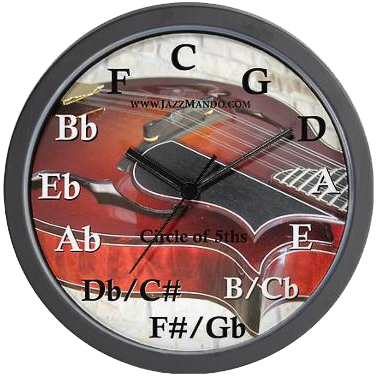 Circle of 5ths Wall Clock Cherry-Colaburst $18.99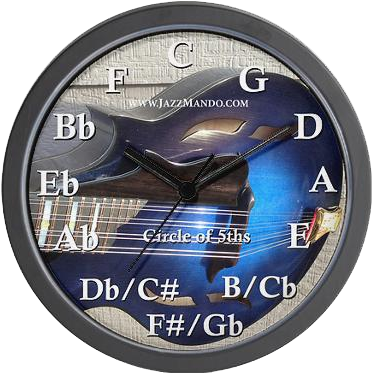 Circle of 5ths Wall Clock Cherry-Colaburst $18.99

Special bonus: Item includes free 60 bpm metronome, no additional charge!
Enjoy more possible gift items at the JazzMando Logo Store
Posted by Ted at 6:25 PM

August 22, 2014 | He is... the most interesting mandolin player in the world.
One of our favorite TV commercial series is the Dos Equis "Most Interesting Man" a hilariously deadpan take on a fictional character of legendary skills whose singular compulsion is their beer. Recently on the Mandolin Cafe Message board, some have contributed their own take with a parody of "The Most Interesting Mandolin Player," and some of these are laugh out loud funny.
It took a little while for the contributors to get the idea, but towards the end of the five pages (as of today), some real gems appeared. We've listed our favorites below, but feel free to click the link at the bottom and read the whole topic.
He is... the most interesting mandolin player in the world...
The Devil offered him his own soul for a few lessons.
Before he got to it, the Orange Blossom wasn't so special.
She uses the whole fossilized walrus tusk to pick.
He invented the double start.
Marty Stuart once told him his hair was too big.
Stan Jay of Mandolin Brothers quotes him in ad copy.
He started his own mandolin factory in Kentucky. His mandolins are known as "The China".
When he adds a strap button, the value of his mandolin goes up.
Angeline the Baker named a cake after him.
Bill Monroe once told him his playing was part of something.
Music store employees ask him to play Stairway to Heaven.
200 year old tortoises offer him their shells.
He neither plinks nor deedles.
Mike Marshall takes lessons from him.
The G chop chord has to stretch for him.
Read entire thread: He is... the most interesting mandolin player in the world...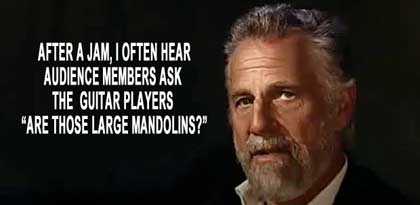 Posted by Ted at 6:25 AM

August 19, 2014 | Mike Marshall & Choro Famoso follow up CD released!
It only took ten years, but a follow up to one of our favorite (of all) CDs from Mike Marshall and his band Choro Famosa is now available. The music on Segunda Vez (Second Time) is as delightful as the first--no disappointment here!
The texture of mandolin and clarinet (and soprano sax) is soothing, and the support of guitar and light percussion makes listening a rich experience. Brazilian harmonic vocabulary has a way of taking you on a journey, and you find yourself caressed in and out of cadences like a lullaby.
Well done!
Purchase information: Segunda Vez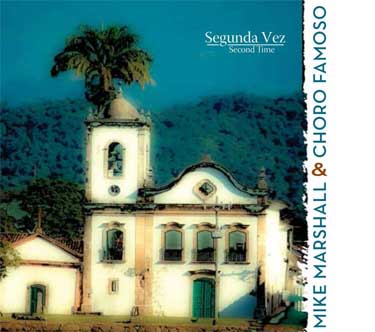 Previous review: Mike Marshall & Choro Famoso

Posted by Ted at 8:35 AM

August 17, 2014 | California's Steve Sorensen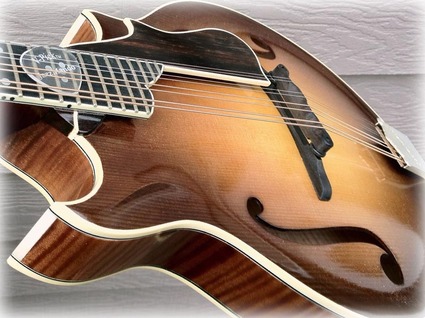 We were first introduced to the wood wizardry of Santa Clarita builder Steve Sorensen in April of 2012, when we had the chance for a hands on review of one of his asymmetrical two point mandolins. You can read all about it here.
Of course, we fell in love with his craftsmanship and commissioned a signature model of our own, upgrading with some custom features like the block fret inlay, custom gold tailpiece, and our favorite finish, blueburst. The instrument has become one of our first-call stage instruments.
Read Review: Blueburst Sorensen Sprite JM mandolin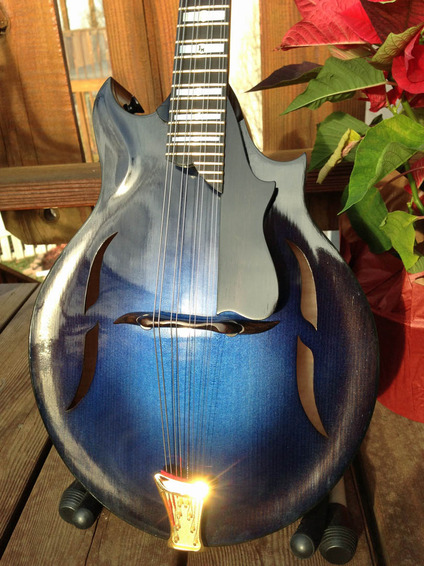 Builders Website: Sorensen Strings
More pictures: The Instruments
Contact: steve@sorensenstrings.com
Phone: 661-345-6684
Posted by Ted at 4:32 PM

August 15, 2014 | Reference Chords
Back in the days of vinyl hay days of shopping for stereo systems, we had a friend that carried a small selection of LPs with him to audition components. Speaker, tuner, needle, there were many variables in getting optimum sound, and it would behoove him to have a particular orchestral excerpt, jazz, or rock excerpt as a point of reference. It was an unbelievably good way of setting up a "control" in an auditory experiment.
Experienced mandolinists, consciously or unconsciously probably set up for an audition of a new instrument in a similar way, only armed with reference licks and "Lizard Ear Chords." The latter are ones you can play singly or in short progression to see how the instrument resonates without the distraction of a ton of notes. Feel and fretboard later, but first you must see what the instrument can do as far as sustain.
Our friend and fellow chord junkie, the legendary east coast jazz violin/mandolin phenom Aaron Weinstein recently shared with us one of his sonic discoveries. We wanted to share it with you, as it's a great candidate for this exercise. Enjoy:

Looking for more "Lizard Ear Chords?"
Find them in the MandolinSessions archives, Part 1 & Part 2
More Aaron Weinstein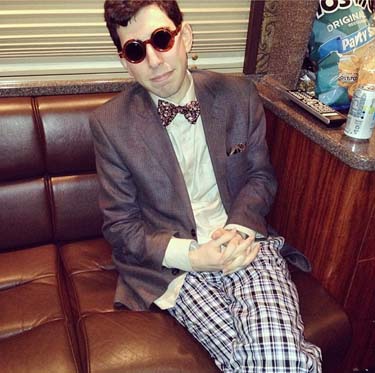 .

Posted by Ted at 10:08 AM

August 13, 2014 | John Pizzarelli - The Way You Look Tonight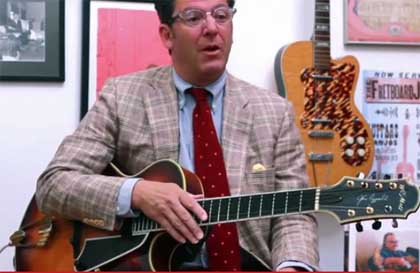 We've had the chance to see legendary guitarist John Pizzarelli in concert several times, and not only is he charming and personable on stage, he's a wealth of information and jazz lore.
The cat can play guitar too!
We're digging this recent Fretboard Journal impromptu recording. Notice how much real estate he covers on the fretboard of his 7 string guitar.
Video Link:John Pizzarelli - The Way You Look Tonight (Solo)


Purchase John Pizzarelli music

Posted by Ted at 8:27 AM

August 11, 2014 | Final 'Reverse' Drills: Dorian/Minor Arpeggios
We posted our final "Reverse" FFcP in last week's Tips and Tricks column. Recall, we were looking at escaping the reliance of always starting drills with the root and always going up. We did scales in both Major and Dorian/Minor, and we did one on Major FFcP Arpeggios. Our last drill was Arpeggios in the Dorian/Minor mode.
This is great stuff to get into your fingers and ears. Ultimately it will reside in your brain, as well.
Read article: Reverse Dorian/Minor FFcP Arpeggios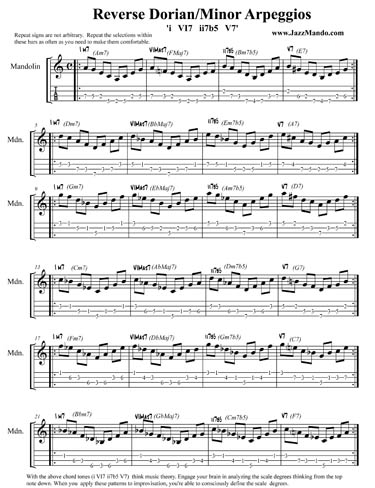 Make sure you have all four! See links below.
Recap:
Reverse Major FFcP Scales
Reverse Dorian/Minor FFcP scales
Reverse Major FFcP Arpeggios
Reverse Dorian/Minor FFcP Arpeggios
Posted by Ted at 2:25 PM

August 9, 2014 | Music as a language - Victor Wooten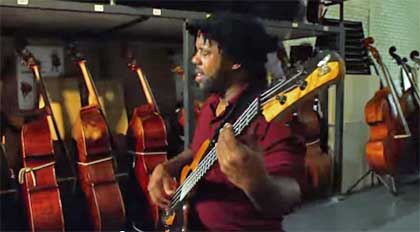 Inspirational words about music spoken over some pretty inspirational playing. Bass wizard Victor Wooten is the back drop for thoughts about how musicianship is like learning a language in this TED-Ed video. We need to free ourselves up to make mistakes as a tool for learning what we are supposed to speak. "A child learns to speak before he learns the alpha bet."
We need to "jam" with our words. We need to jam with our developing musical thoughts.
Posted by Ted at 2:49 PM

August 7, 2014 | Dawg Jazz on Johnny Carson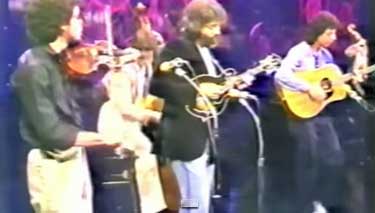 This 1982 video gem appeared on guitarist John Carlini's YouTube channel. David Grisman Quartet w/Tonight Show Band playing Carlini's arrangement of Grisman's "Dawg Jazz". The Dawg backed up by some young pups including long time quartet members Mike Marshall and Darol Anger. Doc Severinson & the NBC Orchestra behind the quartet...
Video Link: Dawg Jazz

Purchase Digital: Dawg Jazz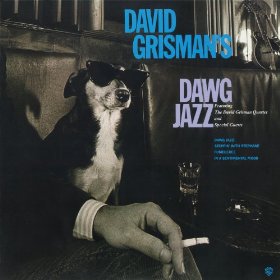 Posted by Ted at 6:38 AM

August 5, 2014 | Mr. P.C.'s Guide to Jazz Etiquette; August 2014
More fun from the Facebook page of Seattle musician and "All About Jazz" humorist Bill Anschell with his offbeat take on the club jazz scene, Mr. P.C.'s Guide to Jazz Etiquette. The August 2014 entries...
Dear Mr. P.C.:
I work with a guitar player who I mistakenly thought was playing wrong notes when he took a solo. When I asked him about it, he explained to me that he was anticipating the chord change. My question is, do you have to anticipate a chord change in the same song? Or is it cooler to anticipate a chord in a song that you might be thinking of playing in the next set?
Wanting To Be Cool
Dear WTBC:
Most jazz artists make it their goal to play "in the moment," but your guitarist is taking it to the next level: playing in a future moment. So where's your musical empathy? When he anticipates a chord change -- whether from the next measure or the next song -- why aren't you anticipating it with him?
Think of all the musicians who rush, desperate to reach the song's end as fast as they can. Well, he's already there, nonchalantly having a smoke, amused by all the fuss, gearing up for his next time-traveling feat. "You'll have to anticipate me," he says, because he knows that no amount of rushing will catch up to the future, just as dragging can't summon the past.
You're lucky to be teamed with a brilliant forward-thinking innovator, WTBC; please don't let yourself be left behind.
Dear Mr. P.C.:
How do you get to be a professional jazz musician? Do you sign like when football players go pro?
B.P. Jr., age 12
Dear B.P.:
You're asking what it takes to be a "professional" in a field where highly skilled individuals desperately compete for low-paying work, where the people in charge of hiring rarely pick the most qualified applicants, and where the public being served often has no interest whatsoever in the service provided?
Business cards!
When you're ready to go pro, remove all doubt by printing up cards that say "B.P. Jr., Professional Jazz Musician." Leave a blank space for your phone number and address, because they'll probably change as you move from one friend's tattered couch to the next. Come to think of it, you might also want to leave "Jazz Musician" off the card, because that will probably change before long, too.
I'm guessing football's more or less the same thing, but with helmets.
Dear Mr. P.C.:
You know how some singers when they're scatting wiggle their fingers, like they're playing a horn? And some bassists, guitarists and piano players sort of sing while they're playing? I'm wondering: Why can't they just be happy with who they are?
Tim

Dear Tim:
What's interesting to me is the missing piece of this puzzle, untold but gently implied. Think about it: Which musicians, by your definition, are happy with who they are? Answer: Horn players! Why? Because they're already using their mouths and their fingers, leaving them no way to pretend to be anything other than themselves.
What a perfect metaphor for the human condition! Horn players, ever the philosophers, teach us that only by being fully engaged can we escape the desperate longing for something more.
Thanks, horn players!
From August 2014 entry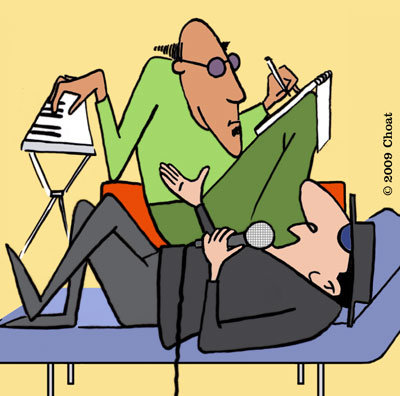 Like his Facebook Page: Mr. P.C.'s Guide to Jazz Etiquette and Bandstand Decorum


Posted by Ted at 6:53 AM

August 1, 2014 | Revisiting the Clark JM5 acoustic electric 5-string mandolin
For our fingers and ears, the ultimate mandolin body is the 5-string guitar-bodied mandolin. Tuned in 5ths, but think L-5 jazz voice only slightly higher. It's the best of both worlds, a warm but penetrating solo sound, but the baritone/tenor range of a mandola. Free it up with single courses for better control of vibrato and linear sonority and you have what we consider the ultimate jazz voice, our signature Clark JM-5 .
We've had this since September of 2012, and it continues to be the best jazz voice we've ever owned. The addition of the 5th course offers the benefits of extended range with multiple octave arpeggios, and the lower register gives a convincing accompaniment crunch in the bottom strings.
Read more: Clark JM5 acoustic electric 5-string mandolin
What make's Austin's work stand out from other premier builders is his attention to detail. Binding and inlay are virtually flawless, finish perfect, and even the neck is sunburst.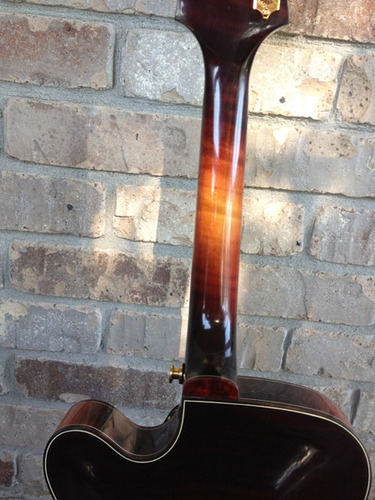 Builder website: Clark Mandolins
Previous review: Clark Signature JM 2-point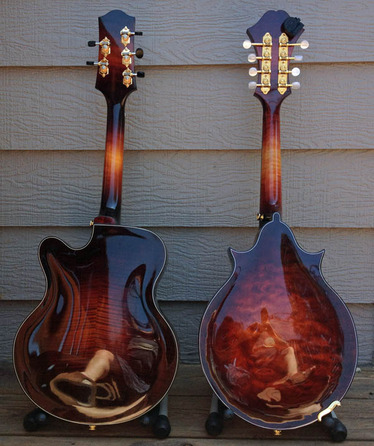 Read up on other world class mandolin builders: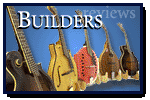 Posted by Ted at 8:23 PM