Clark
JM-5 guitar-bodied 5-string mandolin
In the personal quest for optimal jazz tone and playability, we are often guilty of straying out of the boundaries and established tastes of the traditional 8-string mandolin purist. The conventional double course instrument while great for volume and roundness, can be a chore to induce the melodic nuance of bending and slides. The addition of the 5th course offers the benefits of extended range with multiple octave arpeggios, and the lower register gives a convincing accompaniment crunch in the bottom strings.
This is why we recently challenged Boise Idaho premier builder Austin Clark to build a guitar-bodied 5-string mandolin, CGDAE. Our second instrument from him, we were aware of the increasing demand for his guitar-bodied octave mandolins, and commissioned him reduce the popular model to a 14-1/2" mandolin+ scale. We wanted a healthy acoustic sound, but requested a humbucker pick-up for a warm, jazz box sound plugged in.
Austin weighed in with the difficulties of reproducing the vibrance of the typical L5 guitar shape in this reduced size. With much less area to vibrate, it takes exceptionally great skill to get the plates of the popular form to move in a rich and satisfying way, but the proof is in the pudding. This instrument has a great sound unplugged (no surprise) and even better run through a good tube amp.
To accommodate the 5th course, even though the instrument is single course, about 1/4" was added to the fret width for clear, efficient chording (1-3/8"). We're very happy with the way the instrument comps, the C-string has plenty of tension to pull off a convincing tenor sound, but with the ease and maneuverability of a smaller mandolin scale fingerboard.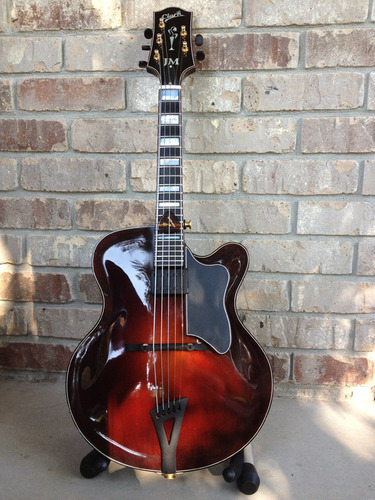 Of course bridge, tailpiece, nut, and tuning machines also had to be rethought, and a custom ebony/brass tailpiece (ball-end) was custom designed for artistic aesthetic and string pressure efficiency. You can see the unique signature Clark form even here:
What make's Austin's work stand out from other premier builders is his attention to detail. Binding and inlay are virtually flawless, finish perfect, and even the neck is sunburst.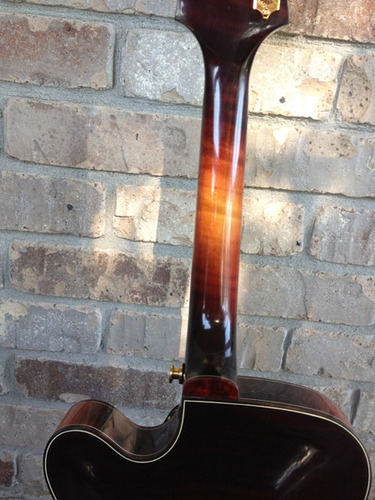 We were thrilled he was willing to build this for us, completely satisfied with the final product, and the instrument has a permanent place in the JazzMando studio next to its signature Clark sister, the JM 2-point. Full JM fretboard bling and pickup puts the sale price in the upper $5K price range (less without), and as of today, build time is a reasonable 9-12 month lead time (subject to change).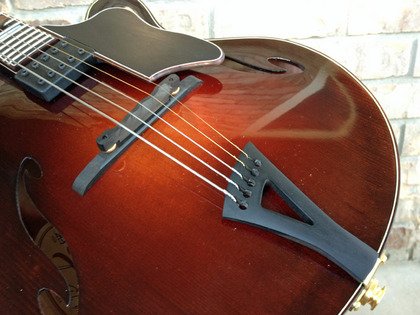 As mentioned, the instrument is designed for comping and melodic soloing, so it's the ideal instrument for chord melody composition.
We look forward to hanging on to this for a long time!
Builder website: Clark Mandolins
Previous review: Clark Signature JM 2-point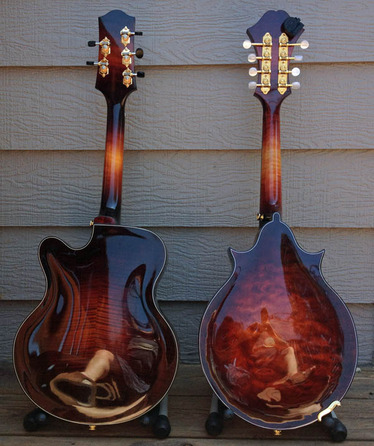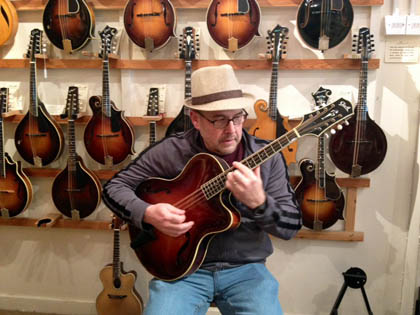 Clark Octave Mandolin at The Acoustic Music Company in Brighton, UK
Read up on other world class mandolin builders: