« June 2014 | Main | August 2014 »

July 30, 2014 | Unseasonably cool here.
Certainly there were jazz mandolin projects prior to the year 2000. You had swing legends Jethro Burns, Tiny Moore, Johnny Gimble. There were other mandolinists who dabbled in jazz including the bluegrass infused "Dawg" music of David Grisman.
For us, a pivotal CD came almost 14 years ago with jazz mandolin legend Don Stiernberg and his horn laden "Unseasonably Cool." A dynamic Chicago based rhythm section, it was great to finally hear the mandolin surrounded by (and competing with) winds and not confined to an all string based ensemble.
Take the phrasing and emotional delivery of Chet Baker, throw in a little "Jethro Burns" chord vocabulary, some 30's & 40's innocence and charm, and you get one of the sweetest jazz recordings ever played on the mandolin. Sophistication that smiles, calculated composition that laughs, all brought to you by one of the nicest guys on the planet, "The Don."
We consider the classic recording a profoundly inspirational turning point here, one which became the spine of the site. Putting the mandolin on the level of traditional jazz instruments has been our calling. We'll give kudos to this and many more of Don's incredible discography.
Don't own this? Shame on you!
Listen up: Don Stiernberg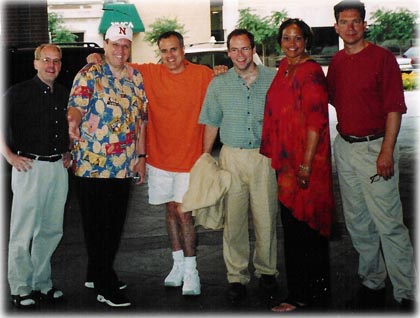 Don Stiernberg Quartet "Jazz in June" 2003
Posted by Ted at 5:24 PM

July 28, 2014 | V-picks Giveaway!
V-Picks and the Mandolin Cafe will to select three winners at random to receive a V-Pick Personalized Display Case containing 20 V-Picks. Each winning entry will have their name embossed on their case. The giveaway began 5:30 p.m. Sunday, July 27 and concludes at 5:30 p.m. August 3 (Central Time), open to all Mandolin Cafe visitors regardless of location. No purchase is necessary.
Total value of the Personalized Display Case and picks plus shipping is $138.00.
Click for entry: V-picks Giveaway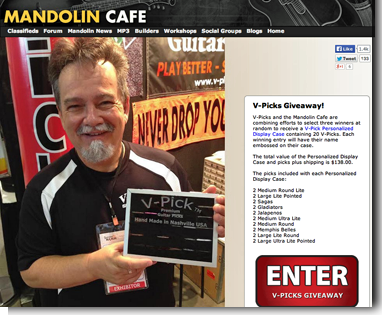 Settled on the JazzMando signature V-pick? Purchase more in in clear or blue:
Purchase information
Purchase special Jazzmando blue V-pick and new Dunlop Primetone pick pair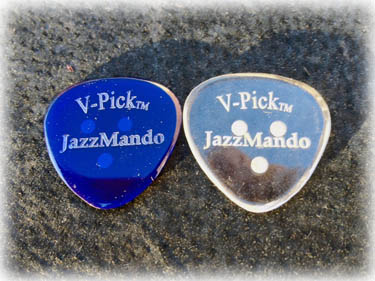 Posted by Ted at 6:05 AM

July 26, 2014 | NY Times; Broadway's Musical Chairs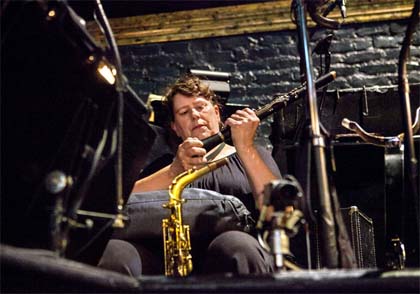 Emon Hassan for The New York Times
The New York Times had an interesting report on the life of a pit orchestra musician yesterday. Think about the incredible skill it would take to perform flawlessly, especially thrown into the fire of a major performance, let alone with no rehearsal. Playing with perfection, sightreading, often on multiple instruments, these foot soldiers are the true heros of Broadway.
From the article:
"A regular works eight performances a week, but subs can do more if they're playing in more than one show at a time. Indeed, Mr. Schiller has had 10-performance weeks. Part of what puts him in such demand is that he's proficient on saxophone, flute, clarinet and a raft of other instruments. This flexibility, known as doubling, opens him to a wider range of work -- not to mention extra pay.
Unfortunately, there's a major downside to the sub lifestyle: There's no guarantee of when you'll play next. Mr. Schiller averages two or three jobs a week, but there are weeks when he gets none. That's why he and Ms. Klein would love to receive regular chairs."

Read Article: Broadway's Musical Chairs

Posted by Ted at 1:02 PM

July 24, 2014 | How not to play violin?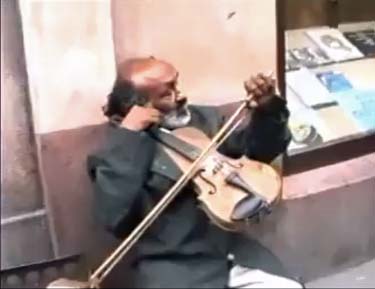 Do you suppose we're playing the mandolin wrong, too? Over 12,000 shares on Facebook, we had to share it, too.
Okay, violin pedagogists--impressed or appalled?
Video link: Polish Street Violinist, Stefan Dymiter

Posted by Ted at 7:41 AM

July 22, 2014 | TC Electronics Tone Print Technology
One of the coolest products we saw at the recent Summer NAMM show was at the TC Electronics booth, their "Tone Print" series mini pedals. Even if you aren't playing electric, an acoustic mandolin can often use a little depth added with a touch of reverb, and the "Hall of Fame" pedal was what caught our ears.
The amazing thing was how the series could be loaded up with a library of other signature sounds through an iOS or Droid device. Simply dialing up the sound and pointing your phone at the pickup, the sound is transferred much like a FAX machine sends information. In a matter of seconds, your pedal is completely tweaked.

Most of the mini pedals weighed in around $100 street price. We'll be getting one or two when they hit the stores.
Video Link: TC Electronics Tone Print Technology NAMM Demo

More information:
TC Electronics Tone Print
TC Electronics Hall of Fame Reverb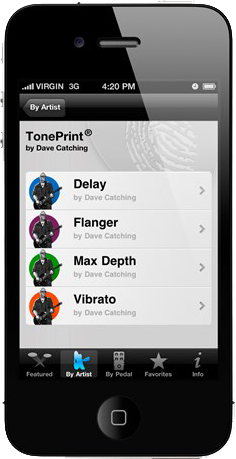 Posted by Ted at 5:29 AM

July 20, 2014 | Michael Kelly mandolins are back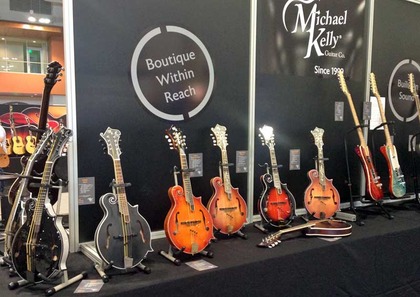 We had the privilege of spending time talking to the creator of the Michael Kelly line of mandolins and guitars at the recent Summer NAMM show. Excited to see the line back in the hands of Tracy Hoeft who started the brand in 1999 after contracting some of the best mid level Korean builders at the time. Since then the company had shifted not only ownership to corporate powers, but had lost some of the crucial relationships to keep the quality up to its original high standards.
The instruments were renowned for comfort and decent tone in the early days, at a reasonable price in a competitive field of Asian import craftsmanship. We felt at their early offering the frets and craftsmanship were better than other brands, but things changed after the corporate takeover, a sort of dark time for the brand.
Tracy has recently returned to the helm and secured control of the building and brought back the level of quality the line was known for at the beginning. The mandolins we saw at the booth were not only competitively priced but set up well and finished expertly. In his words, this 2014 show was a "coming out" of Michael Kelly and efforts are in motion to establish a new dealer network of product.
The model names (Legacy Festival, Dragonfly, Elegante, etc) remain familiar, but we look forward to the new incarnation of Michael Kelly as it returns. Hopefully we'll be able to do a review in the not-too-distant future.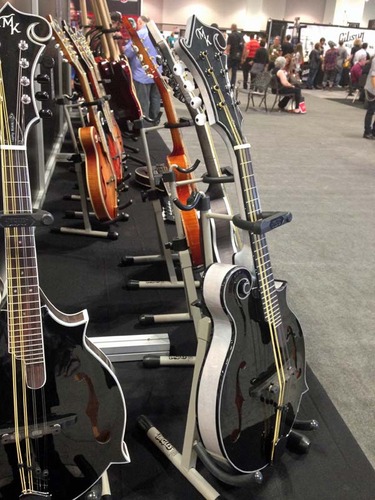 Builder Website: Michael Kelly Guitars
Facebook
Posted by Ted at 3:00 PM

July 18, 2014 | Shots from Summer NAMM 2014
We're collecting a few choice photos from the trade show floor at the 2014 Summer NAMM show in Nashville, TN. The convention displays pale in size to the Winter gathering, but there are still interesting instruments to experience and long for.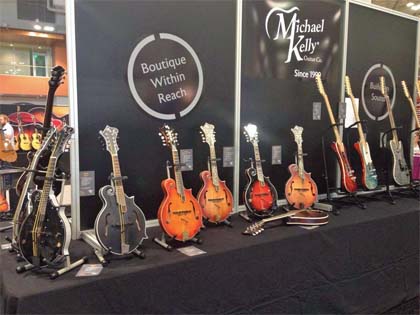 Michael Kelly mandolins and guitars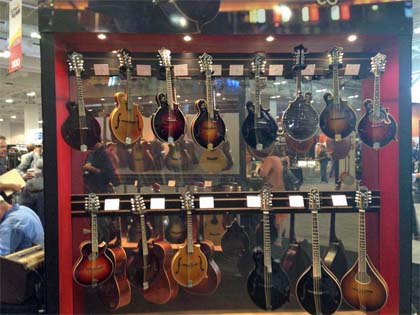 Our favorite is the new Tenor Guitar from Kala Ukuleles. Street price estimate in the upper $300 to lower $400, this should be a great instrument for an underserved market.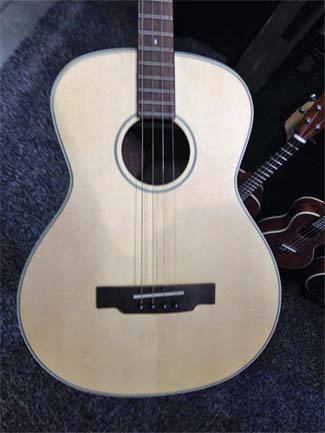 View more pictures at the JazzMando Facebook Page
Posted by Ted at 6:31 AM

July 16, 2014 | Mandolin Cafe Classifieds Eastman DGM1 - Giacomel Replica
We had the opportunity to review one of these models when they first came out five years ago, the Eastman built Giacomel Replica DGM1, produced under the supervision of mandolin legend David Grisman. Visually, the space-age design is a trail-blazing departure from the Lloyd Loar Florentine tobacco-burst template, from its cutting edge Cubist outline to its resounding aural sweetness.
We spotted a pretty good deal on the Mandolin Cafe Classifieds on a used one. No financial interest but the seller is reputable and has a good eye for quality. Posted in the lower $2K, his price is quite reasonable.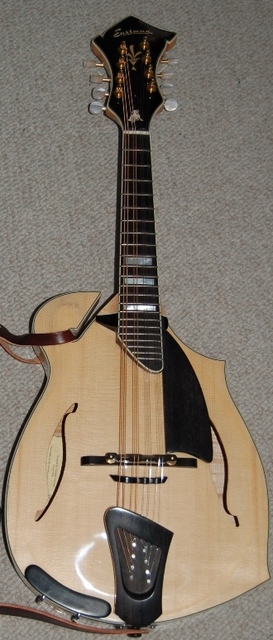 Read ad: Eastman DGM1 - Giacomel Replica (If it hasn't already sold...)
Read JazzMando Review: From the Dawg Collection by Eastman
Posted by Ted at 5:53 AM

July 14, 2014 | Jonathan Mann--2012 Mel Bay Interview
We posted this Mel Bay feature interview from Tennessee builder and long time JazzMando site supporter Jonathan Mann two years ago, including a tour of some of his unique mandolin styles, and some hot licks you'll be able to put in your own chop library.
We already knew about his electric signature "neck through" (for sustain) 4-, 5-, and 8-string mandolins, and breatkthrough baritone/octaves, but in a previous life, Jon was a professional songwriter before his journey in crafting his internationally sought instruments. From the video and his library of YouTube demonstrations, it's obvious he's an accomplished picker, too.
Video link: Jonathan Mann Interview

Builder Website: www.manndolins.com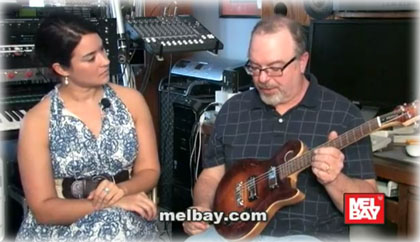 Read archive review: EM-5 Electric 5-String Mandolin
Posted by Ted at 5:32 AM

July 12, 2014 | James Jamerson bass: Ain't No Mountain High Enough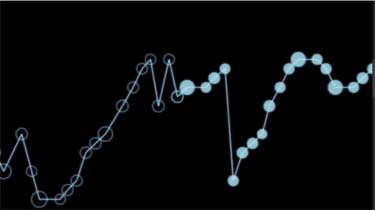 We've posted these compelling visualizations before, and they are almost hypnotic. This one is the bass part for the classic 60's Marvin Gaye hit "Ain't No Mountain High Enough" with legendary studio bassist, James Jamerson. It's great to enjoy the clean, vintage tracks of the past--minimalist processing.
We encourage you to listen to this through a better quality speaker set up so you can hear the stereo separation of the vocalists, too.
Video Link: James Jamerson bass: Ain't No Mountain High Enough

.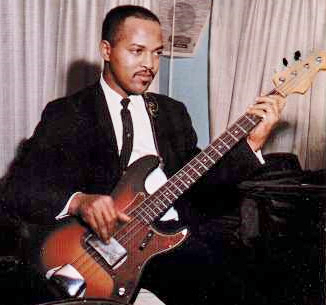 Posted by Ted at 1:13 PM

July 10, 2014 | Coming up. Summer NAMM 2014
Flight tickets. Check.
Hotel registration. Check.
NAMM Badge registration. Check.
Sinus Infection. Check...

Hopefully the antibiotics will kick in before next week's Summer NAMM session in Nashville, but we'll be troopers and bring you the best inside information of the industry's mandolin gossip. We'll snap a few pictures and post them here, and if not pick the instrument, pick the brains of makers, distributors, and sellers of them. The convention hall isn't the most optimum environment to experience them, but there's nothing like the electric ambience of all the gear and industry in one place.
We'll hook up with some old friends, especially looking forward to a reunion (maybe an adult beverage or two) with Scott Tichenor, Mandolin Cafe industry mogul.
Blast from the past, Summer NAMM, 2004: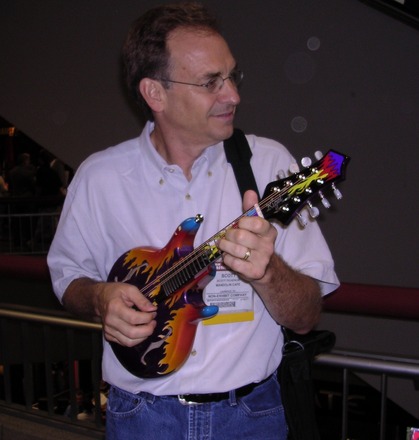 Scott Tichenor, Rigel Booth.
Such character. The mandolin, too...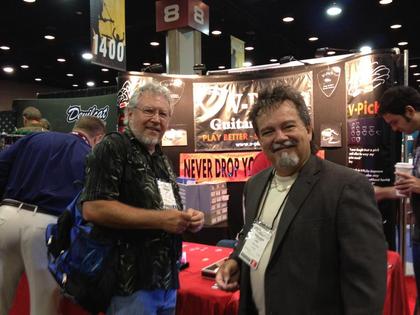 Vinni from V-picks
Posted by Ted at 10:53 AM

July 8, 2014 | Free Live Online Session with Mike Marshall on Wednesday
Mark your calendar for July 9, 8:30 PM EDST (5:30 PM PDST) for a rare live online workshop with top tier player/clinician Mike Marshall. The event is sponsored by ArtistsWorks Academy of Bluegrass and and will be moderated by JazzMando friend and mentor, Scott Tichenor of the Mandolin Cafe.
Mike has been working with hundreds of students successfully in this format for the last three years and this event is a perfect no-obligation way for you to sample the experience. From the Cafe news release, "The event will feature Mike talking about his history with the mandolin, playing some tunes and teaching techniques for everything from bluegrass to jazz and classical. Fellow ArtistWorks' instructor Andy Hall (Dobro), mandolin students and other special guests will be on hand to join in the fun."
Pre-register to participate: Catch Mike Marshall Live Online!
More information: ArtistWorks and Mandolin Cafe Present Mando Magic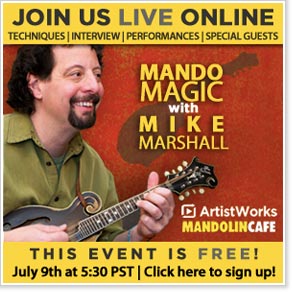 More about ArtistWorks Academy
Introductory Video Link: Behind the Scenes: School of Mandolin with Mike Marshall

Posted by Ted at 5:36 AM

July 6, 2014 | Mandozine Redesign
One of the coolest mandolin resources on the internet, Mandozine just got a facelift. Site administrator, John Baxter weighs in: "It's been 10 years since the last redesign of Mandozine, with the help of Wendy Anthony and Larry Tanner. I decided it's time for another redesign. Some things have moved around, but I kept the structure for the TablEdit files, so any user bookmarks should still work. I added a Chords section, and added new content to the Resources section. Next up, Mandotunes"
We've quite a load of information out of the site ourselves, and have been privileged to contribute some articles, too. Take some time to explore!
Visit site: Mandozine.com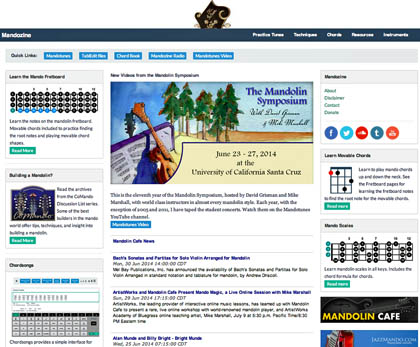 Posted by Ted at 7:26 AM

July 4, 2014 | New from Mowry Stringed Instruments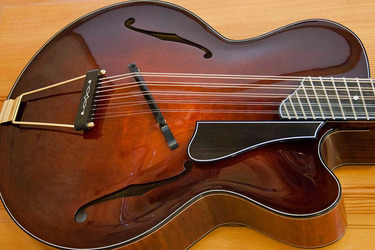 We're suffering from a delirious bout (pun intended) of MFAS (Mandolin Family Acquisition Syndrome) this morning after cruising the eye candy on the Mowry Stringed Instrument Facebook Fan Page. Andrew's latest? Two large body commissions--a more traditional guitar-bodied octave mandolin and a cutting edge 10-string cutaway cittern with fanned frets.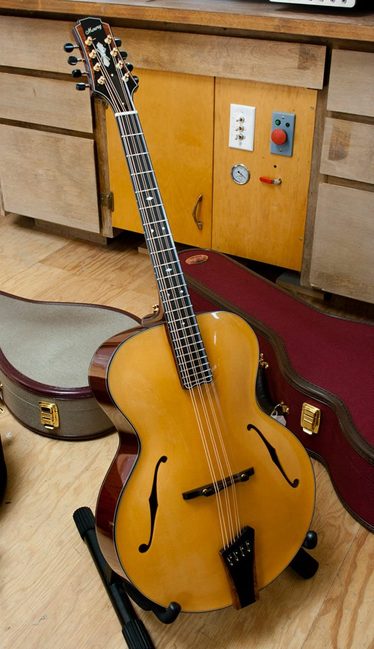 The octave features Engelmann spruce top, with ebony and amboyna burl fittings and includes a custom Ameritage case. If you check the pictures on his Facebook Page you'll also see a closeup of its custom ebony/burl tailpiece for loop-end strings.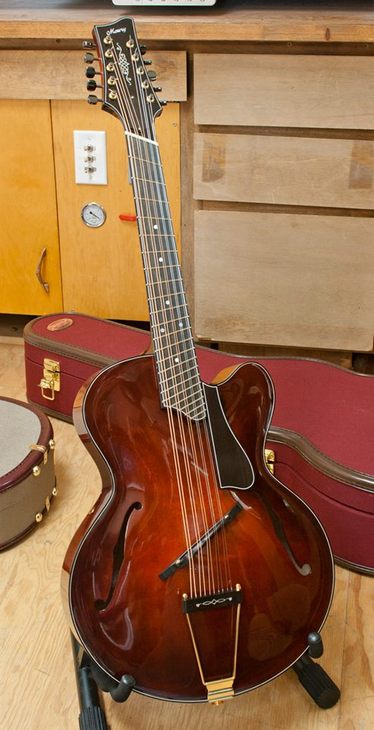 Mowry Fanned Fret Cittern. Do not adjust your monitor...
The fanned-fret cittern ranges 21.5-19.5" in scale length. It's Engelmann top is our favorite reddish brown with matching maple back. It includes a custom ebony and pearl tailpiece and "Stealth" tuners.
More Pictures: Mowry cittern and octave mandolin
Builder website: Mowry Stringed Instruments
Read JazzMando reviews:
Andrew Mowry Octave
Andrew Mowry Asymmetrical 2-point
Posted by Ted at 8:59 AM

July 2, 2014 | Eastman/Giacomel DG1 mandolin
In November of 2008, we had the privilege of auditioning an Eastman/Giacomel DG1 Mandolin, a project closely captained by world renown mandolin pioneer David Grisman. A far, far cry from the Lloyd Loar Florentine tobacco-burst template, the DG1 was a horse of a completely different color, from its cutting edge Cubist outline to its resounding aural sweetness.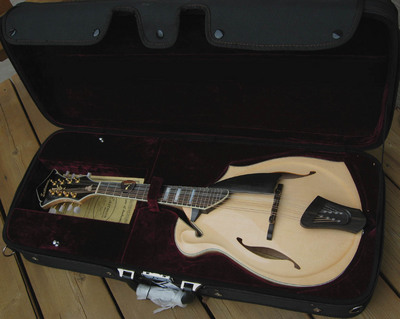 Street priced in the low $3K's (we've seen used ones around $2K), the model offers much a better opportunity at acquisition than the $12K original Italian model. Eastman's reputation for affordability has been taken into a new level of quality, having captured the hearts (and fingers) of many enthusiastic but budget-minded hobbyists and professionals.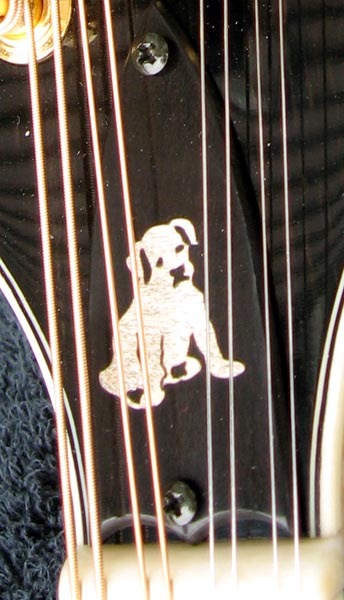 Read exclusive review: Eastman/Giacomel DG1 Mandolin
Check out other revolutionary mandolin builders: JazzMando Reviews

Posted by Ted at 4:13 PM