« Michael Kelly mandolins are back | Main | How not to play violin? »

July 22, 2014 | TC Electronics Tone Print Technology
One of the coolest products we saw at the recent Summer NAMM show was at the TC Electronics booth, their "Tone Print" series mini pedals. Even if you aren't playing electric, an acoustic mandolin can often use a little depth added with a touch of reverb, and the "Hall of Fame" pedal was what caught our ears.
The amazing thing was how the series could be loaded up with a library of other signature sounds through an iOS or Droid device. Simply dialing up the sound and pointing your phone at the pickup, the sound is transferred much like a FAX machine sends information. In a matter of seconds, your pedal is completely tweaked.

Most of the mini pedals weighed in around $100 street price. We'll be getting one or two when they hit the stores.
Video Link: TC Electronics Tone Print Technology NAMM Demo

More information:
TC Electronics Tone Print
TC Electronics Hall of Fame Reverb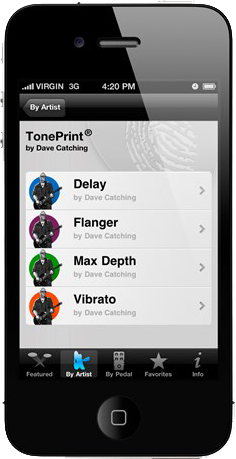 Posted by Ted at July 22, 2014 5:29 AM