« Shots from Summer NAMM 2014 | Main | TC Electronics Tone Print Technology »

July 20, 2014 | Michael Kelly mandolins are back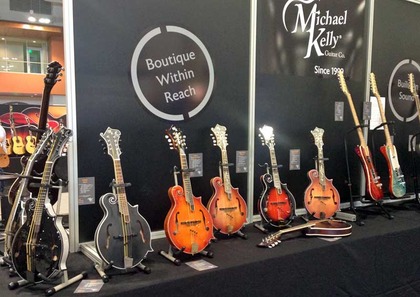 We had the privilege of spending time talking to the creator of the Michael Kelly line of mandolins and guitars at the recent Summer NAMM show. Excited to see the line back in the hands of Tracy Hoeft who started the brand in 1999 after contracting some of the best mid level Korean builders at the time. Since then the company had shifted not only ownership to corporate powers, but had lost some of the crucial relationships to keep the quality up to its original high standards.
The instruments were renowned for comfort and decent tone in the early days, at a reasonable price in a competitive field of Asian import craftsmanship. We felt at their early offering the frets and craftsmanship were better than other brands, but things changed after the corporate takeover, a sort of dark time for the brand.
Tracy has recently returned to the helm and secured control of the building and brought back the level of quality the line was known for at the beginning. The mandolins we saw at the booth were not only competitively priced but set up well and finished expertly. In his words, this 2014 show was a "coming out" of Michael Kelly and efforts are in motion to establish a new dealer network of product.
The model names (Legacy Festival, Dragonfly, Elegante, etc) remain familiar, but we look forward to the new incarnation of Michael Kelly as it returns. Hopefully we'll be able to do a review in the not-too-distant future.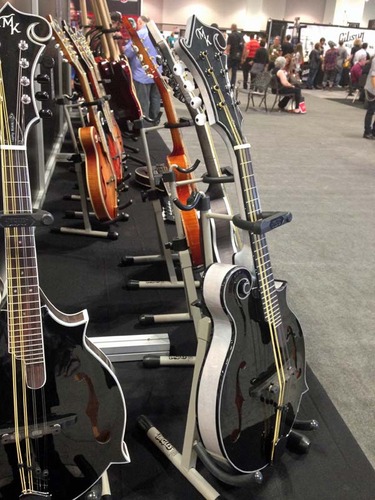 Builder Website: Michael Kelly Guitars
Facebook
Posted by Ted at July 20, 2014 3:00 PM