Jonathan Mann
EM-5 Electric 5-String Mandolin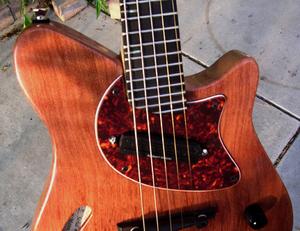 Recently, I was smitten by an impulse to return back to a five string electric (I had given up my 5-string Earnest Boomerang not too long ago), and I began the search for a "mid-priced" electric five. Already owning a Mandobird (IV), I was looking for something a bit less out of the "toy" department, something I could really sink my teeth (or my fingers) into. While fellow jazzer and mentor, Michael Lampert is big on Schwab (certainly one of the world's premiere electric mandolins), I just wasn't in a position to spend those kind of bucks, (I'm not worthy, I'm not worthy...) as electric is something I only dabble in.
The Mandobird is not a bad value. For (street price) under $200 you really get something you can have a blast; upgrade the pickup, and you can even get a decent tone (in my case a Seymour Duncan P-bass). Go nuts with a Bartolini, and you've got a monster. The problem is you're still left with a $150 fretboard. (Only so much you can do with that.)
I've tried the BlueStars. These are also a good value in my estimation, especially for the dedicated acoustic player wanting a little added mando variety. I was hoping for an instrument a notch higher on the quality scale, and my search landed me at the cyberspace door of Jonathan Mann.
Jon's forte in electric mandolin design is a kind of morphed tele-stratocaster body shape. While the majority of designs are semi-hollowbody, his is much more open-chambered, featuring a special curly redwood top with an X bracing. The instrument sounds very fully bodied, even unamplified. Certainly, the amount of air column inside contributes to this.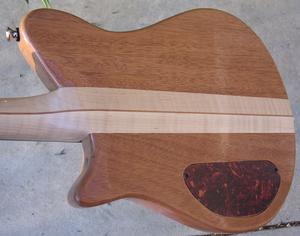 Another very distinctive, recognizable trait of his electric and acoustic designs is the unique three-piece maple/walnut/maple neck through design. Popular theory on this is the more continuity you can have in the wood, the more consistency you have on the cellular level of the wood--contributing more sustain. Whether applicable or not here (in my own opinion, it is), it certainly has a cool look to it.
A delicious tortoise pearloid cover for easy access to the electronics back sets off the Mahogany. Same with the pickguard, the tortoise and tidy shape beautifully complements the body design and paisley-shape sound hole. Like a thorough tour of quality hardwoods, the final entry is the curly walnut peghead overlay. Mann's body design is as much about beauty as it is function!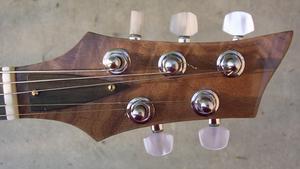 Perhaps my biggest demand out of any quality mandolin is a comfortable fretboard, and Jon has this figured out with a 12" radius ebony fingerboard, and oversized (banjo) frets. Action is allowed low to my preference, and balanced not only up and down the frets, but across, string to string. I also enjoy his minimalist position markers, a subtle pearl rectangle under the C and D strings.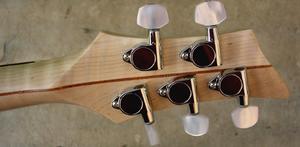 About the C string, perhaps the hardest chore in 5-string design is the diversity of tension between the first and fifth string. Some designers choose a longer scale neck, some (Joel Eckhaus) use the Novax Fan Fret system. The former is to hard on my stubby fingers, but I did find a the Fan Fret comfortable and easy to adapt to. Jon's design seems to have tackled this; I don't find the C string "flap" that I did in the Fender import 5-string (discontinued) I gave up a few years ago.
A caveat about the electronics, I am no expert in pickup options so take my observations lightly. My knowledge is limited to casual conversations I've had with guitar playing friends over some adult beverages...
The EM-5 I have came equipped with a Seymour Duncan Cool Rails pickup. This fits nicely in the place of a single coil but the split rails give the benefit of a fatter sound. The sky is the limit with the many combinations of pickup styles available; Mann has used P-bass, and EMG pick-ups as well. If you don't already have an opinion, the Seymour Duncan put specially on mine would be a great starting place. My understanding is there is a whole cult of Pick-up "gearhead" enthusiasts out there who love to explore these options...
Understand that by virtue of the voicing of the mandolin, you probably want to err on the "fat" side in selecting a pick-up. The single coil might be a bit too bright or brittle, and a humbucking variation can give you a bit more meat required for that soprano register. Go for rich, rather than piercing.
Amplification is a whole new dimension in electric mandolinning, a wide open frontier, but I'll just describe my basic set-up in testing this out; you can come up with your own subjective perspective on how this might have tainted my observations.
I have a Bad Cat "Mini Cat" that's easily portable, and has a line out for any sort of stage performance. I've enjoyed an Electro-Harmnoix "Holy Grail" reverb to give it some space, but I use this gingerly. I prefer the tone of an "unadulterated" mandolin, but one of the joys in electric is the wide open frontier for effects pedals. Not for me personally, but I say "go for it!"
I recently acquired a Presonus "Tubepre" that gives me a little extra fatness, and also functions as a direct box, should I encounter a stage situation that requires it. Most of us would rather mix our own sound on stage, and mic the set-up, taking our tone control out of the hands of the sound man.
If you are new to the electric mandolin world, you must spend some quality time over at Martin Stillon's emando.com, the world's premier resource for mandolinists who are purveyors of the "plugged."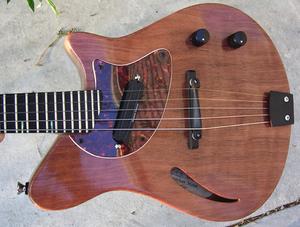 Jonathan Mann is a bright, promising craftsman. He will work with you and make the mandolin of your dreams with his own two hands. Spend some time discussing with him other options in 4, 5, or 8 string options, as well as alternatives in binding, custom inlay, wood selection, pickups, piezo bridge transducer, gold hardware, or a myriad of combinations that might fit your equipment needs and playing styles. (Tip: Take advantage of him now before the rest of the world discovers his talent!)
Visit his website at manndolins.com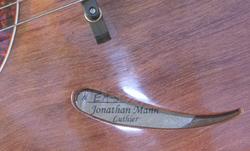 Contact Information; Call or E-mail
Telephone: 615-746-8934 * 615-289-1333
E-mail: jmann@manndolins.com