« Music as a language - Victor Wooten | Main | John Pizzarelli - The Way You Look Tonight »

August 11, 2014 | Final 'Reverse' Drills: Dorian/Minor Arpeggios
We posted our final "Reverse" FFcP in last week's Tips and Tricks column. Recall, we were looking at escaping the reliance of always starting drills with the root and always going up. We did scales in both Major and Dorian/Minor, and we did one on Major FFcP Arpeggios. Our last drill was Arpeggios in the Dorian/Minor mode.
This is great stuff to get into your fingers and ears. Ultimately it will reside in your brain, as well.
Read article: Reverse Dorian/Minor FFcP Arpeggios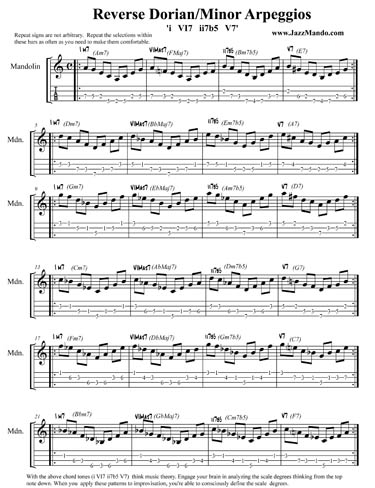 Make sure you have all four! See links below.
Recap:
Reverse Major FFcP Scales
Reverse Dorian/Minor FFcP scales
Reverse Major FFcP Arpeggios
Reverse Dorian/Minor FFcP Arpeggios
Posted by Ted at August 11, 2014 2:25 PM