« Jonathan Mann Interview | Main | Summer NAMM, 2012 »

July 6, 2012 | Aaron Weinstein plays "Somewhere."
Not long ago we dazzled you with a dynamic video presentation of the chord melody pyrotechnics from New York fret magician, Aaron Weinstein. Seems a collective standing ovation from the JazzMando audience has demanded his return, and this delicious rendition, serene but no less astounding, is guaranteed to inspire.
In case you were wondering (we were) he's playing a Joel Eckhaus "Earnest Instrument" electric 4-string, mandola tuning.
Enjoy!
Video Link: Aaron Weinstein; Somewhere Over the Rainbow.

Artist Website: Aaron Weinstein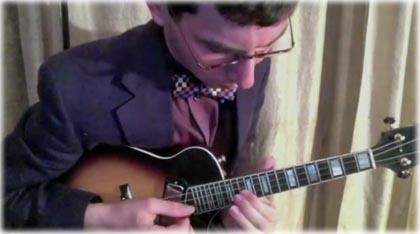 Posted by Ted at July 6, 2012 4:53 AM