« Fretboard Journal; Mowry Stringed Instruments | Main | Aaron Weinstein Sparkles. Or Twinkles. »

September 29, 2014 | In the beginning. The origins of JazzMando.com.
One year ago, MandolinCafe.com published an interview about the site author. If you want to know a little more about the origins of the site, take a few minutes to read the article. FFcP, jingles, dogs. You should find something interesting there.
Mandolin Cafe: Ten years plus of JazzMando.com online. What does the future look like for the site down the road?
Ted Eschliman: I'm very grateful for the support of my readers, and the beyond the call of duty mentoring you've done personally with my own site. Folks may not realize we have over 2,000 separate pages at JazzMando, complete with lessons, reviews, news, tips and tricks, guest writers, and a lot of practical knowledge that goes even beyond learning jazz.
Of course it started in 2003 with the intent of bridging the jazz world with the mandolin fretboard, but I'd like to think we've done a good job compiling tips, techniques, and playing concepts that go beyond just that and expand the horizons of any mandolinist. One problem I have through is that that massive gravity of the material is falling into itself. There's so much that it's easy to get lost, and I'm thinking the best thing for me to do is clean it up, categorize, and reorganize to make it even more navigable. That's a never-ending battle. I know I can't administrate this forever, and I'm already planning when I might sunset it into more of an archive collection.
Read article: Ted Eschliman Interview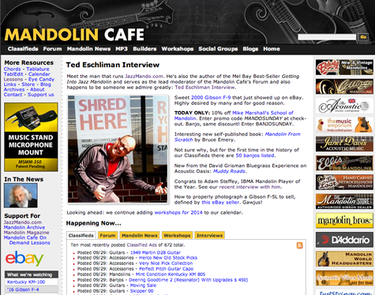 Posted by Ted at September 29, 2014 11:27 AM