Pick a card. Any card...
To supplement our series of 3-note chord voicing, we're introducing a unique package of cards you can put on your music stand. Premium 80 lb. glossy full-color 5.47" x 4.21" postcards, we graph complete variations of popular blocks you can move up, down, and across the freeboard to get the most out of your accompanying. You can also use these as a starting point for chord melody.
Better range and timbre and exponentially more versatility in transposing, this approach to using the thickest strings of the mandolin helps with less shrill background comping, and keeps you out of the way of the soloists. They're also terrific for other 5th tuned instruments including mandola, mandocello, and 5-string mandolins!
(See links below for lesson material in our Tips Archives)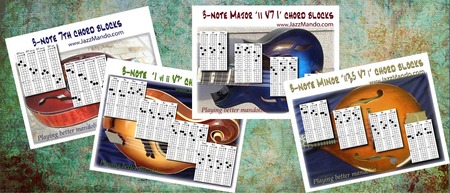 Click image for closeup
SORRY. CARDS NO LONGER AVAILABLE

Card content links:
Major 'ii7 V7 I' 3-note Mandolin Chord Blocks
Minor 'ii7v5 V7 i' chord blocks
I vi ii7 V7' 3-note chord blocks
Five part series on 3-note vamp chords complete!